Last month, the New York State legislature

passed

the New York City Housing Authority (NYCHA) Public Housing Preservation Trust legislation. This legislative

victory is critical to the advancement of NYCHA's Blueprint for Change, which offers an ambitious pathway to recapitalization of its housing portfolio.
This month, Greg Russ, CLPHA Board Member and NYCHA Chair & CEO,

sat down with CLPHA for a discussion on the Blueprint for Change, the Public Housing Preservation Trust, and what's next for NYCHA's groundbreaking transformation.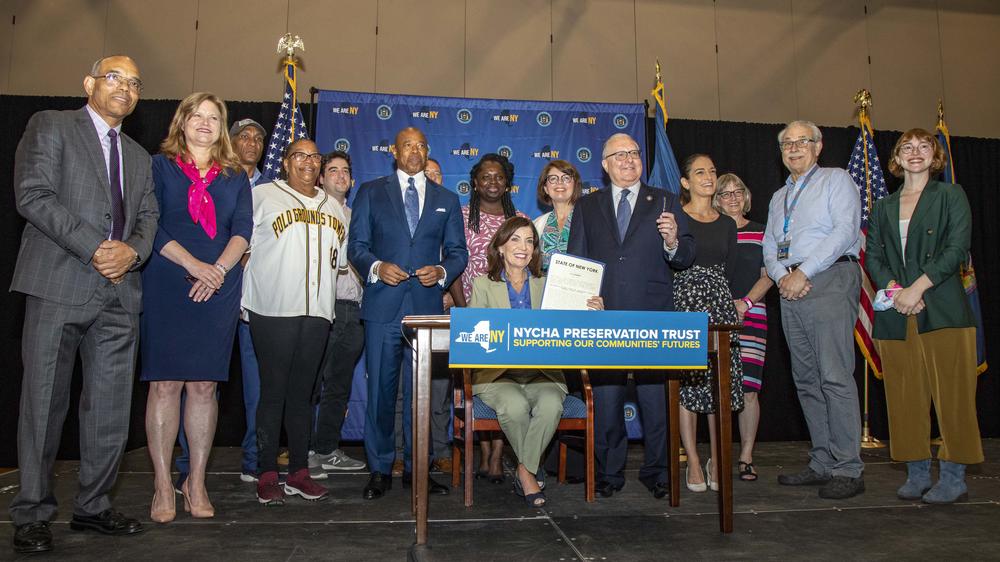 NYCHA Chair & CEO Greg Russ (second from right) with New York Governor Kathy Hochul (seated), New York City Mayor Eric Adams (front row, fourth from left), and other stakeholders at the signing of NYCHA's Public Housing Preservation Trust legislation. Photo credit: NYCHA
When you arrived at the New York City Housing Authority, what challenges did you encounter?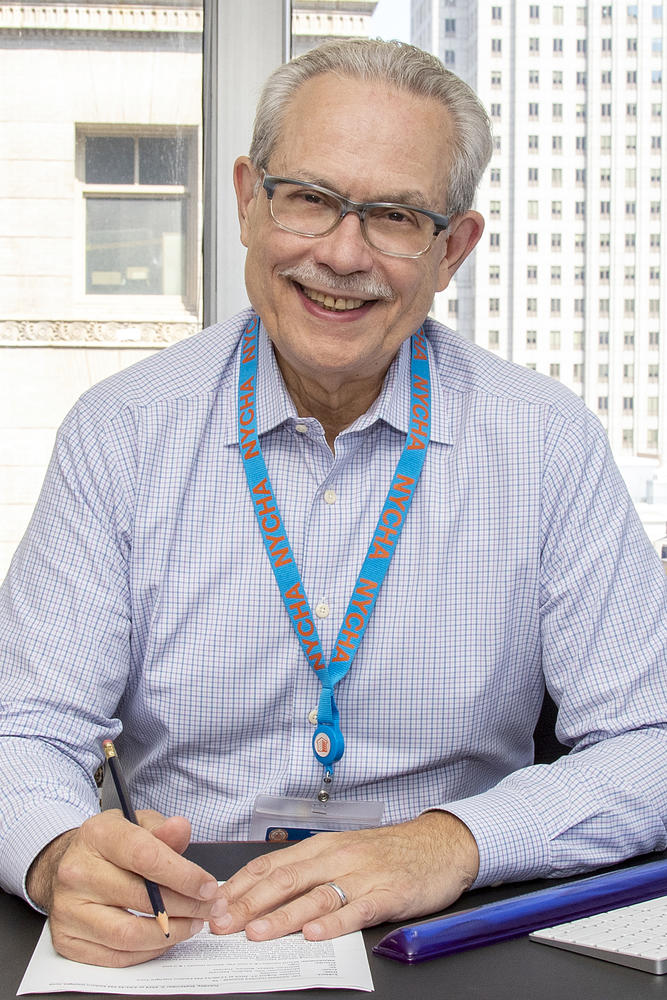 NYCHA has some of the oldest public housing in the nation – most of our buildings were built more than a half century ago – and we are grappling with more than $40 billion in urgent capital repair needs across the portfolio (a staggering figure that grows by about a billion dollars every year). This is the result of decades of government disinvestment from public housing and many missed cycles of investment in the buildings. And we know too well how aging buildings that haven't received the investment they've needed over the years can impact residents' quality of life and make our work to maintain and repair them even harder. Almost no repair is routine or simple, as the work needed expands into a much larger and more complex issue requiring skilled trades and multiple work orders – which is not the case with well-invested properties.
When I arrived at NYCHA in 2019 as Chair and CEO, the distressed conditions of the buildings was manifested by an Agreement that the Authority had recently entered into with HUD to address critical areas that most impact residents: lead, mold, heat and elevator services, and pest and waste management. The Agreement also carried with it a mandate to strengthen our organization through a Transformation Plan.
So I came to NYCHA at a very pivotal moment in its 88-year history. Before us was the work to make significant and sweeping changes to comply with the HUD Agreement, transforming key areas and fundamentally changing day-to-day operations to improve the way the Authority does business and improve residents' quality of life. It is certainly an exciting time to be at NYCHA, with this opportunity to transform our properties as well as our organization.
Tenants' rights advocates were opposed to RAD conversions because they believed that tenant protections would be lost. How did you address their concerns?
PACT (Permanent Affordability Commitment Together) is what we call the implementation of RAD in New York City, and we have worked extensively with residents, advocates, and other community partners to develop the PACT program – always putting residents' rights first – and to inform the community of the benefits of the program and how residents' rights will be fully maintained. Sharing information and clear communication about the facts are key. We have a range of printed materials, videos, and web resources to ensure that residents have the latest information about PACT, and we host regular information sessions and meetings about resident rights and protections, the rehabilitation process, and other program elements. All of this information is available in multiple languages and is provided directly to every PACT household. We have also given tours of PACT projects so residents and other stakeholders can see firsthand the benefits of fully renovated homes and speak directly with residents about their positive experiences.
We created a PACT planning process that is transparent and that puts residents at the center of the process, including regarding the repairs and improvements they would like to receive at their developments. Residents are involved in selecting the developers, contractors, property managers, and social service providers that will renovate and maintain their developments. Residents also have the opportunity to review proposals, interview development teams, and help us select the partners best suited to serve their community.
The Blueprint for Change is a sweeping plan to recapitalize NYCHA's housing portfolio

and improve living conditions and resident services. Why was such a dramatic proposal necessary?
We are reckoning with the Authority's greatest existential threat in its history: the compounding effects of more than four decades of government disinvestment from public housing across the nation. With over $40 billion in capital needs, business as usual is not an option. The days of piecemeal fixes – of putting band-aids on our aging, deteriorating buildings – are over. It is also clear that we cannot rely on current funding levels alone to properly maintain our properties. Residents know this reality painfully well, with the near daily cascade of serious issues, from the rooftops to the pipes underground.
We have an opportunity now to turn NYCHA around and ensure it is here to serve New Yorkers for another half century and beyond – to provide residents with safe and healthy homes without the burden of having to deal with ceaseless repairs. Massive portfolio-wide investments not only transform residents' homes but can also transform their lives: the construction work and implementation of new technologies is a very powerful economic stimulus that generates training and job opportunities for NYCHA families.
Our responsibility is to bring our buildings the investments they so desperately need, as quickly as we can, through initiatives such as the Public Housing Preservation Trust, PACT, and Comprehensive Modernization.
Now that the New York State legislature has adopted the

Public Housing Preservation Trust legislation, and the Governor has signed it, what are the next steps?
The signing of the Public Housing Preservation Trust into law by Governor Hochul last month was a big step forward for NYCHA residents and very momentous for the future of public housing, and we are thankful for the support of all those who contributed to this milestone. The Trust gives residents a true voice in the future of their homes, and the updated legislation that passed incorporated feedback from residents that we have gathered over the past few years.
The Trust legislation enables residents to choose whether or not to move forward with the Trust at the developments, which is unprecedented. It also allows residents to be part of the process for selecting vendors to rehabilitate their developments and serve on committees that check the quality of this work. We will now continue engaging with residents, working with them and community partners to establish a model for the Trust, collaborating on details regarding its board, the resident voting process (by law, the draft voting requirements must be published by mid-October and the final voting requirements by mid-December), and other elements that provide a critical platform for residents. We have already begun to establish internal working groups to coordinate these processes. Once the Trust is established, the work to renovate the first 25,000 apartments will begin, which I'll be thrilled to see.