CLPHA's Housing Is Initiative recognizes the key role public housing authorities can play in a variety of educational efforts benefiting both low-income children and adults. Research has shown that housing stability has a significant impact on children's school performance and long-term outcomes, such as graduation rates and post-secondary activities. Housing authorities are actively exploring how they can align with and add value to local approaches that aim to improve educational outcomes.
Housing authorities are providing additional support for residents' education, from early childhood through adult learning opportunities. Some of these efforts are provided by the housing authority, such as through initiatives to improve attendance; others are joint efforts with partners, such as offering after-school programming on-site or digital literacy classes.
With support from the Housing Is initiative and other partners, housing authorities are using research to inform their work, as well as conducting program evaluation of their own initiatives to contribute to the field.
CLPHA works with a wide range of education partners at the national, regional, and state level to support the testing of innovative ideas and implementation of evidence-based best practices aligning education and housing.
Housing Is conducts advocacy efforts such as working with Senator Patty Murray's (D-WA) office to write the AHEAD Act, a bill that would incentivize partnerships between different sectors to improve educational outcomes.
Some of our current areas of focus are: data sharing, out-of-school time; family engagement, two-generation initiatives, homelessness, early childhood, and connectivity.
Please contact CLPHA's Senior Program and Policy Manager, Abra Lyons-Warren (abra@clpha.org) with inquiries about our housing and education work.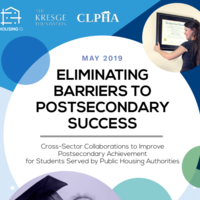 Housing Is Education News

From the Housing Authority of the City of Los Angeles's (HACLA) press release:

From the New Haven Independent:
Yaleija Jackson recently had a bad experience with a dentist. When he pulled her tooth, it hurt. A lot.
That has only increased her career aspiration to be a dentist, and a good one. The quest begins with her entering Howard University in the fall majoring in health sciences.
Yaleija shared her story Tuesday afternoon at the Housing Authority of New Haven's (HANH) 360 Orange St. headquarters.

From BISNOW Seattle:
"Last fall, Kōz Development founder and owner Cathy Reines jumped at the chance to partner with Tacoma Housing Authority to build affordable housing for University of Washington Tacoma students. The project gives students more housing stability as they shape their futures.