CLPHA's Housing Is Initiative recognizes the key role public housing authorities can play in a variety of educational efforts benefiting both low-income children and adults. Research has shown that housing stability has a significant impact on children's school performance and long-term outcomes, such as graduation rates and post-secondary activities. Housing authorities are actively exploring how they can align with and add value to local approaches that aim to improve educational outcomes.
Housing authorities are providing additional support for residents' education, from early childhood through adult learning opportunities. Some of these efforts are provided by the housing authority, such as through initiatives to improve attendance; others are joint efforts with partners, such as offering after-school programming on-site or digital literacy classes.
With support from the Housing Is initiative and other partners, housing authorities are using research to inform their work, as well as conducting program evaluation of their own initiatives to contribute to the field.
CLPHA works with a wide range of education partners at the national, regional, and state level to support the testing of innovative ideas and implementation of evidence-based best practices aligning education and housing.
Housing Is conducts advocacy efforts such as working with Senator Patty Murray's (D-WA) office to write the AHEAD Act, a bill that would incentivize partnerships between different sectors to improve educational outcomes.
Some of our current areas of focus are: data sharing, out-of-school time; family engagement, two-generation initiatives, homelessness, early childhood, and connectivity.
Please contact CLPHA's Senior Program and Policy Manager, Abra Lyons-Warren (abra@clpha.org) with inquiries about our housing and education work.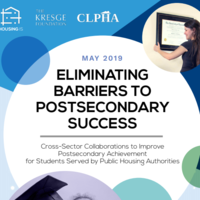 Housing Is Education News

From the Los Angeles Sentinel:

From the Chicago-Sun Times: Eighteen-year-old triplets Javier, Gerald Jr. and Miles Lumpkins are days away from heading to college — the first generation in their families to do so. On Wednesday, their journey was made a little easier when, along with more than 170 other students at the Charles Hayes Center at 4859 S. Wabash, they took part in the Chicago Housing Authority's annual...

From CBS 2 Pittsburgh: Former Steelers' Super Bowl champion Jerome Bettis is hoping to "WOW" Pittsburgh with a brand new project. His foundation, "The Bus Stops Here" is teaming up with the housing authority and Stem Coding Lab for the "WiFi On Wheels" cyber bus. It's a mobile computer lab with 10-15 laptops, internet access, and a flat-screen monitor for remote learning...