We are taking the Summit virtual in 2020
As we notified registrants, due to COVID-19, CLPHA's Housing Is Summit will be a virtual conference this year. Your health is our top priority and going virtual allows us to keep everyone safe and still move forward this critical work.
Video conferencing will enable us to bring you the rich content and idea sharing that makes the Summit such an outstanding event for professionals engaged in cross-sector work.
We know this is a difficult time for many of you and we will no longer be charging a registration fee for the Summit and will provide full refunds to all previous registrants. If you'd like to contribute some or all of your registration fees to help cover our costs incurred from cancelling the in-person meeting, as well as moving to a virtual platform, we would greatly appreciate it!
If you would like to contribute some or all of your registration fee, please click the button below to let us know by Friday, April 17. If you do not choose to contribute your fee, after Friday, April 17, we will begin processing Summit refunds. Please allow for up to 30 days to receive your refund.

If you have not done so yet, we encourage you to now cancel any existing airfare/transportation and hotel reservations related to the Summit. Airline policies vary, but many airlines appear to be more flexible than usual given the circumstances. You may use this email as justification to any airline about canceling an existing reservation. If you had a reservation at our official Summit hotel/venue, the Washington Marriott Georgetown, your hotel reservation was automatically cancelled and you should have received a cancellation notice from the hotel.
The Move to Virtual: We are hard at work adapting the exciting content and deep-dive breakout sessions to an online platform, and our team is dedicated to optimizing your experience however we can.
We want to thank you all for your patience as we navigate these unprecedented times. More detailed information and logistics for the virtual Housing Is Summit are coming soon via email and at HousingIsSummit.org. Click here to sign up to receive updates about logistics and registration for the virtual Housing Is Summit.
This is a difficult and unique situation, but we are thankful for our community of practice. Stay safe, stay home. We look forward to our continued partnerships and have no doubt that the 2020 Summit will be another fantastic learning experience for everyone in attendance.

Deepest thanks,
The Housing Is Summit is made possible with generous support from the Funders for Housing and Opportunity.
Thank You to Our Presenting Sponsors!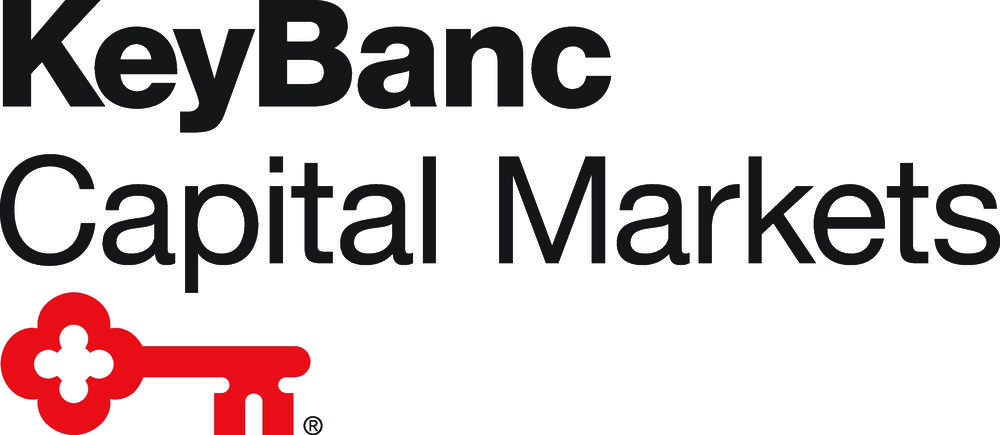 Thank you to our Featured Sponsor!

Go Deep or Wide with Our Breakout Session Tracks
This year, we are pleased to offer four breakout session tracks to allow attendees to focus on one track or learn from a variety of perspectives by creating a custom schedule. All breakout sessions are scheduled to be 75 minutes each to allow for both insightful presentations and substantive discussion.
Partnership Development
Housing Is Education
Housing is Health
Peer Learning and Networking -- new!
Included in each of these tracks will be sessions with particular emphasis on themes such as data sharing/collaboration, in-depth case study analysis, and workshops on current policies.
Why Attend the Summit? Here's What Past Attendees Had to Say
"Thank you for selecting such thoughtful, engaged, and informed speakers!"
"Diverse perspectives, awesome networking opportunities, and great discussions."
"The conference is excellently run and very valuable."
"The plenaries were insightful and stressed childhood poverty, which gave me a different lens."
"…the value of the Summit was getting us to look at our issues differently. That opened up a way to approach my work more effectively!"
"Thank you for hosting. This has been one of the best conferences I have attended both in term so the quality of presenters and general organization. I am looking forward to implementing ideas and attending next year."
What to Expect: Highlights from Our 2019 Summit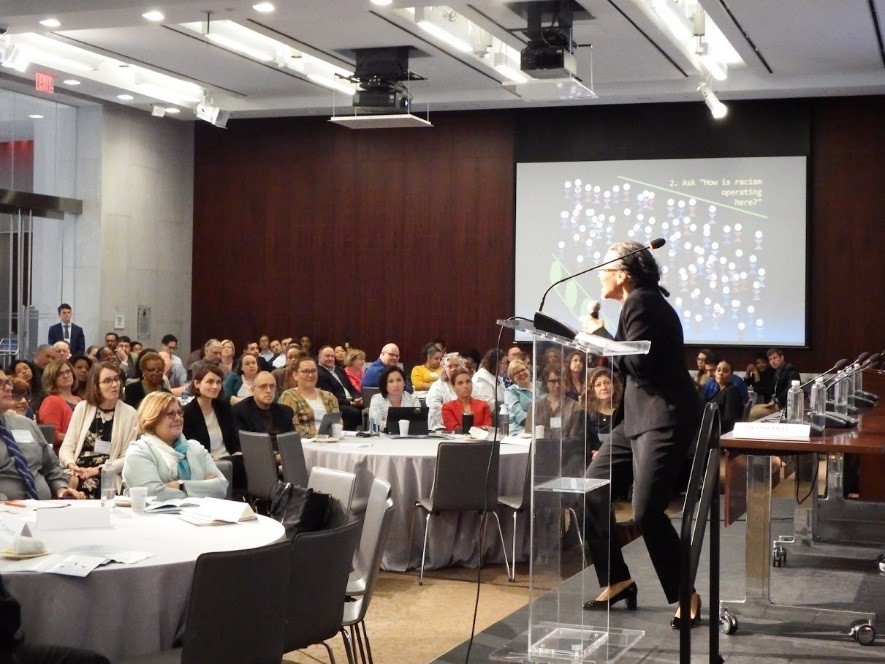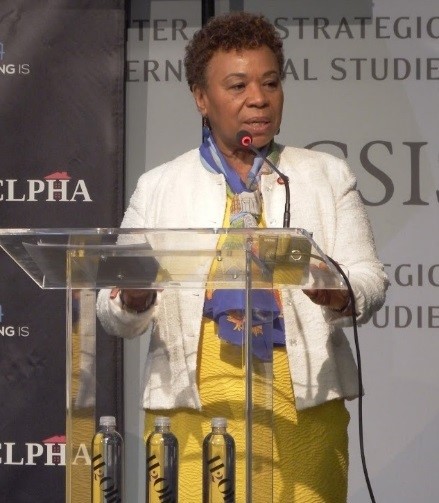 Is this your first time attending the Housing Is Summit? Check out summaries of our sessions and videos from keynote, plenary, and breakout presenters, as well as attendee testimonials.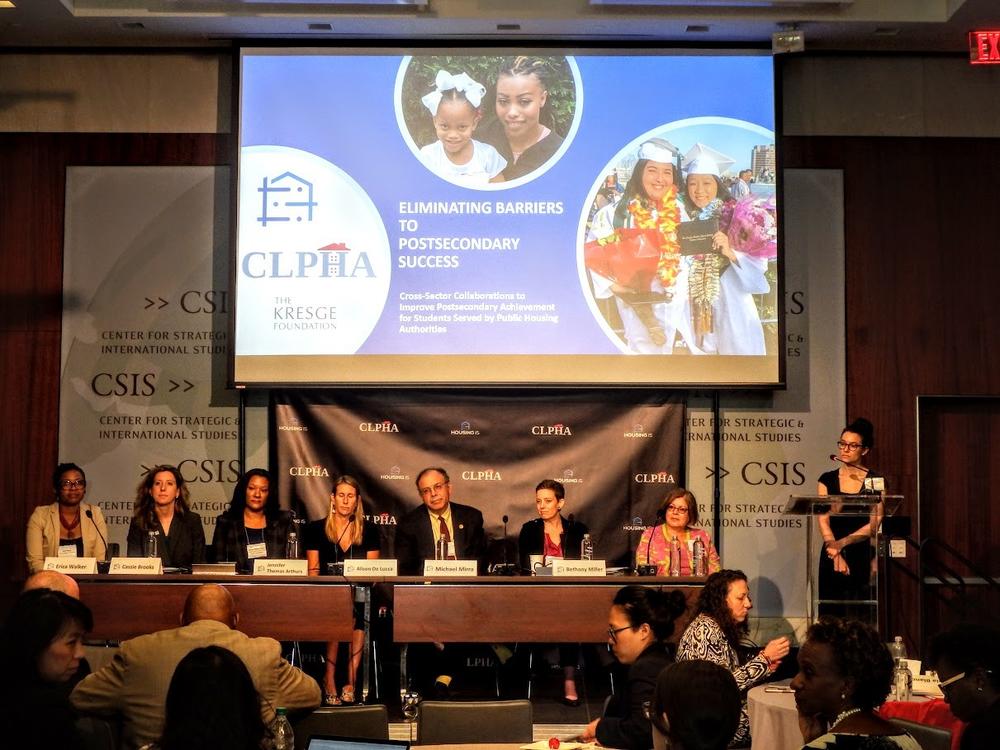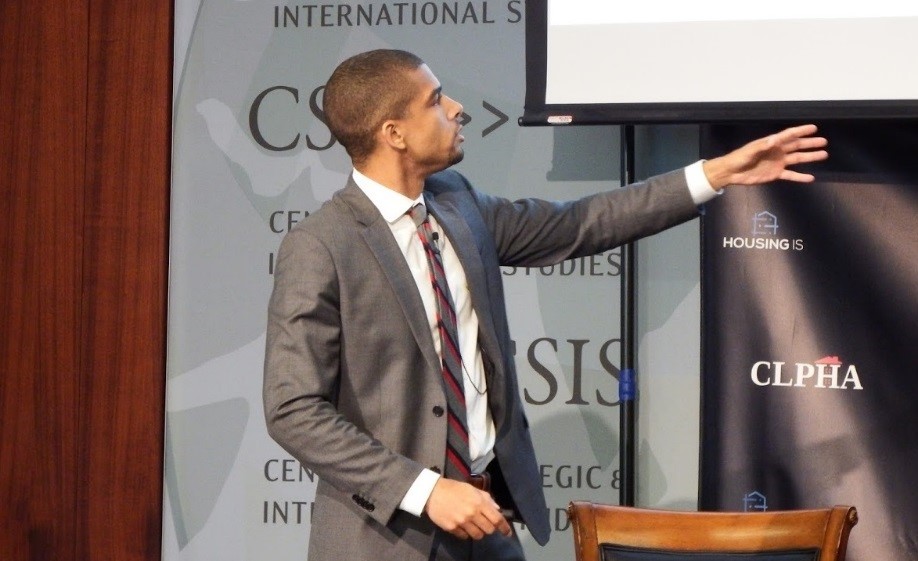 Top Left: Dr. Camara Jones delivers keynote remarks on Day Two of the Summit; Top Right: Rep. Barbara Lee opens Day One of the Summit; Bottom Left: Press conference announcing CLPHA's report, "Eliminating Barriers to Postsecondary Success; David Williams Delivers remarks on Day Two of the Summit
The Housing Is Initiative, led by the Council of Large Public Housing Authorities, helps build a future where systems work together to improve life outcomes.
Fragmented service delivery systems and sioed policymaking often fail to address the needs of low-income individuals and families holistically, resulting in stagnant outcomes and costly inefficiencies. CLPHA's Housing Is Initiative is based on the premise that systems can better meet these needs and improve life outcomes when they work together.