We were pleased to welcome CLPHA members and invited guests to our jam-packed Fall Meeting in Washington, D.C. last month. With record conference attendance and a robust agenda covering the most pressing topics facing public housing authorities, including the 2022 midterm election results and what they mean for housing authorities, our fall meeting demonstrated that engaging in-person meetings in the nation's capital are one of CLPHA's most beneficial membership services. Rashid Issack, director of affordable property operations at the Minneapolis Public Housing Authority, conveyed this sentiment in a recent blog post. "This was my first CLPHA conference, and it really had me feeling connected to the larger world of housing professionals," said Issack. "It was an amazing experience to be in a room full of leaders that are all working towards the same goal."
Our conference opened with remarks from The Honorable Adrianne Todman, HUD's Deputy Secretary and a former CLPHA board member. Her session turned into an active conversation between the Deputy Secretary and meeting attendees, with the Deputy Secretary encouraging members to "be loud" when voicing their comments and concerns to HUD and to share with her "what keeps them up at night." The Deputy Secretary pledged to attendees to keep advocating within the Department for the tools and resources PHAs need to house low-income families and vulnerable populations in their communities.
We were also honored to have two Members of Congress give remarks at CLPHA's Fall Meeting. On Thursday morning we honored retiring U.S. Representative David Price (D-NC) with our second-ever Housing Champion Award. As Chairman of the House Appropriations Committee's Subcommittee on Transportation, Housing and Urban Development, and Related Agencies, Rep. Price has staunchly advocated for the tools and resources PHAs need to serve low-income families in their communities. During his remarks, Rep. Price discussed the FY23 Appropriations bill, calling on members of both parties to support housing in the budget and reiterating the importance of adequately funding housing assistance at the federal level.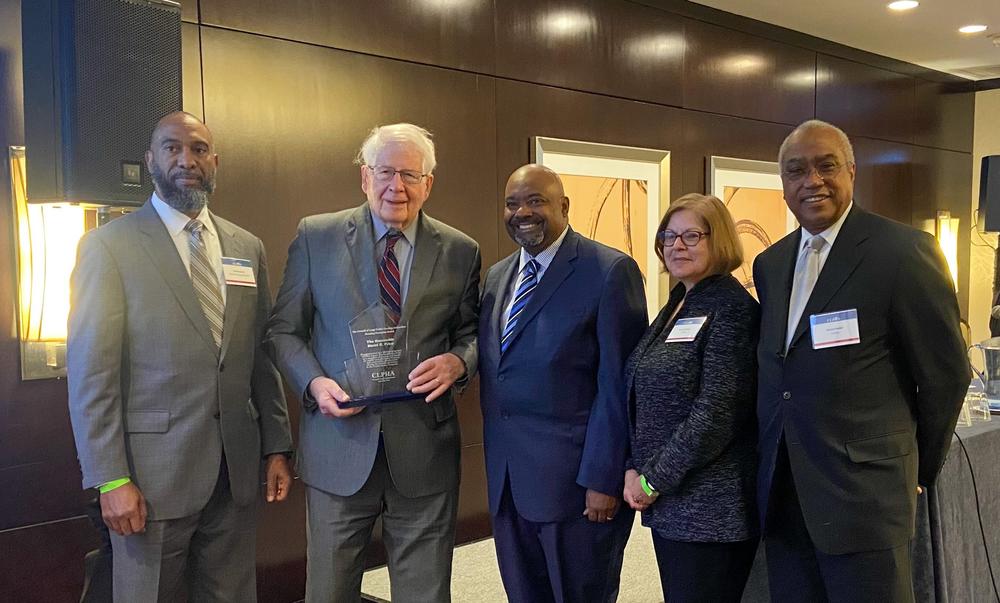 From Left to Right: Anthony Scott, Board Member, CLPHA and CEO, Durham Housing Authority; U.S. Representative David Price (D-NC); Jeffery K. Patterson, President, CLPHA and CEO, Cuyahoga Metropolitan Housing Authority; Sunia Zaterman, Executive Director, CLPHA; Gerard Holder, Legislative Director, CLPHA
U.S. Representative Emanuel Cleaver (D-MO), Chairman of the House Financial Services Committee's Subcommittee on Housing, Community Development and Insurance, opened the second day with his electrifying remarks. "We're in a crisis, but I'm preaching to the choir," Rep. Cleaver told attendees of the current state of housing affordability in America. He asked for PHAs' support in passing the housing provisions of the stalled Build Back Better Act, reassuring members that "we are going to build nice housing for nice people regardless of what they earn."
Panels and presentations focused on Emergency Housing Vouchers (EHVs), health and housing partnerships, HUD's NSPIRE demonstration, digital equity initiatives and grant opportunities from the Federal Communications Commission, and the intersection of social capital and economic mobility fostered robust conversations among speakers and attendees and offered them analysis, best practices, and inspiration to take back to their housing authorities. And, as always, our conference reception provided attendees with unparalleled opportunities to network with their fellow public housing professionals and strengthen connections with their peers.
We look forward to welcoming our members back to Washington for our 2023 Spring Meeting! Stay tuned for more information on our upcoming conferences in the new year.