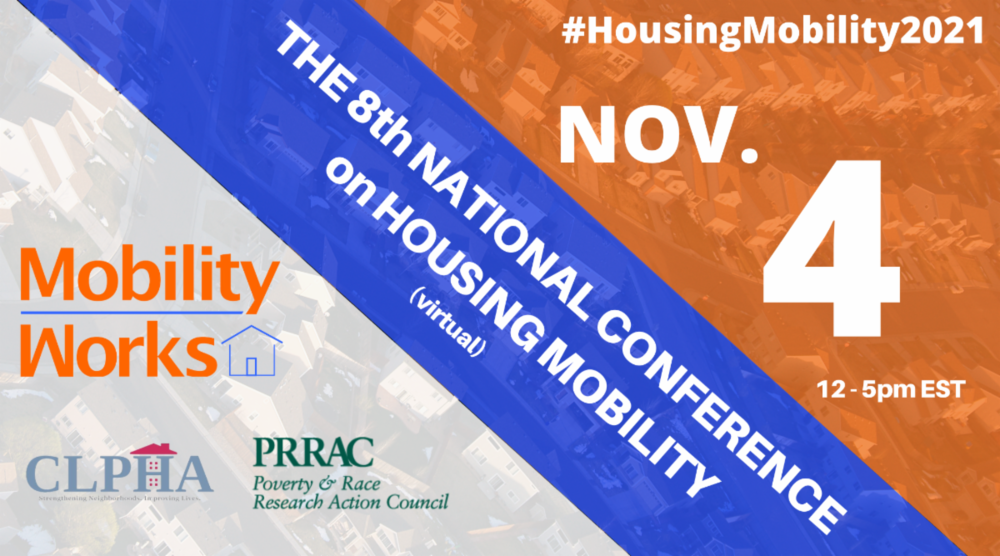 On November 4, 2021, the Council of Large Public Housing Authorities (CLPHA), Mobility Works, and the Poverty & Race Research Action Council (PRRAC) will host the 8th National Housing Mobility Conference. The virtual event will be held from 12:00 to 5:00 p.m. ET via Zoom.
CLPHA believes that housing mobility is a key factor in improving life outcomes for low-income families, and several CLPHA members are part of HUD's Mobility Demonstration. PHA officials, researchers, nonprofit leaders, families with vouchers, and anyone interested in learning more about housing mobility issues are invited!
Featured panels include:
The Housing Mobility Demonstration

Advances in Housing Mobility Policy

Recruiting Landlords in Tight Rental Markets (Including Housing Acquisition)

Involving Families with Vouchers in Program Design and Operation
In an effort to be mindful of the limitations of a virtual format and to facilitate a robust exchange of ideas with a diverse group of people, which includes practitioners and federal housing assistance participants, we will be offering our programming free of charge. We kindly ask that you consider making a donation via our partner organization the Poverty & Race Research Action Council, our respective staffs are dedicating a considerable amount of time to ensure that we can offer a high-quality virtual event.