CLPHA's Membership Spotlight features the outstanding work and achievements of our member public housing authorities - the nation's largest and most innovative PHAs. Based on interviews with PHA executives, these brief profiles spotlight our members' initiatives to strengthen their communities and improve life outcomes for their residents. The Membership Spotlight is published in the newsletter, on clpha.org, and on our social media platforms.
"Helping Families Live Better So Children Can Do Better"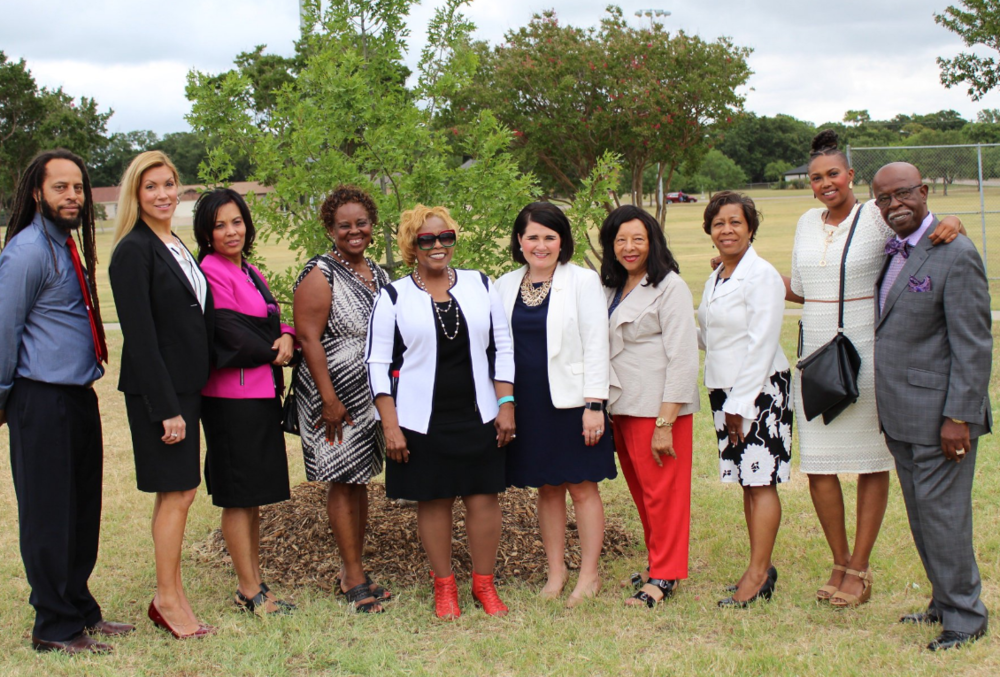 Fort Worth Housing Solutions President Mary-Margaret Lemons (fifth from right) celebrating the the housing authority's 80th "oak" anniversary with a newly planted oak tree at the Martin Luther King Jr. Community Center in Fort Worth.
Terri Attaway recalls one of Fort Worth Housing Solutions' (FWHS) biggest success stories during her nearly 20 years of service on FWHS' Board of Commissioners -- the 2002 purchase of Stonegate Villas, now called the Villas of Oak Hill, located near Texas Christian University in an upscale area of Fort Worth. Attaway remembers the backlash from neighbors over the prospect of a housing authority operating in their community. Undaunted, FWHS joined forces with the neighborhood association to inform the community about their plans for the Villas and ease them into the idea of having a housing authority next door. "We had to show them what a good neighbor we are," says Attaway, who became the Chairperson of FWHS' Board in 2009.
Seventeen years after the successful purchase of the Villas of Oak Hill, which FWHS sold just last month, the housing authority celebrated its 80th anniversary of operation, and 80 years of being a good neighbor to the city of Fort Worth, with a ribbon cutting and oak tree-planting ceremony at the housing authority's new Alton Park community last November. However, FWHS is keeping the celebration going with its impressive portfolio of construction and renovation projects in the pipeline.
In the wake of this momentous milestone, FWHS continues to seek out and build new properties, and forge community connections in neighborhoods across Fort Worth. From 2018 to 2020, FWHS expects to open ten new properties across the city -- last year The Standard at Boswell, Stallion Pointe, Alton Park and Harmon Senior Villas opened; Campus Apartments and Palladium will open later this year; and Katy Lofts, Patriot Pointe, Stallion Ridge, and Alliance are slated to open in 2020. Overall, 782 affordable units are under construction and another 1,464 are expected to be built over the next two to three years. Nearly 90% of all new units will be affordable for households earning less than 60% of the Area Median Income (AMI). All of these new projects are funded with help from Low-Income Housing Tax Credits provided by the Texas Department of Housing and Community Affairs.
Business is booming at FWHS, and Fort Worth's low-income residents are at the heart of FWHS' ambitious plans. "We want to create communities that anyone would be proud to live in," says Mary-Margaret Lemons, FWHS' President. Looking at the housing authority's upcoming projects, it's easy to see how FWHS is keeping residents' needs and comforts in mind when planning new developments by including attractive, modern design and amenities such as pools, exercise rooms, and community spaces that children and adults can enjoy. FWHS' new developments reflect the housing authority's core mission "to develop housing solutions where people can flourish."
Helping residents flourish is also at the heart of FWHS' ambitious Rental Assistance Demonstration (RAD) conversion project, which will convert most of the housing authority's public housing units over to the RAD program. FWHS began this massive conversion with its historic Butler Place community. Built in 1942 as one of FWHS' first public housing properties, FWHS has begun relocating nearly one thousand residents from the aging Butler Place complex into modern units in its new and renovated apartment buildings across Fort Worth. The housing authority is using a lottery system that ensures a fair process as families choose their new homes from among 20 apartment communities. An innovative relocation tracker designed by CVR Associates enables the housing authority to keep a careful record of residents' selections and a schedule for move-out.
Many of the properties open to Butler Place residents are located in high opportunity areas --neighborhoods of lower poverty where residents have increased access to good jobs, schools, transportation links, and other resources that foster housing stability and improved life outcomes. Building in high opportunity areas is an important objective for FWHS. "Our goal is to give a hand up, and not a hand out," says Attaway.
One of FWHS' most exciting projects in the pipeline is Katy Station Lofts, due to open in 2020 at a development cost of nearly $94 million, including millions in public funds, near downtown Fort Worth. Located steps away from a TEXrail station linking the community to the Dallas Fort Worth International Airport, Katy Station Lofts will be the first transit-oriented development in Fort Worth. The community will feature a swimming pool, fitness center, computer room, and controlled gate access. The Katy Station complex will also hold retail space, a daycare center, parking garage, and if the stars align, a boutique hotel. Close to public transit, downtown, and the medical district, Katy Station Lofts will provide FWHS residents with ample career opportunities, healthcare access, and paths to success.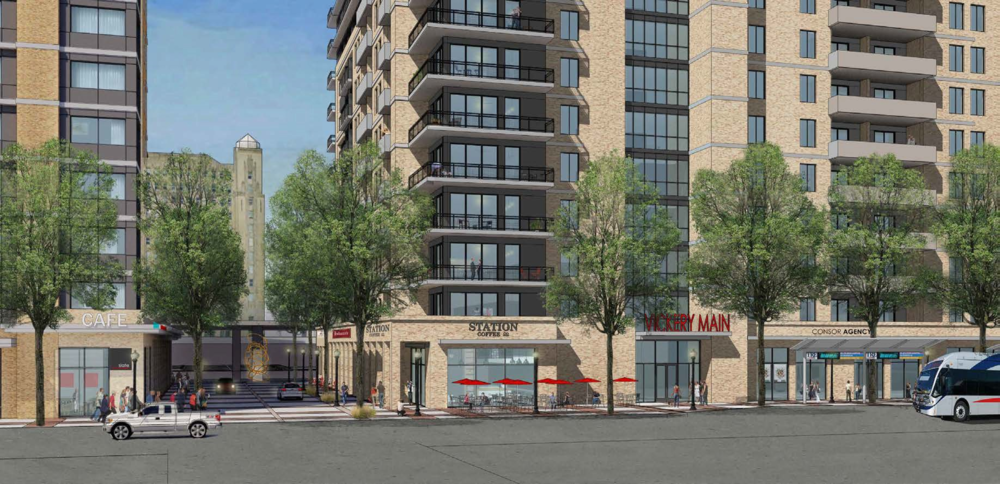 Artist's rendering of Katy Lofts.
Working with community partners, FWHS is also planning a HUD EnVision Center, a one-stop shop for low-income individuals and families to access services and programs that improve their lives and help them attain self-sufficiency. Having already thrown a successful apprenticeship fair with HUD and the Department of Labor, the housing authority is working with the City of Fort Worth, the local education sector, healthcare providers, and other partners to bring the EnVision Center to life. "We don't want to reinvent the wheel ... we want to harness all the resources in the community to make them easier for residents to navigate," says Lemons.
Lemons adds that FWHS' partnerships are crucial to the housing authority's numerous construction and renovation projects, noting that the Board of Commissioners affirms FWHS' work to decentralize public housing, and that the Fort Worth's Mayor and City Council have been helpful and supportive during the RAD process. "[Fort Worth] is a city steeped in tradition that is always looking for ways to be innovative," says Lemons. FWHS also has a long list of developer partners, many of whom have worked on multiple projects with the housing authority.
Amidst these exciting projects, FWHS has not lost sight of the focus of these big developments and business deals-- the well-being of Fort Worth's low-income individuals and families. "We don't see ourselves just as a developer… our goal is to help residents on the path to self-sufficiency," says Attaway, adding that FWHS strives to help families live better so that their children can do better. In the housing authority's 81st year and beyond, FWHS will continue to help its residents live better through the construction and renovation of numerous modern, high-opportunity communities.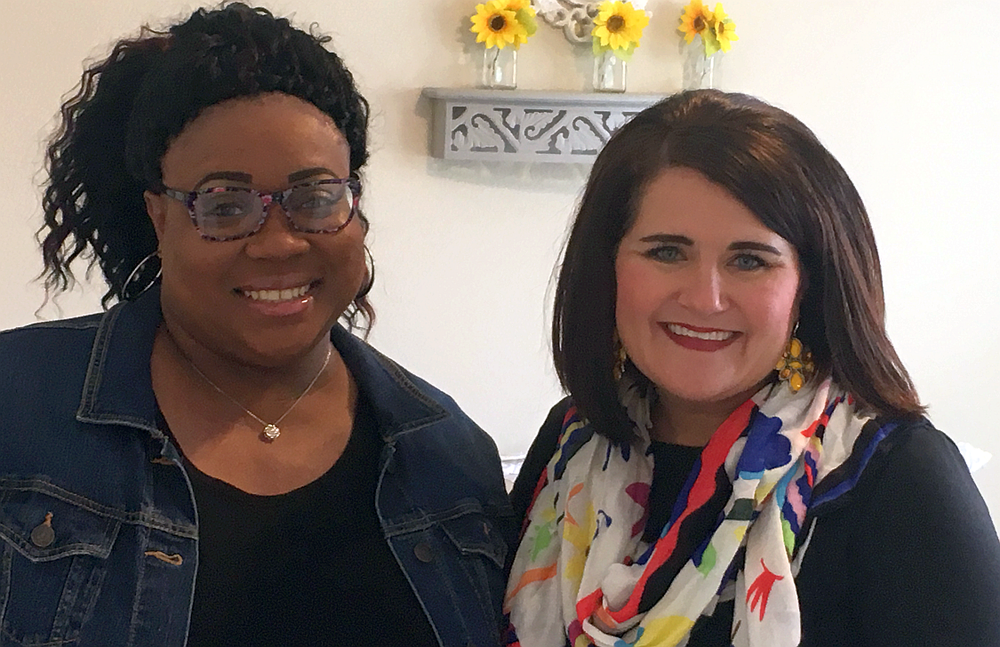 Mary-Margaret Lemons with a resident at Stallion Pointe, a new LIHTC property in south Fort Worth.