On June 28 and 29, youth from the Housing Authority of the City of Pittsburgh (HACP) traveled to Washington, D.C. to meet up with District of Columbia Housing Authority (DCHA) youth for an educational field trip about Negro League Baseball and African American history and culture.
This exchange was inspired by the upcoming 100th anniversary of Negro League Baseball in 2020 and the Homestead Grays, a Negro League Baseball team that played in both Pittsburgh and Washington and traveled between the cities by bus. The trip was organized by the Josh Gibson Foundation, named for famous Grays player Josh Gibson (who was also known as "the Black Babe Ruth"), which works with HACP to provide baseball and educational programming to Pittsburgh youth.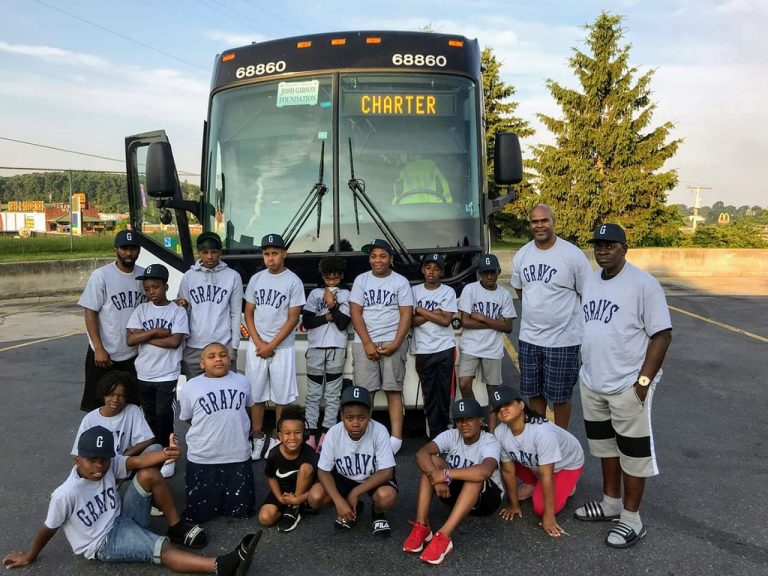 On June 28 in D.C., the PHA groups met up at the Washington Nationals Youth Baseball Academy, explored Howard University, including the former site of the Griffith Stadium (where the Grays and other D.C. sports teams played), visited the National Museum of African American History and Culture and other D.C. monuments, and enjoyed dinner at the historic Ben's Chili Bowl.
On June 29, HACP and DCHA youth competed in a baseball game wearing uniforms modeled after those worn by the Homestead Grays. Following the game, they learned more about the history of Negro League Baseball and its players.
HACP Executive Director Caster D. Binion said, "The Housing Authority of the City of Pittsburgh is proud to provide our young residents an opportunity to visit the nation's capital and commemorate the milestone anniversary of the Negro League... We're pleased to give our youth an opportunity to learn about African American history and culture and to compete against their peers from the D.C. Housing Authority."
Next summer, it will be HACP's turn to play host when the DCHA youth travel to Pittsburgh to commemorate the Negro League's centennial. The groups will participate in a baseball tournament among regional housing authority teams and visit historic Negro League sites and museums in the area.
DCHA Executive Director Tyrone Garrett said of the trip, "The first half of this exchange this weekend with the young people from Pittsburgh coming to visit us and learning not only what D.C. has offer, but what the men and women of Negro League Baseball offered this city was truly a great experience for our youth… From the home plate at Howard University Hospital, where the former Griffith Stadium used to stand, to the game at Washington Nationals Youth Baseball Academy, our youth were able to experience this city's rich history. I'm sure I speak for everyone when I say we cannot wait for our trip to Pittsburgh next year to celebrate the Negro League's 100th anniversary."