On August 14, the Denver Housing Authority (DHA) announced the completion of 1035 Osage, a multi-tenant commercial property that will also be home to the agency's main headquarters and central office operations. The development is the capstone phase of the Mariposa District, DHA's vibrant, mixed-income community in Denver's Lincoln Park neighborhood.
At 170,000 square feet, 1035 Osage will also provide commercial space for organizations and individuals to thrive. Features of this innovative new community include a co-working incubator space, a grocery store offering healthy, fresh food, and training and meeting rooms operated by the Youth Employment Academy. 1035 Osage will also offer 20,000 square feet of office space for lease at below-market rents to nonprofits and mission-oriented small businesses.
"Since we began planning to move our Central Office four years ago, we envisioned a site that would make a positive impact on the residents we serve and the community that we support while also meeting our goal of preparing us for the next phase of the agency's growth," said DHA Executive Director Ismael Guerrero in a press release. "I am incredibly excited and proud about the opportunities that our new central office brings for Denver residents now and well into the future."
Keeping in line with the Mariposa District's transit-oriented design, 1035 Osage is conveniently located a short walk from a light rail station. The new property was also built with cutting-edge energy efficiency components, such as solar panels and windows that vary their tinting based on the sun's movement.
DHA's financing partners in this project include Enterprise Community Partners, Northern Trust, the Rose Urban Green Fund, and the Urban Action Community Development.
Watch DHA's video highlighting 1035 Osage here.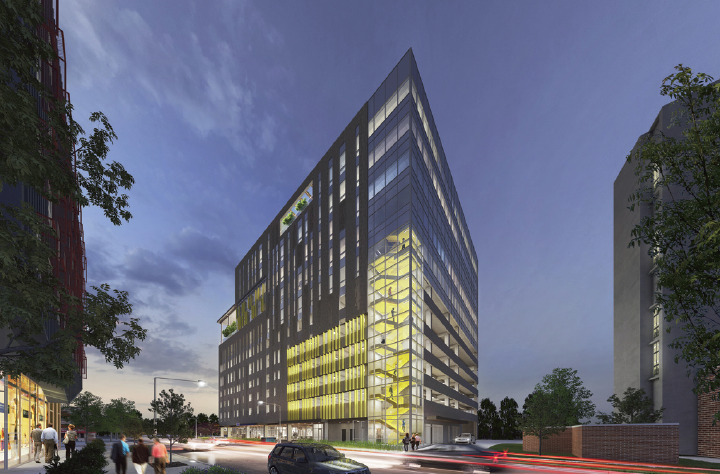 Artist's rendering of 1035 Osage