CLPHA's Membership Spotlight features the outstanding work and achievements of our member public housing authorities - the nation's largest and most innovative PHAs. Based on interviews with PHA executives, these brief profiles spotlight our members' initiatives to strengthen their communities and improve life outcomes for their residents. The Membership Spotlight is published in the newsletter, on clpha.org, and on our social media platforms.
Vancouver Housing Authority Creates and Transforms Affordable Housing with New "Game-Changer" City Fund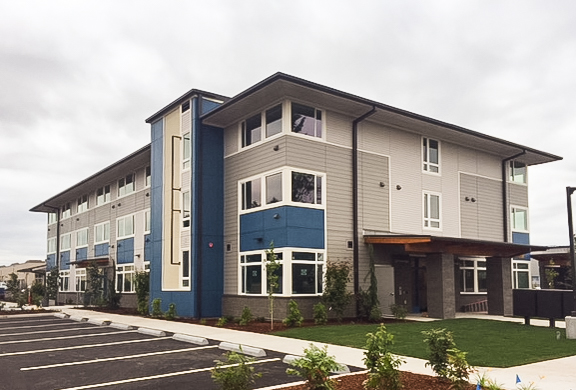 Meriwether Place, a Vancouver Housing Authority community built with financing from the City of Vancouver's Affordable Housing Fund.
A strong partnership with local government and a wave of popular support from area residents are bolstering several of the Vancouver Housing Authority's (VHA) newest projects for homeless and low-income families. Meriwether Place, which opened in August and includes 30 units with 23 dedicated to permanent supportive housing for formerly-homeless individuals experiencing mental health issues, and Caples Terrace, a 28-unit community for youths experiencing homelessness or aging out of foster care slated to open next summer, were both developed with awards from the City of Vancouver's new Affordable Housing Fund.
"It's a game-changer to have this fund available, especially with other sources of funds becoming more scarce," said VHA Executive Director Roy Johnson in an interview for CLPHA's Membership Spotlight. Established two years ago by a ballot measure that passed with the highest margin in the city's history, Vancouver's Affordable Housing Fund is financed annually through a property tax levy with a $6 million revenue cap.
Peggy Sheehan, the Community Development Grants Manager for the City of Vancouver who helped draft the ballot measure, joined Johnson for our interview. She attributed the ballot measure's success to growing citywide awareness of homelessness and the need for local affordable housing solutions. "It was the right time to propose this measure," said Sheehan, noting that passionate grassroots campaigning by the Council for the Homeless and the City of Vancouver's outreach were crucial to its passage. The VHA, she said, was very informative at the beginning of the initiative's road to the ballot, offering staff members' expertise as the City initially considered how to draft the proposition.
Tax collection for the fund began in 2017 and will continue through 2023, at which point the City can place the levy on the ballot again. To distribute the funding, the City annually solicits applications and awards up to $6 million each year to projects that construct, transform, and protect low-income rental housing, as well as projects that tackle homelessness prevention through rental assistance and housing services. The City estimates that the Fund will positively impact nearly 330 households each year.
So far, the City of Vancouver has awarded VHA nearly $2.5 million towards construction costs and temporary rental assistance for the city's highest-need populations, such as families with children, individuals and families experiencing homelessness, and individuals with behavioral health or substance abuse needs. As a public housing authority with a commitment to ending homelessness, VHA is uniquely suited to plan and execute projects that fulfill the City's goals and intended uses for the Fund.
VHA is already utilizing crucial support from this city resource to address Vancouver voters' concerns and help the city's fight against homelessness. This August, VHA and its development partner Columbia Non-Profit Housing opened Meriwether Place, its first new property completed with help from the Fund. VHA's $500,000 award from the Fund not only assisted the housing authority with upfront construction costs, but also enabled Meriwether Place to qualify for a property tax exemption. The new community, a 30-unit affordable apartment building for low-income individuals at or below 50% of Vancouver's Area Median Income (AMI), includes 23 units of permanent supportive housing for formerly-homeless individuals experiencing mental health issues. Meriwether Place also houses social and behavioral services on the building's first floor, an amenity that Johnson says fills an important need for residents and the community.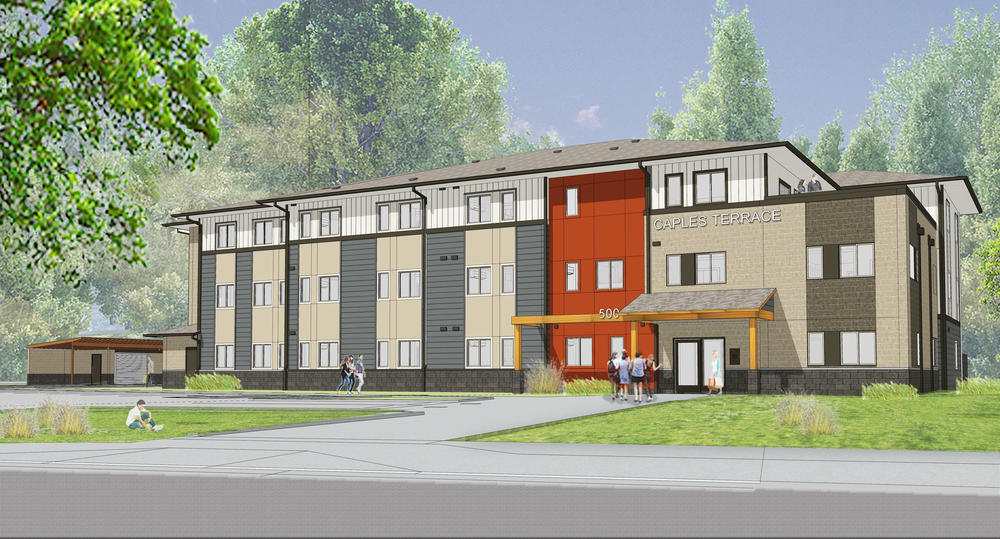 Rendering of Caples Terrace, a future VHA community constructed with help from Vancouver's Affordable Housing Fund.
Next year VHA will open Caples Terrace, a 28-unit community for youths experiencing homelessness or aging out of foster care. The Fund has provided $850,000 in construction costs to the project, roughly 10% of its estimated cost of nearly $8.1 million. The City of Vancouver has also awarded VHA $500,000 in construction costs for an additional unnamed mixed-income development expected to break ground in 2019.
Another important factor in VHA's successful use of the new funds is their participation in HUD's Moving to Work (MTW) Demonstration, which gives them additional flexibility. "MTW allows us to be nimbler in putting together projects that are at the forefront of need for the city," said Johnson. Because of MTW, VHA was able to use $250,000 from the Fund for temporary rental assistance to homeless families with children on VHA's wait list. He added that both the Meriwether Place and Caples Terrace projects utilize MTW benefits all the way through, from helping VHA establish rents to creating local partnerships and targeting specific populations.
Vancouver's Affordable Housing Fund is part of larger statewide and national trends to support affordable housing through voter-endorsed taxes. Behind Seattle and Bellingham, Vancouver's Fund was the third approved in Washington State, and one of at least 18 cities in the country in 2016 to vote in favor of new taxes or tax surcharges to support affordable housing. According to Michael Anderson, the Director of the Center for Community Change's Housing Trust Fund Project, more and more voters are willing to tax themselves to advance solutions for affordable housing. There were at least 15 similar measures on local ballots during this week's midterm elections.
So far, public opinion of the Fund and its results has been positive, noted Sheehan. The City estimates that it has already helped over 300 low-income individuals obtain housing, half of whom are at 20 percent AMI. Johnson and Sheehan are proud of the productive partnership between the City and VHA and will continue to work together to address homelessness in Vancouver. "You can accomplish a lot more with great collaborations and a city that's receptive to development tools," said Johnson.
VHA plans to apply every year for Affordable Housing Fund awards and Sheehan is looking forward to the applications. "VHA units are well-maintained and affordable forever, so why wouldn't we continue to support them?" she said.