CLPHA Board President & King County Housing Authority (KCHA) Executive Director Stephen Norman has announced his plans to retire from the housing authority on December 31, 2021. Mr. Norman has led KCHA for 25 years and has served on CLPHA's board for 18 years, many of those as CLPHA's board president. His retirement follows a remarkable 45-year career in community development and affordable housing.
This month, CLPHA sat down with Mr. Norman to reflect upon his career, KCHA's work, and the future of the public housing industry. The interview below is edited for clarity.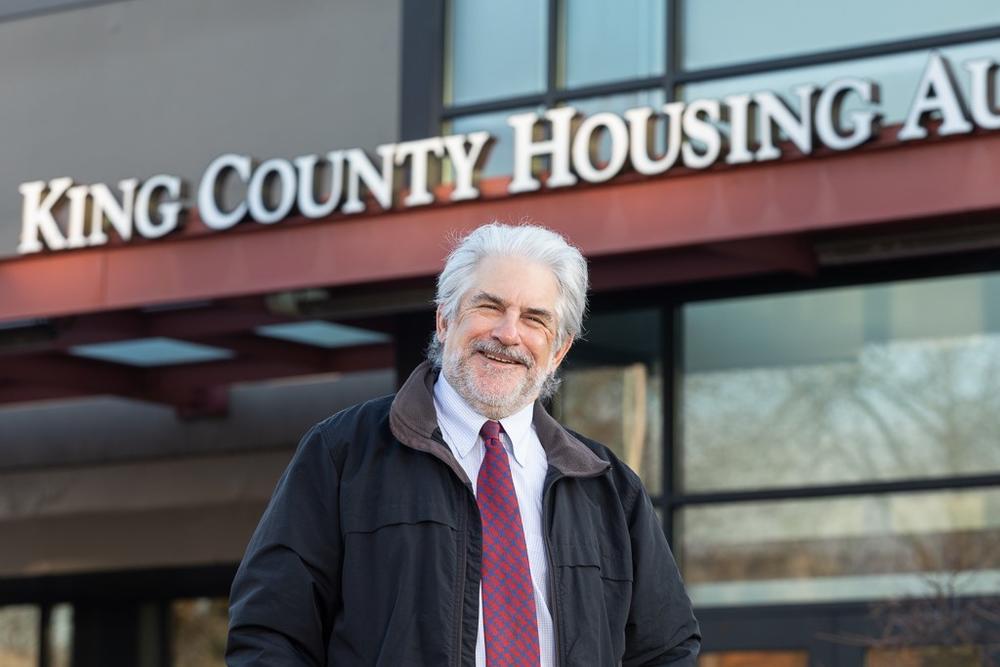 What inspired you to serve low-income families through public and affordable housing?
I started out as a community organizer working in South Brooklyn, in the primarily Hispanic low-income neighborhood of Sunset Park. This experience really exposed me to the challenges low-income families were dealing with. I began to recognize how fundamental the availability of decent, affordable housing was to everything else that we were aspiring to see improved in the community: education, health, social capital, equity, household income, and wealth. It all starts with people having a home. That's what pushed me into understanding how absolutely critical housing was as an underlying prerequisite for addressing larger community concerns. My other passion was architecture, and affordable housing was an exciting opportunity to combine both interests.
What achievements or projects are you most proud of in your career?
One of the things that has brought me the most satisfaction over the years has been the opportunity to save endangered communities, starting in the 1980s with Harding Park, a 223 single-family home community sited on a tax-foreclosed tract of land in the South Bronx. At KCHA, we've been buying up properties such as Highland Village and Wonderland Estates -- properties that were about to be demolished and where residents were about to lose their homes. The opportunity to go in and prevent the displacement of entire low-income communities is one of the things I'm most proud of.
Another is the development of Greenbridge, a 100-acre community that includes 900 units of mixed-income housing, retail establishments, a new elementary school, a library, after-school and early learning centers, parks, and trails. The opportunity to create a vibrant, mixed-income community in a very diverse, underserved area of King County has been enormously rewarding. I should be very clear that it took a village to do this. There is a tremendously talented team here at KCHA that I am privileged to work with. At the end of the day, we can all step back and say, "This is a legacy that will have a lasting impact across generations."
I also had the privilege of being involved in the birth of the permanent supportive housing (PSH) movement. I had the opportunity to fund some of the earliest PSH projects through my role as New York City's first Assistant Housing Commissioner for Homeless Housing Development. I later helped establish the Corporation for Supportive Housing, which is still going strong and is dedicated to scaling up housing and service models nationally. To watch as PSH has taken off over the past 35 years as a critical part of the solution to homelessness, and the impact this approach has had on people's lives, has been very rewarding.
The most valuable asset that the housing authority has is our staff. Our focus on mentoring, supporting, and encouraging staff can't be overstated. I want to be clear that the credit for what we've been able to accomplish at KCHA doesn't go to me, it goes to the staff, from the leadership team down to those doing the most difficult and important work in the field. This is probably my proudest legacy.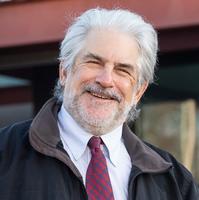 "At the end of the day, we can all step back and say, 'This is a legacy that will have a lasting impact across generations.'"
Speaking of successes, how has the Moving to Work (MTW) Demonstration impacted the King County Housing Authority?
MTW has been a complete game changer, not just for our housing authority but for housing authorities across the country. It has enabled us to move out of the tightly constrained programmatic boxes created by HUD and look at the broader issues we are trying to address – issues around the health and vitality of the communities and households we serve – in a much more strategic way. MTW gives us the flexibility to develop intentional, multi-year, locally designed approaches to accomplishing this. It encourages us to stop thinking about our programs as being all about compliance and to focus on longer term outcomes, on who we partner with and on how we develop programs that recognize and respond to local priorities, local needs, and local market conditions. It significantly changed the culture of KCHA, how we think about our mission, and how we can impact the communities we're serving.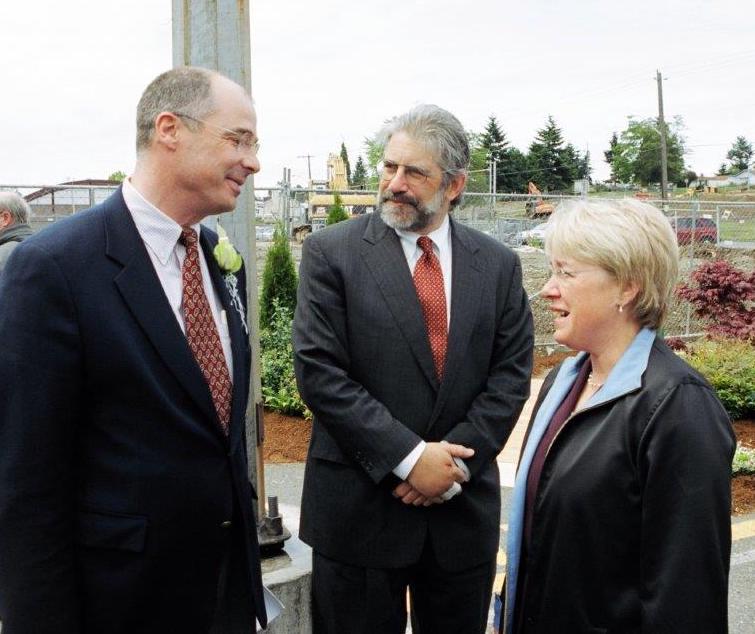 At the groundbreaking for the Greenbridge community with Peter Orser, then KCHA's board chair, and Senator Patty Murray (D-WA), June 2005.
Do you think we're at a pivotal moment right now in our industry, with major proposed investments in housing like those included in the Build Back Better Act in play, to re-envision the role that public housing authorities play in their communities?
The first priority for the industry is the recapitalization of the existing public housing portfolios. There is real potential in what is being proposed in BBB to finally get that albatross off our necks and to make sure that the existing inventory remains viable and that tenants are living in conditions that we can be proud of.
The notion of universal vouchers being floated by the Biden-Harris administration also holds promise – this is one of the most significant and ambitious additions to the national conversation in decades. It would commit the federal government to finally stepping up to the plate with sufficient resources to actually address the housing needs of our nation's extremely low-income households. There is a down payment on this vision proposed in BBB. One of the challenges is that this massive expansion in rental subsidies can only be successful if there is an adequate supply of housing available. Production of more housing at all price points is essential. For affordable housing providers, recapitalizing the existing inventory, expanding rental subsidies, and increasing production all come together as exciting opportunities under Build Back Better.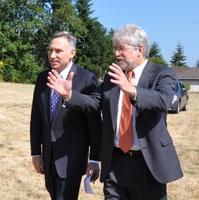 "We are far stronger as an industry and in our individual roles when we work together. "
With King County Executive Dow Constantine at the site of KCHA's Vantage Point senior development, 2014.
What is your advice for affordable housing professionals and CLPHA?
CLPHA has played a tremendous role in terms of connecting me with my peers in the industry, and these connections have been an indispensable tool as I puzzle through approaches to problems that so many very smart people in the industry are also grappling with. The ability of CLPHA to create forums in which these interactions can happen is truly invaluable.
My advice to executive directors and other PHA staff is that they should view CLPHA as a real opportunity to develop relationships with their peers. We are far stronger as an industry and in our individual roles when we work together.
KCHA and our Pacific Northwest member PHAs have long been at the vanguard of cross-sector partnerships and programs that help to improve health, education, and other life outcomes for their residents. What cross-sector programs and partnerships that KCHA has developed are you most proud of?
Our success in recapitalizing our public housing stock has allowed us to shift our focus to what I see to be the true mission of the housing authority, which is having a social impact in the communities we serve. We house over 20,000 children. Working with our partners in the education sector, we've built 14 after-school facilities that support school-linked programs, developed 3 early learning centers, and created connections between our residents and schools that were not there before. Housing is an important platform and tool for bringing educational stakeholders together.
Our programs to broaden geographic choice have also now put 30% of our extremely low-income households with children in high-opportunity neighborhoods. Based on Raj Chetty's research we believe this access to well-resourced neighborhoods can make a real difference in life outcomes for young children.
Our data work with the local health department is also helping us understand what we need to consider in designing health delivery strategies that will help improve the overall health of the populations we serve.
All of this is the result of our ability to recapitalize our stock, benefit from MTW flexibilities, and put together partnerships. This combination has enabled KCHA to start focusing on the broader outcomes that are important to the individuals and communities we serve.
You mentioned KCHA's mobility work – what do you think is the future of mobility programs, and why are they important?
Mobility has been an issue for years in our industry, but it has received a tremendous shot in the arm from Raj Chetty's research that has conclusively established that if you get children into high-opportunity neighborhoods and keep them there, life outcomes for these children improve. The longer you keep them in these neighborhoods, the more they benefit. What this research tells us is that neighborhood quality matters, and this means two things.
First, we need to double down on offering geographic choice through creating better mobility programs with tenant-based vouchers. These are programs that help clients understand that geographic choice is also educational choice, and give them the tools necessary to empower them to live where they choose. KCHA is also targeting acquisitions of existing housing – some of which we are converting to public housing – in high-opportunity neighborhoods. We've acquired over 7,000 units under this initiative. We use a combination of tenant mobility tools and hard units to create access to these neighborhoods.
Second, however, as the majority of poor children continue to be living in neighborhoods that are underserved, Chetty's research tells us that the bigger challenge is to bring opportunity to these existing low-income communities. This speaks to the need for place-based approaches that improve existing housing and bring in the resources and services that you see in affluent communities without massive displacement. We are very proud of how we are doing this in White Center, which was arguably the poorest community in King County. We brought resources into the neighborhood and at the same time locked in long-term affordability for a significant portion of the stock so that as the community starts to gentrify, it will remain mixed-income and allow low-income residents to benefit from growing opportunities in the neighborhood.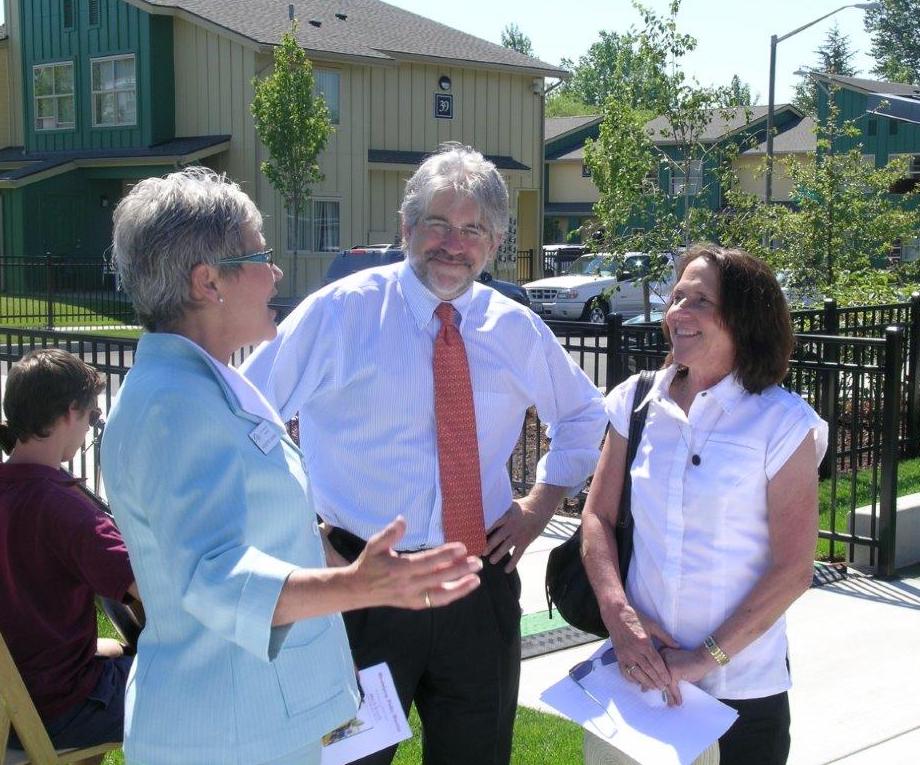 With then-Mayor of Kent Suzette Cooke (left) and then-KCHA Board Chair Nancy Holland-Young at an event celebrating the renovation of KCHA's Birch Creek Apartments, 2010.
Just as we are having nationwide conversations about racism and racial inequity, in our industry and among CLPHA membership we have been discussing how to embed equity in our organizations and operations and address inequities experienced by the people we serve, most of whom are people of color. How does KCHA practice this in its work?
Everything envisioned in our mission must be framed in terms of equity. Every policy, every program choice has to be examined through an equity lens that acknowledges the deep-seated inequities and systemic racism in our society. We can't solve these problems by ourselves, but we can certainly recognize them and respond to them as we design our programs. This is a fundamental principle here at KCHA.
If you had the opportunity to talk to a young Stephen Norman just starting out, what would you tell yourself?
That I have never had had cause to regret the career choice I made. The question when you look back at the end of the day should be, "Do you feel you contributed to the common good?" The answer here is yes. The work that our industry does in creating and maintaining affordable housing is a fundamental building block for a good society. Every day we are helping people. I would say to someone entering this career, "You chose wisely."
Do you have any post-retirement plans?
I am looking forward catching up on sleep, reading, and connecting with friends. What comes after that – I'll see!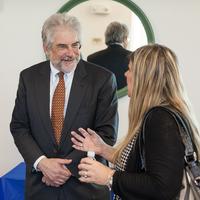 The question when you look back at the end of the day should be, "Do you feel you contributed to the common good?" The answer here is yes.
At the grand opening of Vantage Point, a KCHA senior community, 2016.