A new study by Economist Raj Chetty and his research partners illustrates how the Seattle Housing Authority (SHA) and King County Housing Authority's (KCHA) experimental program is helping low-income families relocate from low-opportunity to high-opportunity areas, a move that can greatly improve their children's life outcomes. Through the innovative Creating Moves to Opportunity (CMTO) program, SHA and KCHA are helping families move to high-opportunity areas in order to access better education, health, and economic opportunities for their children.

Chetty and his team at Harvard University's Opportunity Insights had previously found that where a child grows up has a significant impact on his or her earning potential: young, low-income children who move from low-opportunity to high-opportunity areas experience a nearly $300,000 increase in total lifetime earnings compared to children who stay in low-opportunity neighborhoods. The Opportunity Insights team is also mapping these high-opportunity area across the country in their interactive Opportunity Atlas, showing residents' average life outcomes based on their income, race, and gender down to the city block level.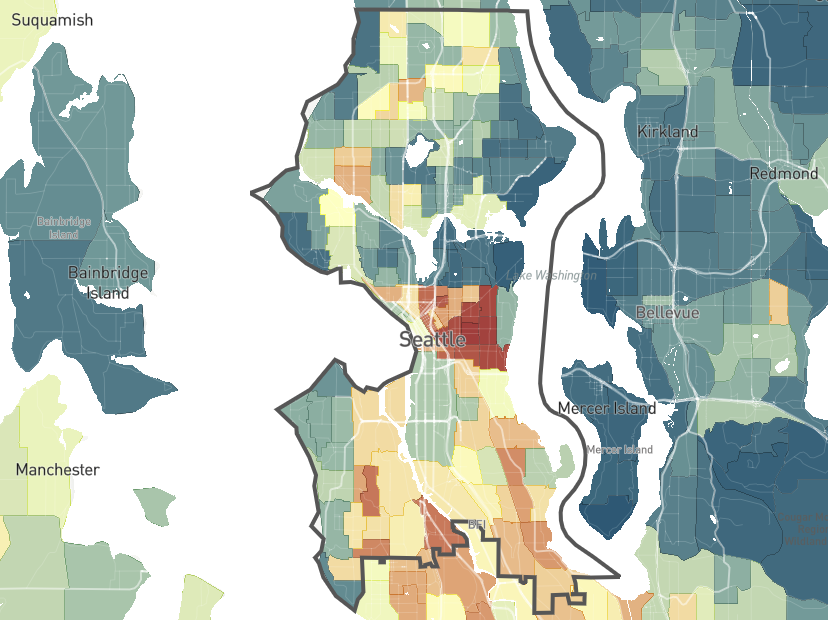 Opportunity Atlas map of Seattle/King County showing areas with higher average household incomes (blue) and areas with lower average incomes (red).
The groundbreaking collaboration between researchers and housing authorities was initiated by Greg Russ, the New York City Housing Authority's newly appointed Chair & CEO, when he was at the helm of the Cambridge Housing Authority. Representing a group of innovative housing authorities, including SHA and KCHA, Russ proposed partnering with housing authorities to test approaches to improve access to higher opportunity neighborhoods. Working in partnership with Chetty's research team and with support from the Gates and Surgo Foundations, SHA and KCHA launched the CMTO program, offering vouchers with higher rent subsidies to families so that they could afford to live in more resourced neighborhoods. The housing authorities also provided "navigators" to help voucher holders find apartments in these areas. According to the Chetty team's latest study, this CMTO program increased the share of low-income families who rented in high-opportunity neighborhoods by 40 percent. Through interviews with families, the study team also found that navigator assistance was instrumental to this success, providing customized lease-up assistance based on each family's unique challenges.
The national media has taken notice of SHA and KCHA's success story: Vox, The New York Times, NPR, and City Lab have detailed the results of Opportunity Insights' new study in depth.
Chetty called the results of SHA and KCHA's innovative program "incredibly encouraging" and highlighted the great impact that this relatively straightforward program can have on life outcomes: "Through CMTO, we found that a small intervention can dramatically change a family's ability to provide their children with the upward mobility promised in the American Dream."
Jackie Rath, a beneficiary of the CMTO program, told the New York Times that moving to a higher-opportunity neighborhood in Seattle will likely make a huge difference in her daughter's life outcomes. "Lots of people need a footstool to get ahead," she said. "That's what this program is."
CLPHA applauds SHA and KCHA for their creative approaches to improving the lives of the families they serve.
Read the Opportunity Insights team's study "Creating Moves to Opportunity: Experimental Evidence on Barriers to Neighborhood Choice."