Administrative Fees are payments from HUD to housing authorities for their administration of the HCV program. Much like the Operating Subsidy for public housing, administrative fees support PHA staff to help low-income families find and move into affordable housing. Administrative fees also cover the administrative costs of providing critical supportive services that help the most vulnerable low-income families move towards self-sufficiency. The ongoing administrative fee is paid by HUD to PHAs each month, and is based on the number of housing units a PHA currently has under contract.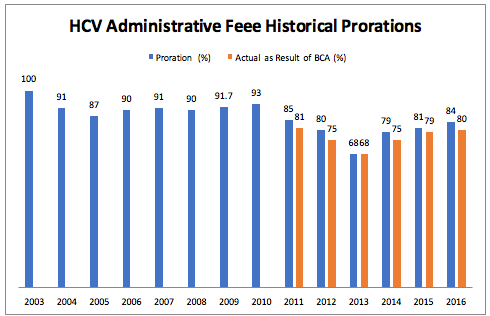 Administrative fees have been historically underfunded as congressional appropriations fail to meet the need. Chronic underfunding has forced some agencies to utilize their reserve funds so they can maintain their already-short staff capacity.
On July 6, 2016, HUD published a proposed rule to change the methodology for calculating administrative fees. CLPHA strongly opposed HUD's proposed changes because of its basis on a statistically unreliable Administrative Fee Study which, furthermore, was not authorized by Congress to calculate.
Without additional funding, HUD's proposed administrative fee formula would do little improve the efficiency and effectiveness of the HCV program. Rather, the proposed administrative fee formula simply reallocates fees among PHAs without reducing cost burdens or rewarding innovation. Instead of altering the current methodology, CLPHA encourages HUD to implement an administrative fee formula that is more flexible using supplemental fees. Supplemental fees are a critical component if HUD is to address administrative functions not identified as cost-drivers in the Administrative Fee Study.