When you think of reinvesting in public infrastructure, do you think of housing? You probably should! Public housing plays a critical role in our nation's public infrastructure, providing families with a stable home and helping them gain access to other services, including education and health. When we invest in public housing, we help low-income families achieve self-sufficiency and improve life outcomes, but we also generate economic growth, bolster productivity, and positively impact support services while significantly decreasing costs.
When we commit substantial federal investment toward public and affordable housing, we revitalize communities, create new jobs, and help break the cycle of poverty. Simply put: housing IS infrastructure. Like roads and bridges, affordable housing is a long-term asset that provides a safe, quality living environment for families. In fact, across the United States, public housing provides 1.2 million units of housing to over 2.2 million people, including 800,000 children, and more than half the population in public housing is elderly and disabled.
Despite how critical public housing is to the stability of many lower-income families, there has been significant disinvestment in public housing over the last decade. Our public housing stock is aging, and historic levels of underfunding have contributed to the loss of over 10,000 units of housing each year. Between 1990 and 2010, alone, HUD estimates that the U.S. lost over 300,000 units of affordable public housing. This shortage of affordable housing in major metropolitan areas costs the American economy about $2 trillion each year in lower wages and productivity. As the nation struggles with an affordable housing crisis, investing in public housing is investing in infrastructure.
As part of Infrastructure Week, the Council of Large Public Housing Authorities (CLPHA) and its member public housing authorities, is committed to working with Congress and the Administration to increase federal investment in public housing and promote public-private financing partnerships, such as the Rental Assistance Demonstration (RAD), which has already spurred over $4.0 billion in construction financing and converted more than 60,000 units since its inception.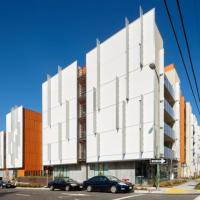 Topic(s):
Community Development
Public Housing