HUD's Office of Policy Development and Research (PD&R) has posted a new report which serves as a reminder that households receiving federal housing assistance are particularly vulnerable to worse outcomes if infected with COVID-19. The prevalence of heightened risk factors among HUD-assisted households lends support for a national testing and vaccination strategy that prioritizes the health of assisted households.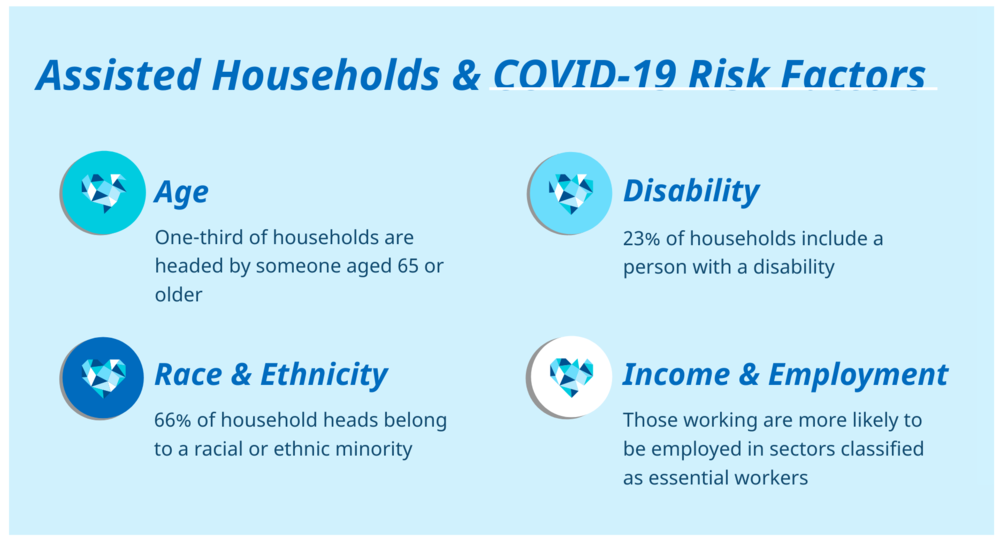 Age, disability, race, income, employment, and crowding are all known risk factors for increased risk of hospitalization or death from COVID-19. One-third of assisted households contain a household head aged 65 or older and while 41% of HUD-assisted households include a person with a disability, while only 24% of eligible unassisted renter households include a person with a disability.
The pandemic has highlighted significant racial and ethnic inequities that stem from persistent, uneven access to quality health care, housing, education, and food. As a result of these persistent disparities, Black and Hispanic Americans test positive for COVID-19 at higher rates and experience higher rates of hospitalization and death. According to HUD's report, 66% of HUD-assisted household heads belong to a racial or ethnic minority.
While it is difficult to know the exact estimate, workers in HUD-assisted households are more likely to be employed in sectors that classify them as essential workers, including health care, transportation, retail, agriculture, and manufacturing. In these sectors they face higher risk of exposure to COVID-19 as well as more limited job flexibility and ability to telework.
HUD-assisted households also have on average fewer square feet per person in their living space, which makes isolating during illness more challenging. And while assisted households contain a large number of one-person households and have on average fewer people per bedroom, this arrangement creates issues for social isolation and receiving any needed physical or emotional support.