The Housing Choice Voucher (HCV) Program is the nation's largest low-income rental assistance program. Funded by the U.S. Department of Housing and Urban Development (HUD) and administered locally by public housing authorities (PHAs), Section 8 Housing Choice Vouchers serve approximately 2.2 million households, including over 700,000 that are served by CLPHA member PHAs.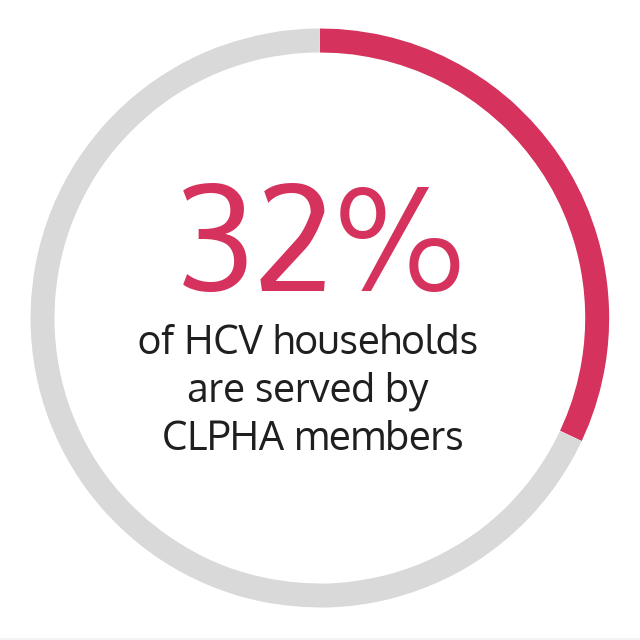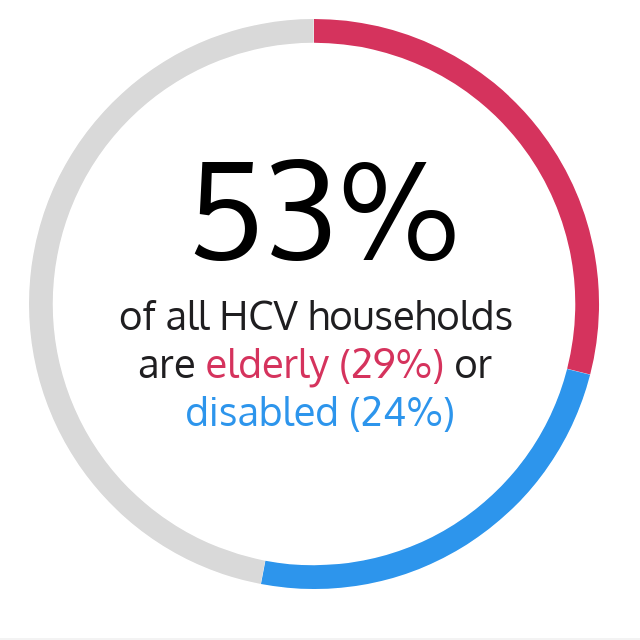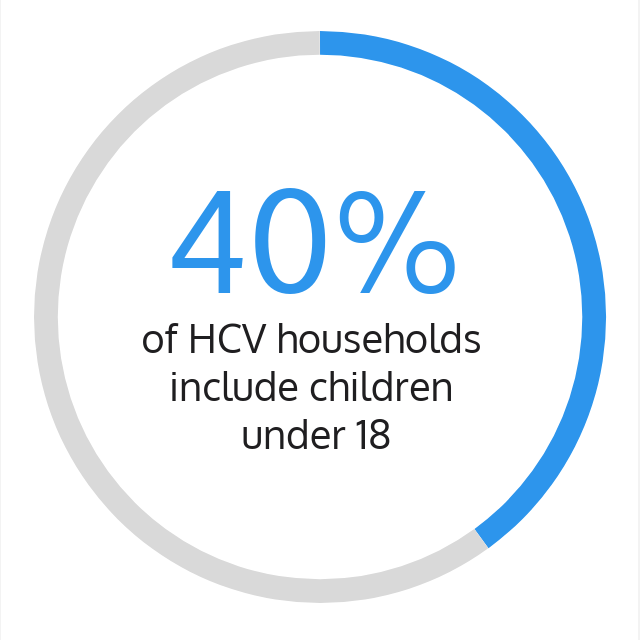 The HCV program supports the lowest-income families who struggle to secure safe, affordable housing in the private market. At least 75 percent of new voucher holders must have incomes that are below 30% of their area's median income. In 2018, the average annual household income among tenants in the program is approximately $14,700.
While targeting the most economically disadvantaged households, the HCV program also serves the most vulnerable. In 2018, 53 percent of HCV households were elderly (29 percent) or disabled (24 percent). Forty percent of HCV households included children under the age of 18. Of those non-disabled, non-elderly HCV households, 75 percent were working, worked recently, or likely were subject to work requirements.
Small Area Fair Market Rents (SAFMR) were first conceived as a demonstration program to test the policy in five cities around the country over a five-year period.
While CLPHA strongly supports the policy goals of SAFMR to improve low-income tenants' access to higher opportunity areas, local housing authorities need the flexibility to create rent structures based on variations in their local housing markets. SAFMRs do not produce the same results for all housing authorities, which is why CLPHA has argued against making the one-size-fits-all policy mandatory. HUD should continue supporting local flexibilities for PHAs to address their unique market conditions through programs like Moving to Work (MTW). MTW agencies, including King County Housing Authority, San Diego Housing Commission, and Seattle Housing Authority, have successfully created tiered ZIP code based rent systems to account for cost variations in their submarkets. But, if presented as a one-size-fits-all policy, SAFMRs will not work.
The Trump Administration's August 2017 decision to make SAFMRs voluntary was a direct response to mixed findings from that evaluation, which troublingly reported that the SAFMRs produced a 3.4 percent net loss of units that would otherwise be available to current HCV voucher holders. Even more concerning is the finding that low-income tenants in low-rent ZIP codes experiences a 22 percent increase to their rents.
Administrative Fees are payments from HUD to housing authorities for their administration of the HCV program. Much like the Operating Subsidy for public housing, administrative fees support PHA staff to help low-income families find and move into affordable housing. Administrative fees also cover the administrative costs of providing critical supportive services that help the most vulnerable low-income families move towards self-sufficiency. The ongoing administrative fee is paid by HUD to PHAs each month, and is based on the number of housing units a PHA currently has under contract.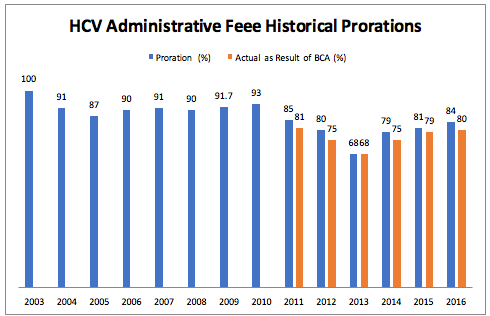 Administrative fees have been historically underfunded as congressional appropriations fail to meet the need. Chronic underfunding has forced some agencies to utilize their reserve funds so they can maintain their already-short staff capacity.
On July 6, 2016, HUD published a proposed rule to change the methodology for calculating administrative fees. CLPHA strongly opposed HUD's proposed changes because of its basis on a statistically unreliable Administrative Fee Study which, furthermore, was not authorized by Congress to calculate.
Without additional funding, HUD's proposed administrative fee formula would do little improve the efficiency and effectiveness of the HCV program. Rather, the proposed administrative fee formula simply reallocates fees among PHAs without reducing cost burdens or rewarding innovation. Instead of altering the current methodology, CLPHA encourages HUD to implement an administrative fee formula that is more flexible using supplemental fees. Supplemental fees are a critical component if HUD is to address administrative functions not identified as cost-drivers in the Administrative Fee Study.
The Council of Large Public Housing Authorities (CLPHA) is a national non-profit organization that works to preserve and improve public and affordable housing through advocacy, research, policy analysis and public education. Our membership of more than seventy large public housing authorities ("PHAs") own and manage nearly half of the nation's public housing program, administer more than a quarter of the Housing Choice Voucher program, and operate a wide array of other housing programs. They collectively serve over one million low income households including families with children, seniors, and persons with disabilities.
A major goal of CLPHA is to ensure the preservation and improvement of federally assisted housing through adequate funding for the Public Housing and Housing Choice Voucher Programs. These investments are critical to enable PHAs to keep up with necessary improvements to their housing stock that will benefit the families and seniors that live in public housing and to improve their education, employment, and health outcomes. The availability of affordable housing positively impacts life outcomes, and as a result, significantly reduces costs within other systems. We recommend the following funding levels for these key housing programs. When our calculations are not formula driven, they are principally based upon need.
Please note that our initial FY 2018 funding recommendations are based on the best information available at the time. We may submit revised funding recommendations to Congress when more detailed and timely information, such as the President's FY 2018 budget request and Congressional Justifications, become available.
| | |
| --- | --- |
| Public Housing Operating Fund | |
| Public Housing Capital Fund | |
| Choice Neighborhoods Initiative (CNI) | |
| Resident Opportunity and Supportive Services | |
| | |
| | |
| Public Housing Financial and Physical Assessment Activities | |
| Rental Assistance Demonstration | |
| Housing Choice Voucher (HCV) Renewal Funding | |
| | |
| Consolidated Family Self-Sufficiency Program (FSS) | |
| | |
| Tenant Protection Vouchers | |
| Contract Administrators for Project-Based Section 8 | |
| Section 8 Project Based Rental Assistance | |
| Community Development Block Grants (CDBG) | |
| HOME Investment Partnerships Program | |
Explanation of FY 2018 Funding Needs
Public Housing Operating Fund - Based on the current Operating Fund rule, and current HUD methodologies for calculating the PEL, UEL, and Rental Income. Eligible Unit Months also reflect available HUD data on occupied units and adjustments related to RAD.
Public Housing Capital Fund - The estimate addresses current accrual needs and a portion of the capital needs backlog. Annual accrual needs were estimated at more than $3.4 billion based upon the congressionally mandated study by Abt Associates Inc. in 2010. The Capital Needs Assessment also found a capital needs backlog of $26 billion. The amount requested would make critical repairs and pursue much-needed programs of modernization to help reduce the backlog.
Housing Choice Voucher Renewal Funding - The amount requested is expected to ensure the renewal of assistance for all voucher-assisted low-income households served in 2017. No offset is assumed in this recommendation.
Housing Choice Voucher Administrative Fees - At this time, we believe this figure would be sufficient to fund all PHAs at 100 percent of their eligibility based on the fee rates in effect immediately prior to the enactment of the Quality Housing and Work Responsibility Act of 1998 (QHWRA). This amount also includes $20 million in special administrative fee funding to support PHAs' administration of tenant protection vouchers and special purpose vouchers, including, but not limited to: HUD-Veterans Assisted Supportive Housing (VASH), Mainstream, and Family Unification Program Vouchers. This amount includes only administrative fees for renewal vouchers. It does not include administrative fees for any potential incremental vouchers.
Tenant Protection Vouchers – The requested amount includes a set-aside of $15 million for public housing authorities to use TPVs in conjunction with RAD to make more conversions feasible. PHAs would continue to be eligible for additional TPVs for other eligible PHA activities as in prior years.
Rental Assistance Demonstration (RAD) – In addition to the requested amount, CLPHA supports eliminating the current unit cap on public housing conversions. Eliminating the cap will enable more properties to leverage private financing for capital improvements, enabling these properties to remain a source of critical affordable housing for low-income seniors and families.
Choice Neighborhoods Initiative (CNI) - As has been the practice in previous years, CLPHA recommends that two-thirds of the funds be reserved for applications in which a public housing authority is the lead applicant or a co- applicant. Large capital grants through programs like Choice Neighborhoods are among the most effective tools to help PHAs address the needs of severely distressed public housing developments by attracting private capital and transforming communities into thriving, mixed-income neighborhoods with reduced crime and increased opportunities for residents.
Family Self-Sufficiency Program (FSS) – Of the amount requested, $85 million should be reserved for PHAs. This funding level is needed to maintain funding for all existing program coordinators in the consolidated Public Housing and Section 8 FSS program. The additional funding would support expansion of the program to include Section 8 PBRA properties as well as expansion of FSS in voucher and public housing programs.
Section 8 Project Based Rental Assistance - We support fully funding this account by providing for 12 months of funding for all contracts from January through December 2018. This estimate does not assume HUD's implementation of the HOTMA's medical/disability expense deduction threshold for elderly and disabled households up from 3 percent to 10 percent of their gross income before such expenses can be counted as a deduction. We support adequate funding to ensure that all assisted-households will be able to continue to be served in the upcoming year.