The Housing Authority of the City of Austin (HACA) is one of the leading housing authorities in the field of digital equity, offering several services to residents to improve digital inclusion. Eight years ago, HACA identified that their residents were missing out on the many online services and opportunities due to the digital divide – that is, the gap between those who have consistent access to modern information and communications networks, technology, and devices and those who do not. At that time, when 94% of the city's residents had an internet plan, only about 4% of HACA residents had one. Today 77% of HACA residents have a consistent very high-speed internet connection in their unit, thanks to a zero-cost partnership between HACA and Google Fiber. In 2023, HACA expects to achieve 100% connectivity for residents by connecting four additional properties, thanks to PCs for People and Indeed.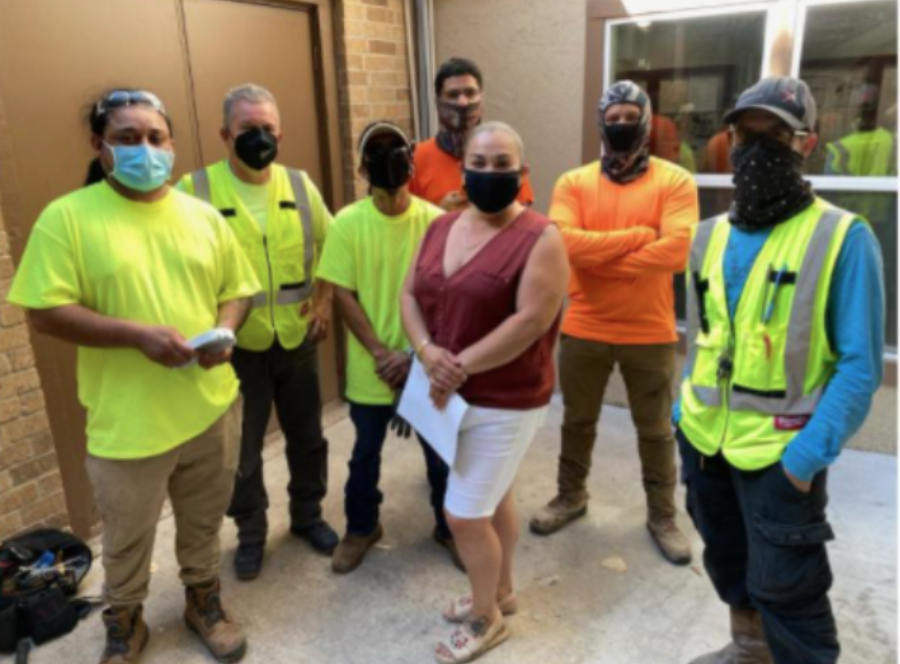 HACA Community Health Worker Myra Rubaclava leads a Google Fiber crew at a senior property. Rubaclava, who completed digital navigator training with the National Digital Inclusion Alliance and has served as a HACA resident Digital Ambassador. Rubaclava "prescribes" digital tools training for residents who can benefit in their health plans.
Without a free internet service, resources like telehealth, online bill payment, and opportunities for educational and workforce development were out of reach for residents, negatively impacting their abilities to utilize essential online services. HACA's Head of Strategic Initiatives Catherine Crago shared with CLPHA the work that the agency is doing to bridge this gap in digital equity, the importance of partnerships, and the amount of residents' input needed to make this endeavor successful.
In November, 2014 HACA launched the Unlocking the Connection initiative to bridge the digital divide for their residents. The goals of HACA's initiative were to:
Provide residents with free and very low-cost high-quality internet access, refurbished devices and digital literacy;
Build an ecosystem that gives residents timely access to just-in-time digital equity supports; and
Ensure that residents are equally able to participate in online society.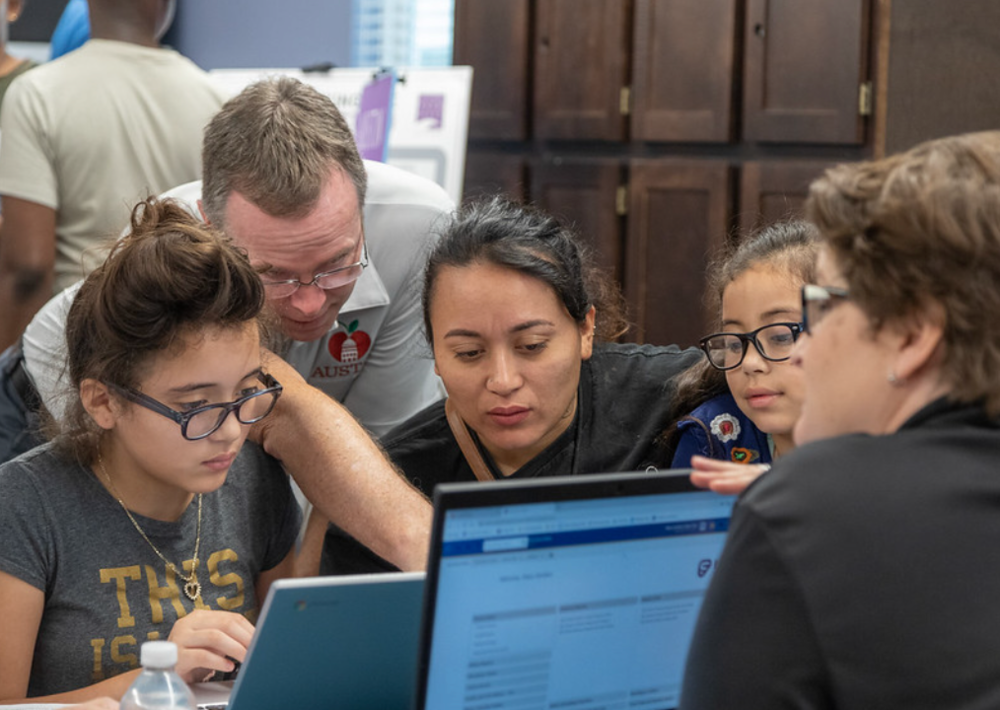 HACA families learn to register for Austin Independent School District's Parent Portal at a 2019 Back to School event. Laptops were provided by Charter Spectrum.
Under the initiative, residents at 14 properties receive free, high quality internet through Google Fiber or guidance on how to register for the FCC's Affordable Connectivity Program, refurbished devices, as well as digital literacy training catered to all ages.
Catherine said that providing residents with just the basic equipment and internet connection outlined in the first goal is not enough to achieve digital equity. The second goal is achieved by engaging HACA residents to help their neighbors to use this connection to further their goals and aspirations. The final goal of the initiative, and HACA's wider mission of advancing digital equity, is achieved by building trust, facilitating civic engagement, and ensuring that all individuals they serve are equally able to connect to the digital world.
To successfully carry out these goals, HACA has partnered with both local and national organizations. Over the past six years, along with 157 IT interns from the Austin Community College, over 120 HACA residents have been hired and trained as stipend-paid Digital Ambassadors to help with the initiative. These resident Digital Ambassadors often act as liaisons between the residents and technology companies, informing the companies of HACA residents' built environments and needs, while serving as a bridge to ensure residents are informed about how to use a company's technology safely. This relationship has been extremely useful to residents who reported feeling uncomfortable with allowing internet service providers into their homes due to safety and COVID concerns during the pandemic. In addition to working with the liaison team, Digital Ambassadors at HACA can work on different intervention teams including outreach, research and engineering, and education. All of the teams center on building residents' trust and concerns, as well as advocating for residents' needs within their individual teams. HACA's Digital Ambassadors met with peers in other cities to expand their thinking about how navigator programs could operate and share best practices on how best to serve their residents.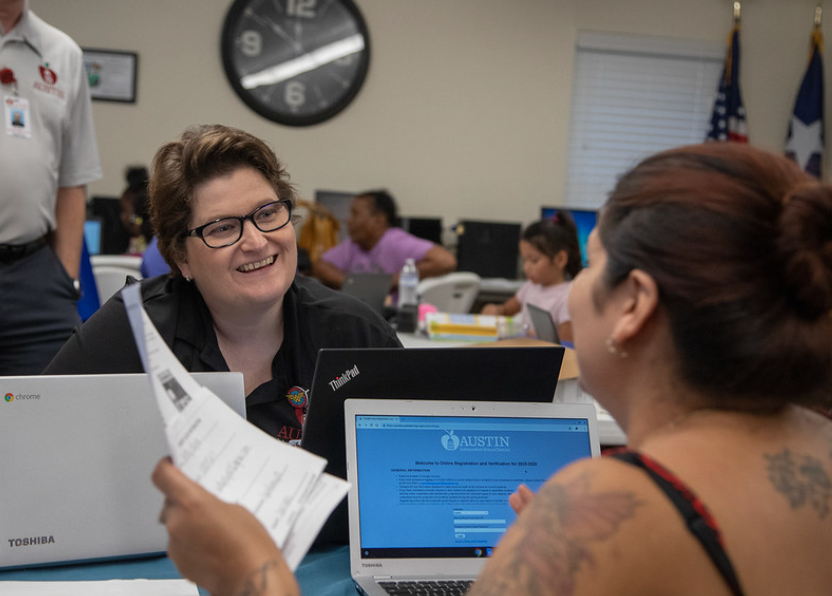 At HACA's 2019 Back to School event.
Catherine said it is important to choose partnerships wisely, especially when considering corporate partnerships. To other public housing authorities looking to engage in this work, she advises to first consider the problem you're facing, figure out who is working to solve the same issue, and what you can learn from other public housing authorities working toward this same goal. The next step is to create partnerships with those organizations who have assets and resources that you may need to accomplish your shared goal. For example, a city ordinance requires micro-mobility providers, such as eBike and scooter providers, to serve every part of the city, not just downtown. In its partnership with Lyft, Lyft provided reduced-price mobility memberships and income opportunities for HACA residents at properties across the city. Austin Energy has invested in training Mobility Ambassadors to teach their neighbors how to use app-enabled eBikes around the city for short trips – and has made the year-long MetroBike membership free for HACA residents. Last Fall, Austin Energy and BikeTexas led a transit adventure from a senior property to a local grocery store – residents learned to download the eBike application, create their account and interact with the digital interface to unlock bikes.
The role of residents in developing this initiative has been critical to its success. Digital equity is important to HACA because of how necessary it is to ensure residents' rights and autonomy. While developing the initiative HACA focused on residents' wants and needs and ensured their participation throughout the entire process. With trust being one of the major barriers to overcome in an initiative like this, HACA involved residents in designing the program, through focus groups, innovation teams, and its Digital Ambassador program so that they were able to build trust while bringing this initiative to life. Catherine characterized HACA's strategy to include residents early on when developing initiatives by citing a method from the Agile Development Theory of product development, saying, "We start slow and small to go fast." For HACA, being and slow and deliberate at first, carefully soliciting and incorporating resident voices during the development of their Unlocking the Connection initiative, led to a smoother, more efficient rollout of the program that holistically and thoughtfully connects residents with more online services, resources, and opportunities.
PHAs are uniquely well-positioned to help bridge the digital divide given that they house and provide services to some of our nation's lowest-income and most disconnected families. To learn more about how PHAs like HACA are pioneering this important work, and how CLPHA's Housing Is Initiative supports the advancement of digital equity initiative, visit .
More resources: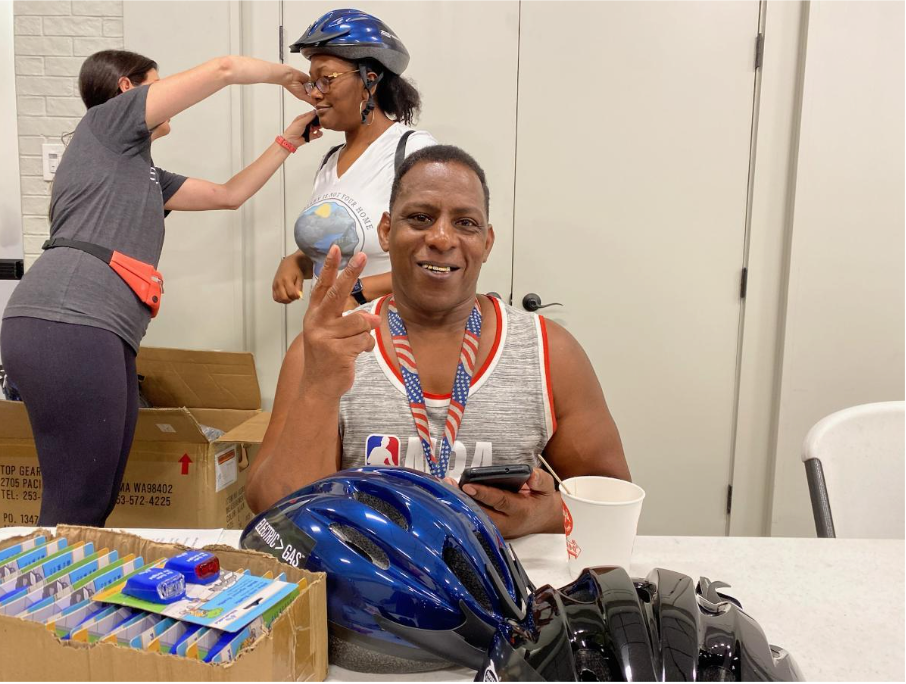 At Lakeside Apartments, HACA residents learn to use the digital tools they need to unlock free eBikes before a group ride to the local grocery store. Austin Energy and MetroBike invested in bridging the digital divide to catalyze adoption of EVs by low-income residents.