CLPHA Spring Meeting Stimulates Racial Equity & Inclusion Conversations, Draws Members of Congress to Discuss Their Visions for Public and Affordable Housing, and Celebrates Members' Innovations and Accomplishments
CLPHA members gathered in the nation's capital for our spring meeting to celebrate the work of our members, hear from Members of Congress, receive legislative and policy updates, and discuss topics relevant to public housing authorities. The meeting started on a historic note with the recognition that the elected leadership of the nation's four PHA industry groups – CLPHA, the National Association of Housing and Redevelopment Officials, the Public Housing Authorities Directors Association, and the MTW Collaborative – are all people of color for the first time in the groups' histories. The day before the spring meeting, CLPHA also brought PHA communicators together for a day-long convening focused on racial equity and inclusion messaging.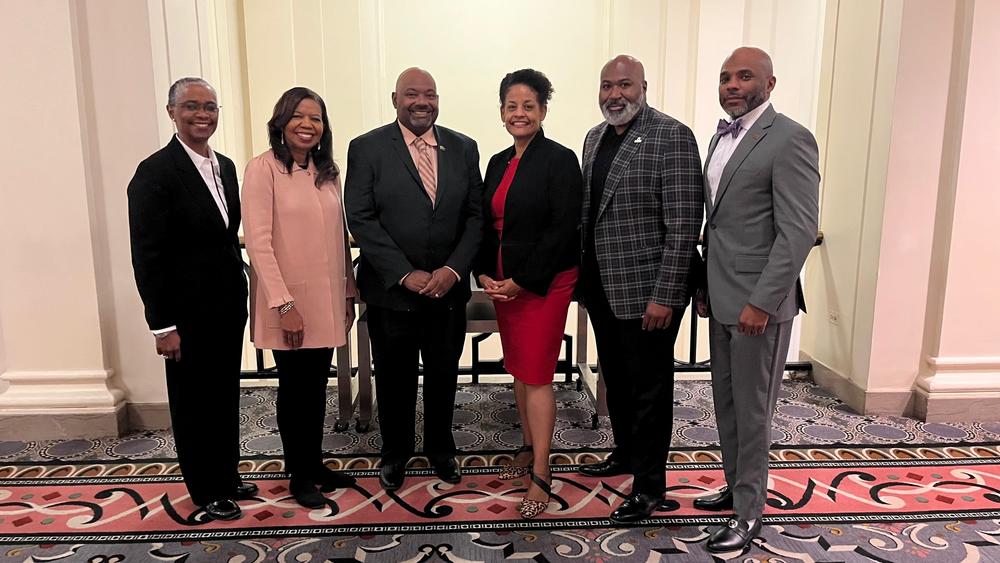 From left: Tracey Scott, CEO of the Chicago Housing Authority and President of MTW Collaborative; La Shelle Dozier, Executive Director of the Sacramento Housing & Redevelopment Agency and Vice Preisdent of CLPHA; Jeffery K. Patterson, CEO of the Cuyahoga Metropolitan Housing Authority and President of CLPHA; Patricia Wells, Executive Director of Oakland Housing Authority and President of NAHRO; David Northern, President of Houston Housing Authority and President of PHADA; George Guy CEO/Executive Director of Fort Wayne Housing Authority and Vice President of NAHRO
Public housing champion and former NYCHA resident Congressman Ritchie Torres (D-NY) kicked off the meeting noting the humanitarian crisis facing public housing must be solved because the program is too big to fail. He celebrated NYCHA's redevelopment of Chelsea-Elliott Houses as a project that should serve as a national model in the way that NYCHA empowered residents to select the developer and negotiate with them for a RAD deal.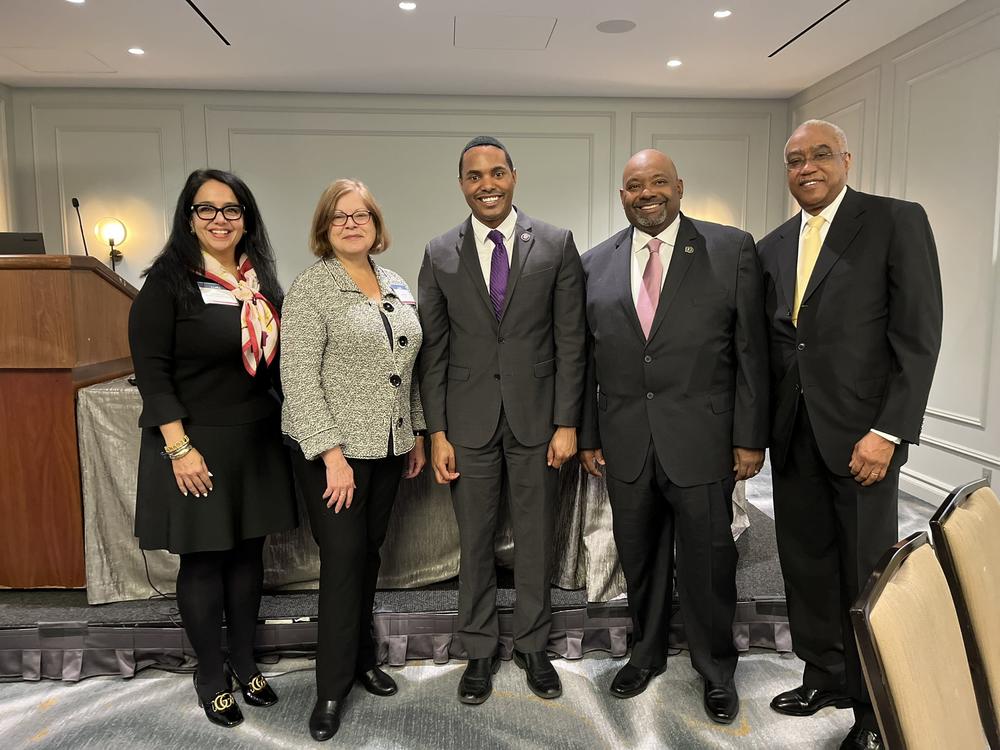 From left: Lisa Bova-Hiatt, Interim CEO of the New York CIty Housing Authority and CLPHA Board Member; Sunia Zaterman, Executive Director of CLPHA; U.S. Representative Ritchie Torres (D-NY); Jeffery K. Patterson, CEO of the Cuyahoga Metropolitan Housing Authority and President of CLPHA; Gerard Holder, Legislative Director of CLPHA
The Ripples of Hope segment offered inspirational news and announcements from members across the country, including the openings of the Housing Authority of the City of Goldsboro's 48-unit mixed use development, Boston Housing Authority's new LIHTC-funded property with 40 units for seniors and people with disabilities, and the Durham Housing Authority's The Joyce, an 80-unit building named after a former resident and the first Black person to attend Duke University's physician's assistant program. Another piece of good news was shared when CLPHA Executive Director Sunia Zaterman announced a big win for PHAs with HUD ending its efforts to revise the ACC.
Congressman Warren Davidson (R-OH), chair of the Housing and Insurance Subcommittee of the House Financial Services Committee, opened the second day's meeting sessions, noting that he does not believe there should be any cuts to housing. Senators Tina Smith (D-MN) and Ron Wyden (D-OR) shared video remarks discussing their commitments to public and affordable housing.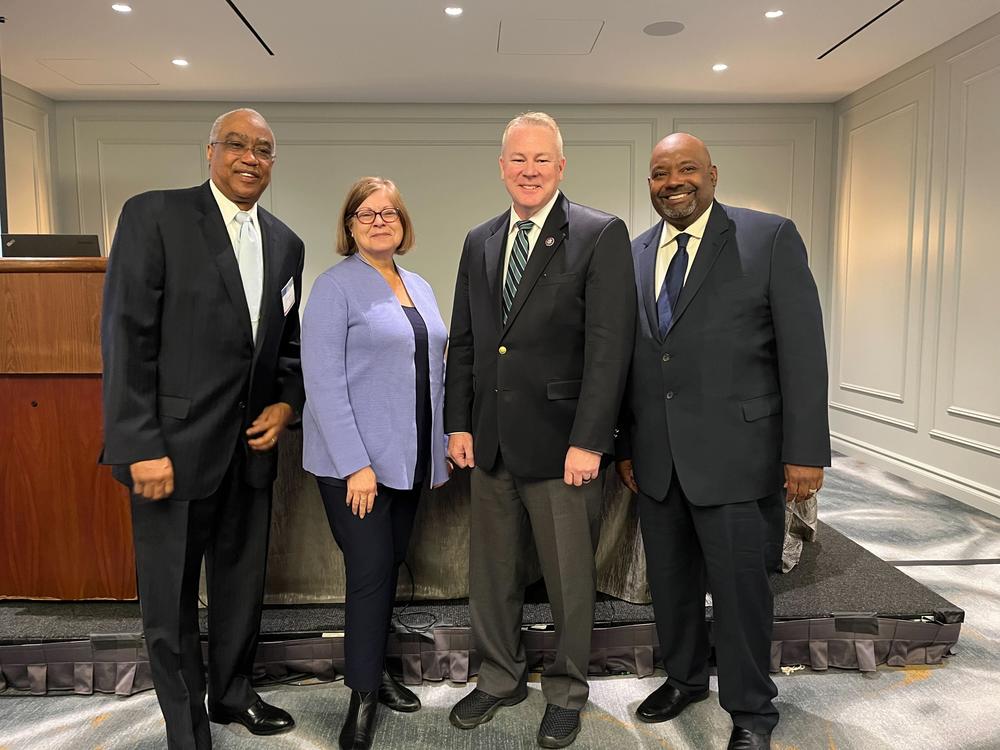 From left: Gerard Holder, Sunia Zaterman, U.S. Representative Warren Davidson (R-OH), Jeffery K. Patterson
CLPHA's panel discussions on reducing barriers to housing for justice-involved individuals and leveraging funds for green retrofits and climate resiliency both challenged and informed members on these key issues facing public and affordable housing. CLPHA also unveiled the findings of its racial, equity, inclusion, and belonging assessment that sought to learn more about members understanding, current work, and needs around racial equity. Next steps for this work will include creating a racial equity working group.
Joe Carlile, program associate director for housing, treasury and commerce for The White House's Office of Management and Budget, addressed meeting attendees and noted that President Biden's 2024 budget demonstrates the president's belief the housing is a human right and recognizes this by moving several housing programs from the discretionary to mandatory side of the budget.
The meeting ended with the always popular HUD staff panel the included discussion of important, timely topics like NSPIRE, HOTMA, AFFH, and HCV utilization. We look forward to seeing our members again in June in Cleveland for CLPHA's summer meeting!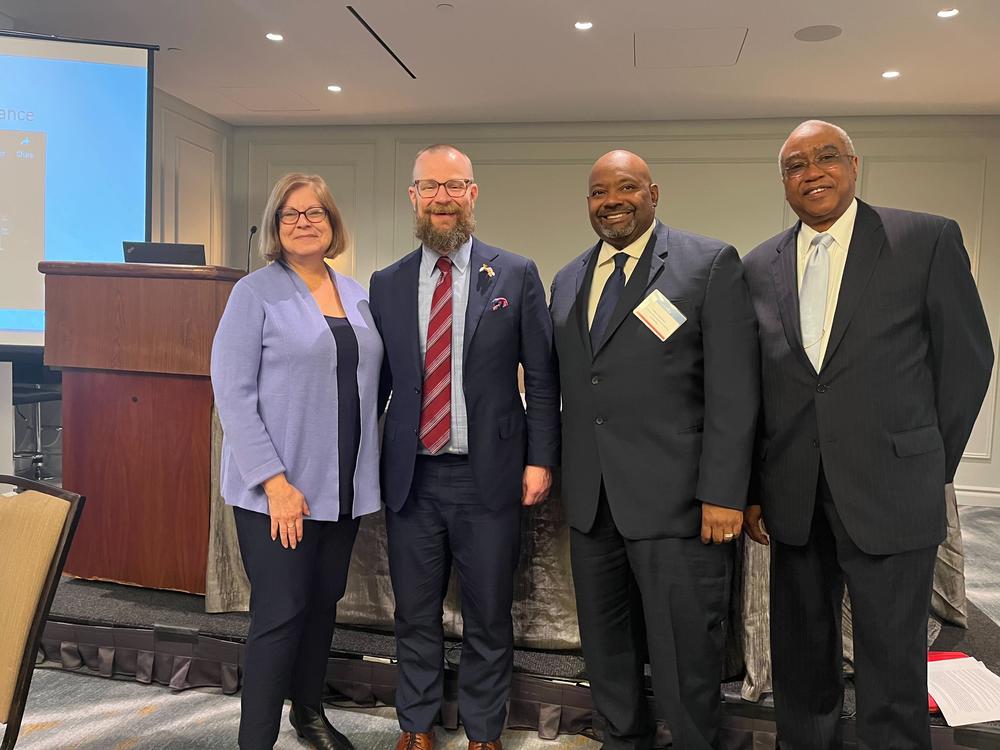 From left: Sunia Zaterman; Joe Carlile, Program Associate Director for Housing, Treasury and Commerce, The White House's Office of Management and Budget; Jeffery K. Patterson; Gerard Holder