Last month, over one hundred CLPHA members gathered in Washington, D.C. for CLPHA's Fall 2023 Membership Meeting. The main focus of the conference was CLPHA's 10-year Roadmap for Public Housing Sustainability. CLPHA is calling for this roadmap to marshal the necessary political support, policies, resources, and services to recapitalize the portfolio by leveraging public and private investments through preservation, redevelopment, mixed-use transformations, transfer of assistance, and other innovative strategies. This investment will also bring climate resilience, energy efficiency, resident health improvements, and better service connections to our country's most disadvantaged families.
The conference kicked off with an all-star roundtable of housing experts discussing how CLPHA and our industry partners can develop and implement this 10-year roadmap. U.S. Representative Ritchie Torres (D-NY), HUD Deputy Secretary Adrianne Todman, Former NYCHA Chair & CEO Greg Russ, CLPHA General Counsel Steve Holmquist, and CLPHA Executive Director Sunia Zaterman shared their thoughts on what strategies we need to employ to meet the public housing portfolio's capital needs backlog of over $100 million. Key elements that must be included in the roadmap that surfaced during their panel included new financing mechanisms, illustrative data, new legislative fixes, and changes in regulatory structure. You'll be able to hear the panelists' full conversation during a future episode of CLPHA's To The Point Podcast – subscribe to To The Point here so you'll be notified when that episode drops soon!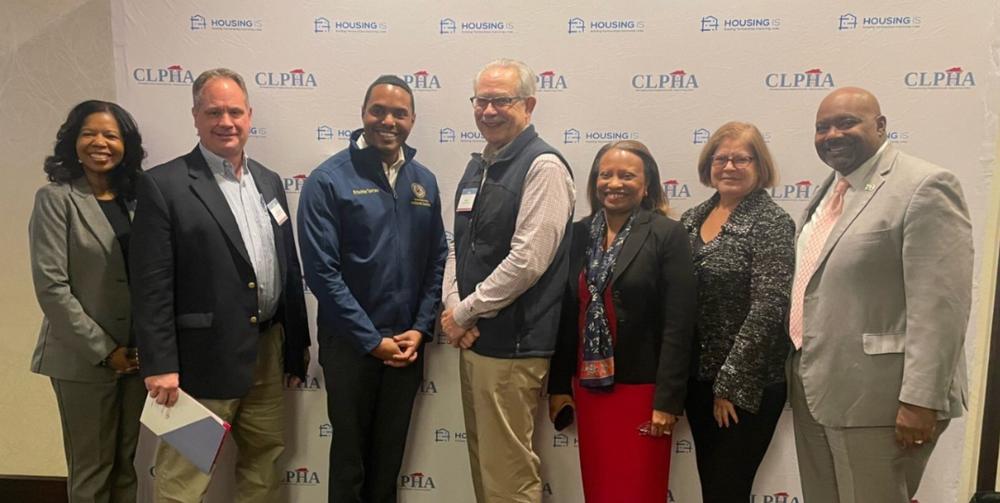 From left: La Shelle Dozier, CLPHA Board Vice President and Executive Director, Sacramento Housing & Redevelopment Agency; Steve Holmquist, CLPHA General Counsel, Reno & Cavanaugh PLLC; Representative Ritchie Torres (D-NY); Greg Russ, Principal, Pine Street Partners and Former Chair & CEO, New York City Housing Authority; Adrianne Todman, HUD Deputy Secretary; Sunia Zaterman, Executive Director, CLPHA; Jeffery K. Patterson, CLPHA Board President and CEO, Cuyahoga Metropolitan Housing Authority
Later in the afternoon, two panels dove deeper into how the 10-year roadmap can and must invest in climate resiliency and community behavioral health services, respectively. Alongside moderator Greg Russ, Vlada Kenniff, president of New York City's Public Housing Preservation Trust, Joel Wool, deputy administrator for sustainability and capital transformation at the Boston Housing Authority, and Alejandro Sagrado-Colón, administrator of the Puerto Rico Public Housing Administration, discussed how their PHAs are creatively utilizing available funding streams and regulations to weatherize the public housing portfolio and prepare for the impacts of the changing climate. The panelists also advised on how to shape the 10-year roadmap so that PHAs can better access the tools and resources they need to protect their portfolios from the effects of climate change.
During our panel on the 10-year roadmap and community behavioral health, Jane King, PsyD, LP, senior consultant at the National Council for Mental Wellbeing, educated attendees on addressing community mental health needs from different approaches, including mental health first aid staff training, stress management programs and community partnerships, and the expansion of certified community behavioral health clinics. Doug Guthrie, president & CEO at the Housing Authority of the City of Los Angeles, and Karen DuBois-Walton, PhD, president of Elm City Communities, discussed their PHAs' programming that addresses residents' behavioral health needs while also providing their insights on how the 10-year roadmap could facilitate this work.
Audio from both the climate resiliency and community behavioral health panels will also be available via CLPHA's To The Point podcast, so stay tuned!
CLPHA was also honored to have U.S. Representative Adam Smith (D-WA) join us to give remarks. Rep. Smith discussed his recently reintroduced the Expanding Services Coordinators Act, which CLPHA strongly supports. The bill acknowledges the critical role that service coordinators play in the lives of individuals and families living in federally subsidized housing. If enacted, the bill would make necessary reforms and increase funding for our nation's service coordinator workforce. He also stressed the importance of building more housing to address our nation's housing supply shortage and expanding PHA residents' access to supportive services in order to help them address mental and behavioral health challenges and set them up for future success.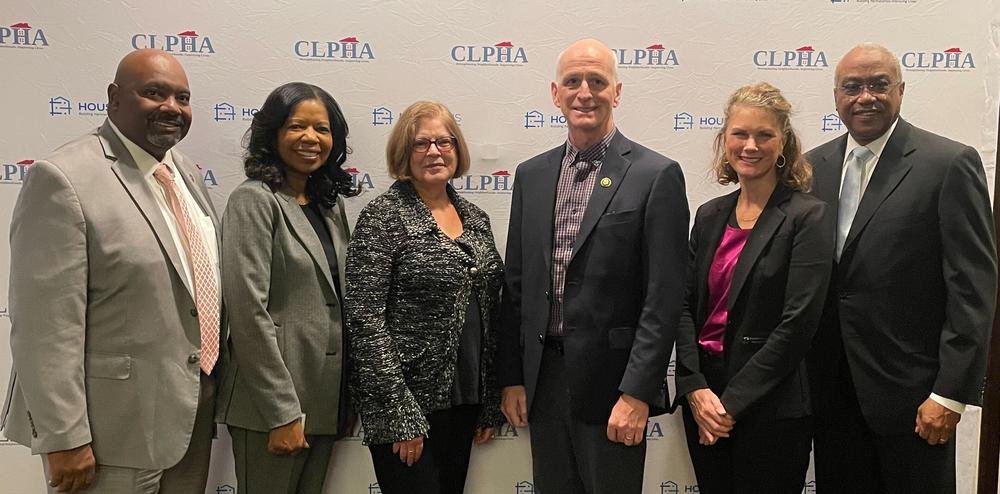 From left: Patterson; Dozier; Zaterman; Representative Adam Smith (D-WA); Lisa Wolters, Director of Intergovernmental Relations, Seattle Housing Authority; Gerard Holder, Legislative Director, CLPHA
During Thursday morning's sessions we had a powerful, extended Ripples of Hope session where our members shared their local success stories, and we heard touching remarks from retiring members including Jon Gutzmann of the St. Paul Public Housing Agency, Denise Wise of the Housing Authority of the City of San Buenaventura, and Sue Cohen of the Cambridge Housing Authority. We also welcomed new CLPHA member executive directors and celebrated Tacoma Housing Authority Executive Director April Black's election to CLPHA's board. Later in the conference we were also pleased to hear a presentation from Mary-Margaret Lemons, president of Fort Worth Housing Solutions, on the progress of Stop Six, FWHS's Choice Neighborhoods project.
Our Friday sessions were jam-packed with presentations from senior HUD officials on the usual alphabet soup of topics important to PHAs, including NSPIRE, HIP, RAD and post-RAD issues, HOTMA, TARs, SAFMRs, and more. As always, our members appreciated the ability to chat face-to-face with staff from HUD headquarters and ask questions about the programs and policies that matter most to them.
CLPHA thanks our attendees, guest speakers, and sponsors CVR Associates, Bronner Group, Nan McKay & Associates, Yardi, and Du Associates for helping to make our fall meeting a success! We look forward to seeing everyone at our Spring 2024 Meeting, to be held March 21-22 in Washington, D.C.