At the first Earth Day celebration in 1970, the focus was on environmental education and protection. 52 years later, the environmental movement understands that the most vulnerable and communities of color are often the first and most affected by climate instability and change. Because public housing authorities serve low-income families and are a significant consumer of energy in the United States, with a large national footprint of residential and commercial properties, they are in a unique position to address climate justice and racial equity issues. CLPHA members are leading environmental justice efforts with green projects that develop environmental infrastructure plans, upgrade existing buildings, and build community-wide coalitions of tenants, local government, and private businesses.
Research shows that people living in low-income areas are more vulnerable to climate risks due to factors such as living in historically redlined areas, breathing more polluted air, and living in heat deserts. The Municipal Housing Authority for the City of Yonkers (MHACY) recently commissioned a feasibility study that laid out a comprehensive plan to promote environmental resiliency in one of the region's largest affordable housing systems. The Hudson Valley region is expecting more intense rainfall over the next decade and many more heat waves due to climate change.
MHACY partnered with Groundwork Hudson Valley to develop an innovative green infrastructure plan that will prevent heat islands and flooding at housing authority properties. The plan was awarded a $900,000 grant from the NYS Environmental Facilities Corporation. The proposed work will benefit hundreds of low-income residents in apartment buildings across the MHACY system. It is part of a larger environmental justice effort to correct policies that in the past have caused communities of color to suffer a disproportionate share of negative environmental consequences.
The Oklahoma City Housing Authority won a grant from the Oklahoma City Community Foundation to plant trees and improve irrigation along key corridors to create additional shade in areas where heat deserts have disproportionally impacted housing authority residents.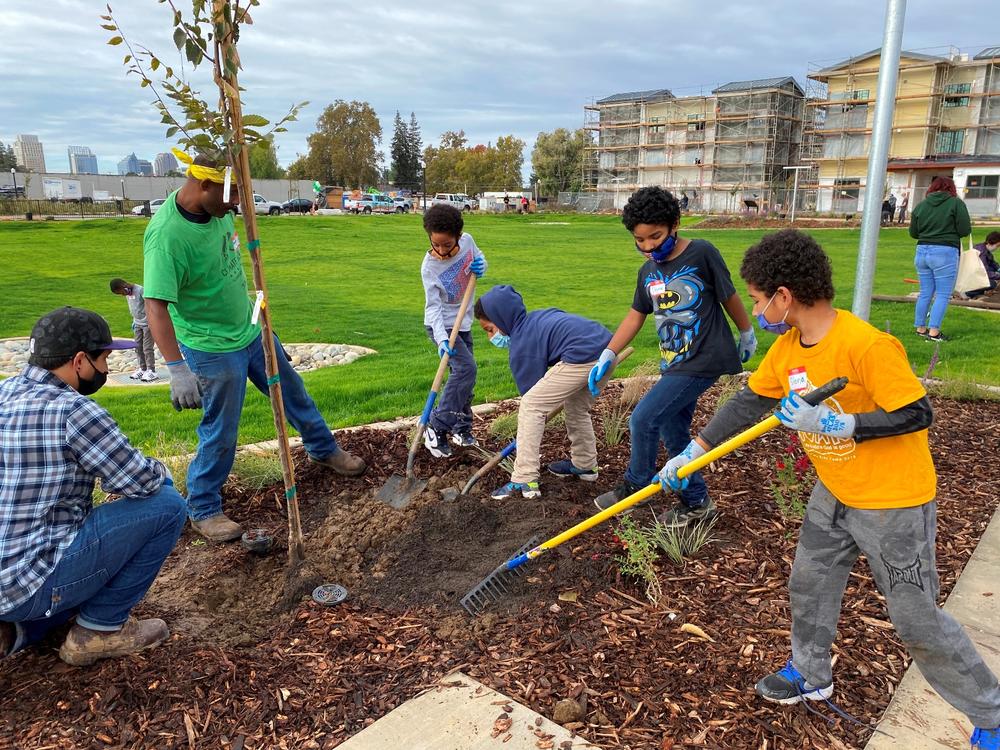 Tree planting at SHRA's Mirasol Village
The Sacramento Housing and Redevelopment Agency worked with the Sacramento Tree Foundation and the City of Sacramento to install a new functional stormwater infrastructure system that is camouflaged by a 1.1-acre community park with trees planted by residents and environmentalists. They hosted a tree planting event for volunteers to plant the first 26 trees of 10 different species at Mirasol Village, which will eventually have 800 trees in the project area. The development is Sacramento's largest new 427-unit mixed-income housing project in the River District near the confluence of the Sacramento River and the American River. The tree planting project was made possible with support from the Sacramento Municipal Utility District, SIMPL (Sacramento Integrated Multimodal Placed-Based Living), and California Strategic Growth Council's Transformative Climate Communities program with funds from California Climate Investments.
SIMPL is an initiative to transform the northwest section of Sacramento's downtown into a connected, thriving community that supports residents' quality of life, health, and inclusion in the broader region. Projects like the planting support urban greening, health and well-being, equitable housing, increased mobility, and decarbonized energy for the people who live and work there.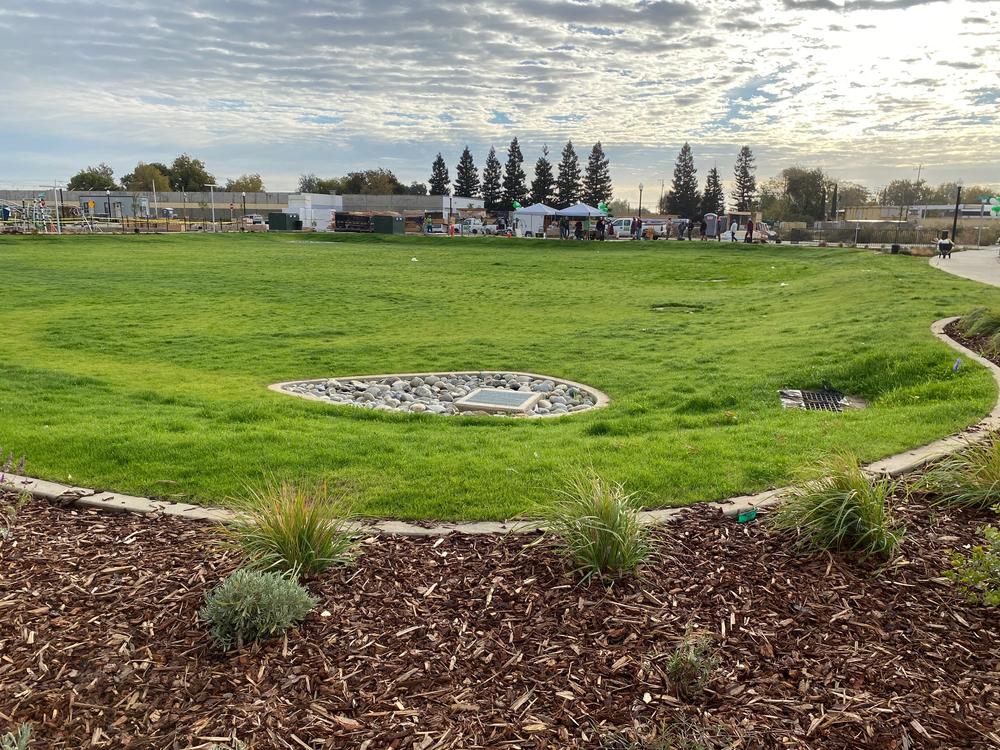 Stormwater Catch Basin at SHRA Property
The Seattle Housing Authority (SHA) has a long history of innovative environmental stewardship and social justice activities conducted in partnership with tenant groups, local government, higher education, private industry, and community-based organizations. In 2019, SHA adopted its first Sustainability Agenda, developed in collaboration with over 250 SHA staff, hundreds of tenants, local government partners, and several community-based organizations serving SHA communities.
Broad examples of successful innovation in this area include food and yard waste collection at every SHA-owned, or managed site, diverting over 100,000 tons of food waste from landfills, a no-cost transit pass program for public housing clients that provides more than 10,000 no-cost trips each year, and data-sharing partnerships to pre-qualify clients for utility discount programs, resulting in a reduction of more than $2 million in out-of-pocket costs for tenants each year. Additional examples include more than $7 million dollars invested in energy efficiency and environmental health measures since 2015, a plan to double on-site solar arrays by 2025 and host more than 250 kilowatts of on-site electricity generation, a fleet revitalization project that converted all passenger vehicles in the agency's fleet to Electric Vehicles (EVs) over a 3-year period, and installation in 2021 of state-of-the-art heat pump water heater technology at a 100-unit building.
Young residents at the Seattle Housing Authority go door-to-door to deliver food waste information and containers to SHA residents, an effort that has diverted more than 100,000 tons of food waste from landfills.
In March of 2022, the Seattle Housing Authority signed on to a new U.S. Department of Energy Better Climate Challenge. As a partner, SHA is committing to reduce greenhouse gas emissions by 50 percent and energy consumption by 15 percent across all portfolios by 2032.
Upgrading public housing properties is a direct environmental mitigation strategy that has immediate, positive impacts on low-income families. Recently, the Chicago Housing Authority Building Operations department installed new energy efficient air conditioners a several of their properties. The new air conditioning units have an Energy Star efficiency rating of nearly 100 percent. The units not only provide energy efficient cooling, but dramatically cut down the amount of outside air that enters. It was difficult for CHA to find capital funds to replace the AC units all at once, so they utilized an outside funding opportunity. This is one of the reasons why CLPHA continues to prioritize recapitalizing the public housing portfolio. Not only for improving living conditions for residents, but also as a down payment in environmental justice and equity.