We were saddened to learn of the passing of Gordon Cavanaugh, a tireless advocate for public and affordable housing and those served by it, on May 27, 2021. Throughout his long and storied career Gordon worked to advance housing and economic opportunities for low-income Americans. In 1977 Gordon and his partner Lee Reno founded Reno & Cavanaugh, CLPHA's law firm. Gordon was actively involved in the founding of CLPHA in 1981 served as CLPHA's first general counsel for over twenty years. Our thoughts are with Gordon's family at this time.
Gordon's commitment to improving the lives of low-income people is encapsulated by these words he wrote to his daughter Ann: "You are learning that the political side that stands for helping poor and otherwise underprivileged people is usually the less popular. The reward in doing the right thing in life is the peace it gives you in the long haul."
You can learn more about Gordon's remarkable life and career in his obituary, and in this 1984 Washington Post profile. In the next edition of CLPHA 360, CLPHA Executive Director Sunia Zaterman will provide her reflections on Gordon and his contributions to CLPHA.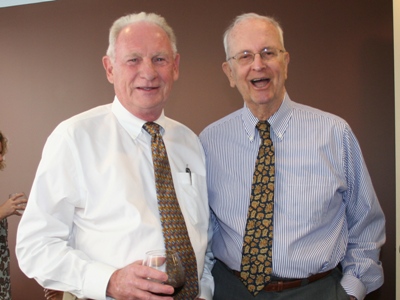 Left: Lee Reno; Right: Gordon Cavanaugh; Photo Courtesy of Reno & Cavanaugh PLLC