From the Atlanta Voice:
Monday morning, U.S. Department Housing and Urban Development Secretary Marcia L. Fudge visited Atlanta as she toured Herndon Square as the City of Atlanta continues to promote their affordable housing initiatives. Herndon Square boasts 586 money rental unites, of which 52% are affordable, 97 senior rental units, and 32 town homes for sale, of which 21% are affordable.
The Herndon Square plan is developed by a partnership with Hunt Companies/Oakwood Development Corporation, with additional partnerships by HUD, City of Atlanta, Westside Future Fund, Invest Atlanta, Department of Community Affairs and Georgia Tech.
In January 2020, construction began on Herndon Square, which hired workers through Westside Works and the workers received OSHA training and further skills development.
"Herndon Square is a rebuild of the historic Herndon Homes slated to provide over 600 new units to seniors and families, and is the perfect example of building back better," said Eugene E. Jones, CEO of Atlanta Housing.
Fudge was in Atlanta promoting President Joe Biden's Build Back Better infrastructure plan, which emphasizes investments in housing construction and rehabilitation, economic development, and community revitalization. President Biden's Build Back Better Plan is in two the form of two bills, one a $1 trillion bipartisan infrastructure bill that would rebuild and repair traditional infrastructure in the U.S., and a broad $3.5 trillion measure that could pass with only the support of Democrats, via budget reconciliation.
Read The Atlanta Voice's article "HUD Secretary Fudge meets with Atlanta Mayor Bottoms to promote affordable housing," featuring Atlanta Housing.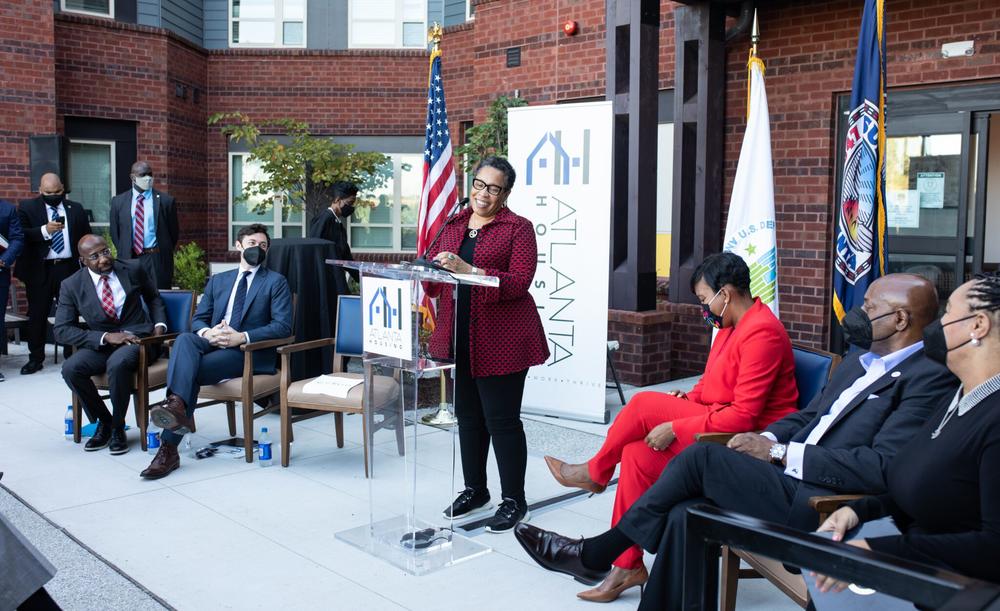 (Photo: Itoro N. Umontuen/The Atlanta Voice)