OCHA is Transforming Public Housing to Meet the Needs of Their Oldest Low-Income Residents
Through thoughtful, targeted, and health-focused redevelopment, the Oklahoma City Housing Authority (OCHA) is helping low-income Oklahoma City seniors to thrive. In new communities around Oklahoma City, OCHA offers independent and assisted living units alongside on-site health care amenities that allow the housing authority's oldest low-income residents to easily access affordable, comprehensive health care as they age in place. As the COVID-19 pandemic continues to present an unprecedented threat on the health of all Americans, especially the elderly, and requires us to stay at home as much as possible, increasing housing opportunities for low-income seniors where they can access affordable healthcare right outside their doors is more critical than ever.
Similar to popular retirement communities with continuing care options for residents to move from independent to assisted living, OCHA's latest project Thrive on 10th will offer both types of apartments plus an on-site healthcare campus comprised of a wide array of medical and wellness services. The senior assisted living facility (ALF) will replace the housing authority's existing The Towers senior independent living apartments in downtown Oklahoma City with 176 independent and 142 assisted living apartments. Having both types of units on one new site will allow OCHA's more self-sufficient senior residents, when necessary, to easily move into housing that meets their evolving needs and physical abilities without having to leave their community. "Combining independent and assisted living in one building allows us to take care of residents, keep them in their downtown homes, and create an 'urban care campus,'" said OCHA Assistant Executive Director Ian Colgan in an interview with CLPHA.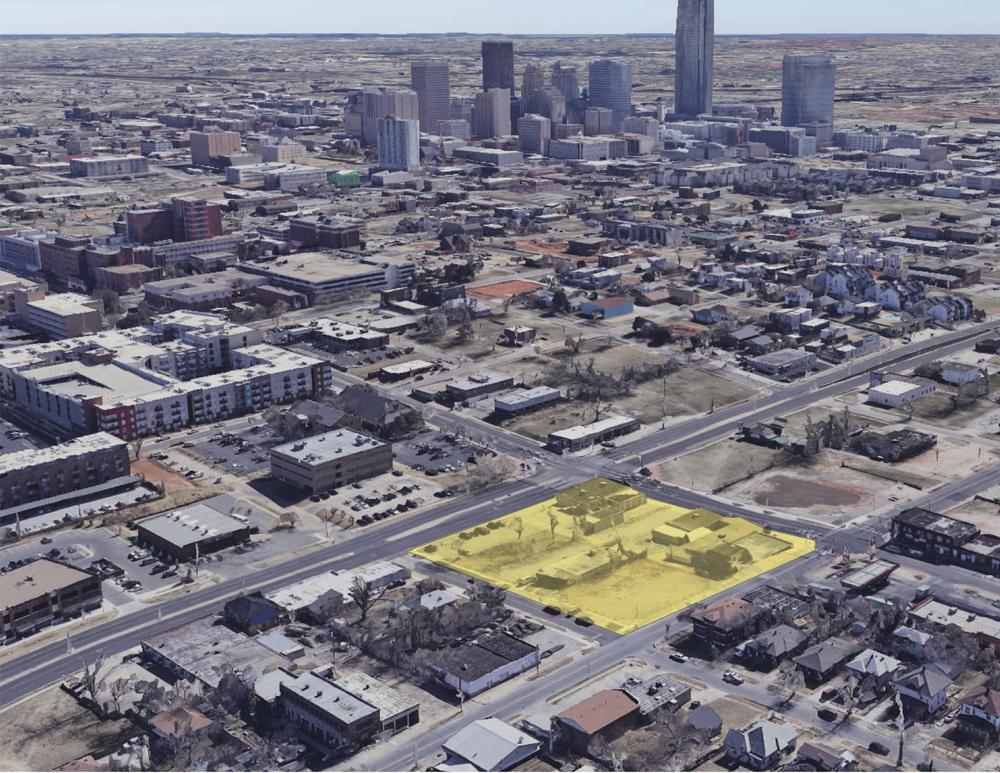 Aerial View of Thrive on 10th's future location near downtown Oklahoma City
OCHA estimates that the Oklahoma City market can utilize approximately 400-500 units of affordable assisted living, and Executive Director Mark Gillett believes OCHA is well-positioned to address the deficit. "OCHA has the capacity and responsibility to ensure low-income seniors have a nice place to call home," said Gillett. "Assisted living is not affordable for many public housing residents and when they are no longer able to live independently, they often transition to a nursing home. We wanted to provide an affordable assisted living option."
OCHA is partnering with experts in the field to help furnish senior care services at Thrive on 10th – the housing authority credits developer Tom Langdon, who partnered with ALF provider Healthmark on similar communities in Arkansas, for bringing this model of affordable senior housing with on-site healthcare to OCHA. OCHA will connect with local health care providers to help build the medical clinic and partner with a special-purpose management company for property operations. Thrive on 10th will also include commercial space, and Colgan said that OCHA hopes to house a restaurant onsite that would create workforce development opportunities for public housing residents.
When completed in 2022, Thrive on 10th will be OCHA's third of four ALFs it plans to operate in the north, south, east, and west parts of town. The first iteration of OCHA's model of combined senior housing and on-site health care services is John H. Johnson Care Suites, named for a former OCHA executive director, on Oklahoma City's north side. In addition to 120 assisted and 10 independent living units, the community offers a medical clinic, a pharmacy, and a wing for skilled nursing and memory care. OCHA has also developed partnerships with private market senior care facilities nearby to broaden health care access for their residents.
Even through the COVID-19 pandemic OCHA has been leasing up Johnson Care Suites, and their successful COVID prevention plan has resulted in zero cases at the site. Mr. Gillett noted that across OCHA's portfolio of nearly 4,000 units, there has been a very small number of self-reported cases of COVID-19 among residents – a major feat for a PHA in the middle of a state hit hard by the pandemic.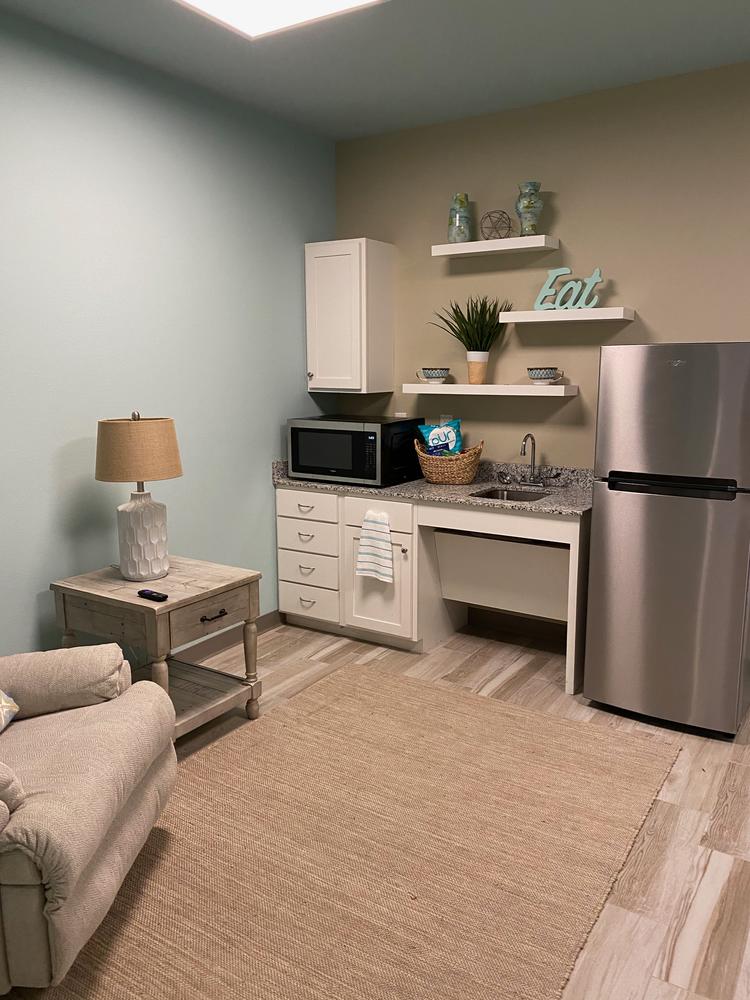 Johnson Care Suites
OCHA's new senior- and health-focused communities are part of the housing authority's larger transformation plan. In the next few years, OCHA plans to utilize tools like RAD to reposition its entire portfolio, rehab its existing 3,000 public housing units, and add hundreds of units of permanent supportive housing and workforce housing.
But OCHA is trying to think beyond portfolio conversion, noted Colgan. Their strategy includes renovation, redevelopment, and strategic thinking about their communities and the needs of their residents. OCHA is focused on transforming their existing properties into neighborhood assets and expanding resident services within them, and they want to create housing communities in neighborhoods with better schools, job prospects, and other important services that will help improve their residents' life outcomes. "We want to expand housing opportunity and put units in higher opportunity areas," said Colgan.
OCHA plans to finance this massive transformation plan with funds from Oklahoma City's MAPS 4, a debt-free public improvement program funded by a penny tax approved by voters in a December 2019 special election. Once MAPS 4 takes effect in April 2020, the housing authority plans to use nearly $50 million from the program to leverage over $400 million in outside funding for their portfolio repositioning. This MAPS 4 funding will help finance OCHA's future senior assisted living/on-site health care communities.
Colgan emphasized that now is the time for transformation while Oklahoma City's rents are relatively affordable compared with other American metropolitan areas consumed by the affordable housing crisis. OCHA is motivated to make smart business and development decisions to preserve affordable housing opportunities in the event that rental affordability in Oklahoma City skyrockets. "We want to be active, not reactive," said Colgan. "If we can plan ahead, we can provide housing supply in a more strategic manner."
Through new senior properties with co-located health care services, OCHA is doing just that. By offering their oldest low-income residents a continuum of care usually only accessible to wealthier senior citizens--a mission made even more critical by the COVID-19 pandemic--OCHA is reimagining what public housing looks like in Oklahoma City, and this is just the beginning.