As Kent, Wash. public schools opened virtually in September due to the COVID-19 pandemic, local families faced the complicated problems parents across the country are navigating: how to facilitate remote schooling for their children while working remotely themselves, or finding supervision for their kids while they continue to work out of the house. Kent's school district also worried about how the pandemic would affect enrollment numbers – the fewer students enrolled in school, the less funding the school district receives.
The King County Housing Authority (KCHA) jumped into action to offer one solution to the problems virtual school creates by adapting the on-site youth center at its Birch Creek subsidized housing community to offer remote learning opportunities for Birch Creek resident kids during the school day. This learning hub currently hosts nearly 25 kids, from kindergarteners to high schoolers, with on-site staffers helping them log into school and stay on task. While parents benefit from the supervision the center provides, the students receive guidance as well as physical/recreational and social connection opportunities. Birch Creek programming runs from 9:00 a.m. to 4:00 p.m. for school five days a week, and three days a week the center remains open until 8:00 p.m. for additional supports and programs.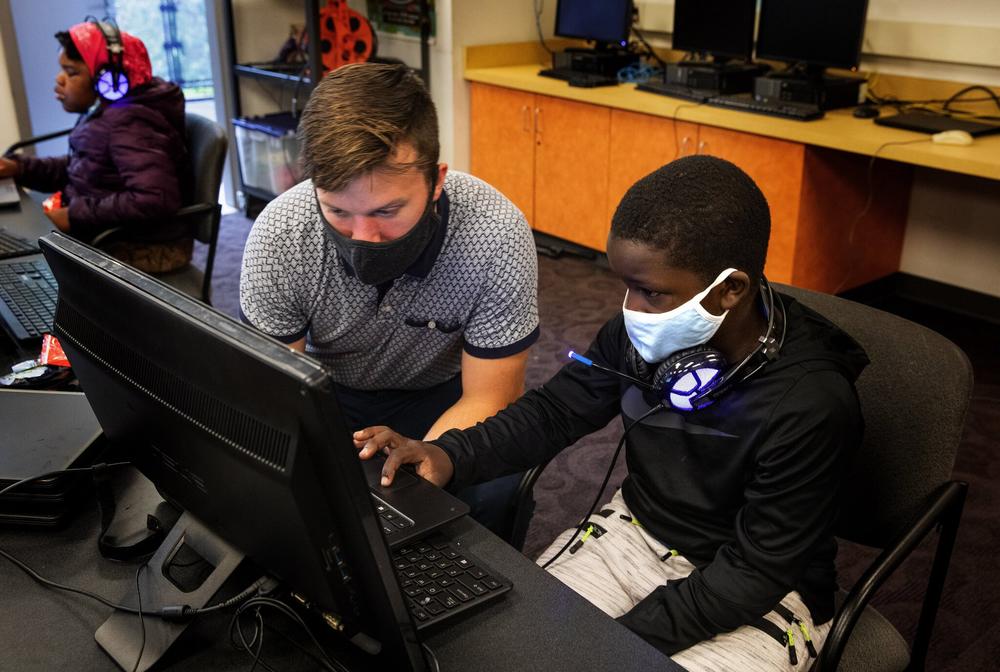 Photo Credit: Ellen M. Banner for The Seattle Times
Some older students are even charged with mentoring younger ones, like Abdul Mir, the site's assistant supervisor who grew up in Birch Creek and now works part time at the center while attending the University of Washington. "These kids can see this guy who grew up in this same community, and he's giving back to Birch Creek," Ken Nsimbi, the KCHA's youth program coordinator told the Seattle Times. "I'm very proud of this team. I look at him as a friend, brother, mentor."
KCHA partners with the nonprofit Kent Youth and Family Services (KYFS)to run the center -- KCHA owns the building, covers costs for much of the programming, and helps with grant-writing. While the partners are currently operating the learning hub with a tight budget, they are seeking grants to bring in more funding and help serve more kids.
KCHA has two other sites in Kent in addition to Birch Creek that serve kids from 9:00 a.m. to 4:00 p.m. In addition, six KCHA service provider partners are running in-person programming at 13 KCHA after-school sites during the school day. Three of these partners (KYFS, Boys & Girls Club Bellevue, and Boys & Girls Club King County) from about 8:00 a.m. to 6:00 p.m., while the others offer different variations of hours based on staffing capacity. With the help of these partners, KCHA is providing a lifeline for families who may not have the time, space, or resources available to ensure their children are successfully taking part in virtual school.
CLPHA commends KCHA for using existing resources and creative solutions to help address the challenges of virtual learning for its low-income families. Read more about KCHA's Birch Creek Youth Center in the Seattle Times' article "How some Washington nonprofits are trying to make pandemic 'learning pods' accessible for all."