With school back in session, parents across the country are navigating the complicated problem of how to facilitate remote schooling for their children during the COVID-19 pandemic. Low-income families, especially minorities, are further challenged by virtual learning as they often do not have the time, funds, or resources to supervise their kids' schooling or hire individuals to do so. When the pandemic's effects began to be felt in Asheville, NC, Asheville City Schools saw a notable drop off in virtual attendance and school performance among students from low-income and minority families, including those who reside in Housing Authority of the City of Asheville (HACA) communities.
To help Asheville's most vulnerable families struggling with this common pandemic problem, HACA and ACS are teaming up with multiple nonprofits to offer virtual learning hubs for more than 200 K-12 students. Called Positive Opportunities Develop Success, or PODS, these twelve hubs across the city offer students and their families a place to attend classes online with internet access, devices, supervision, and meals. The PODS also offer individualized help from ACS instructors and the opportunity for students to spend (socially distanced) time with their friends and peers. The initiative is funded via a $50,000 grant from the City of Asheville and private donations.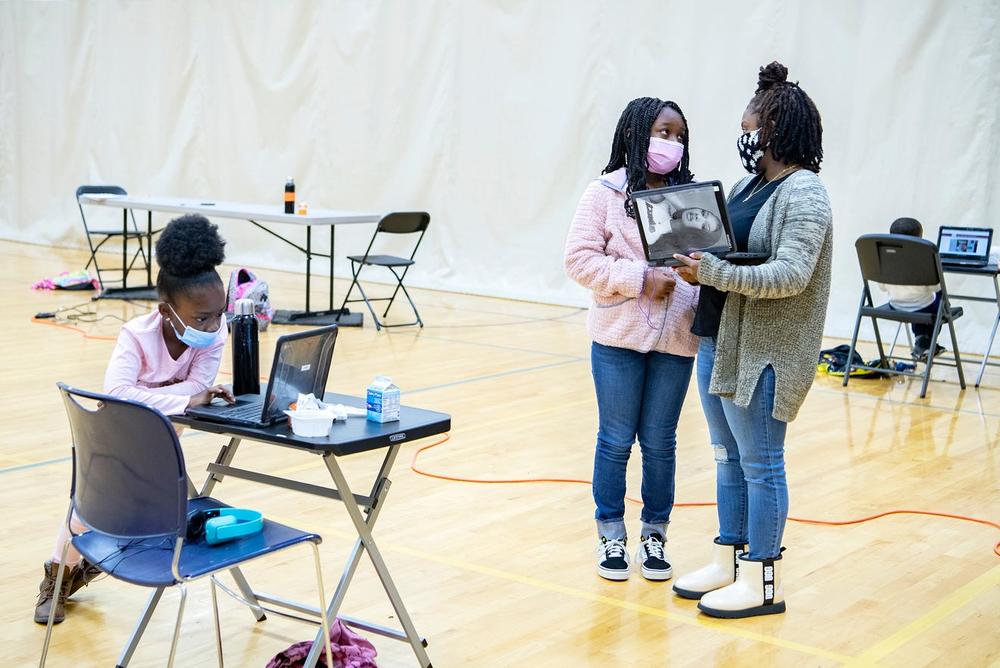 Image Credit: Angeli Wright, Asheville Citizen Times
The PODS' partners are already seeing the successes of this innovative initiative. Interest in joining the PODS program is high, and the partners report that they're seeing dynamic improvements not just in school performance, but also in attitude, among students who previously struggled with virtual learning. In some cases, Black and Brown students are performing even better in the PODS than they did during regular school before the pandemic, said Kidada Wynn, ACS's student support services executive director.
HACA is looking to build on the success of the PODS program by bringing free internet to five HACA multifamily sites (totaling 1,039 units) by the end of the school year. Funding for the project includes $100,000 from Buncombe County and $50,000 from the City of Asheville in COVID relief funds. Skyrunner, an Asheville-based wireless and fiber broadband internet company, was preliminary chosen by HACA for the project. Skyrunner's proposal includes not only wireless infrastructure across HACA's five multifamily but also four years' worth of ongoing services charges at a cost of $520,000.
"I applaud our district and community partners for finally showing our community what EQUITY IN ACTION looks like," said Shaunda Sandford, Chair of the Asheville City Board of Education and Director of Resident Services for the Asheville Housing Authority, in a press release. "Providing access to the internet in our housing neighborhoods will positively impact all the children and families in the communities that are often overlooked and/or excluded. I'd like to thank Asheville City Manager Debra Campbell and the City of Asheville, Buncombe County Government and the Asheville City Schools Foundation for coming together to make this possible."
CLPHA applauds HACA and its partners for quickly and thoughtfully implementing creative solutions to the problems that the pandemic has created for low-income, and especially minority, families. We look forward to seeing the progression of HACA's education-focused initiatives that will improve life outcomes for its youngest residents and their families.