During a presentation at the 2019 Aspen Ideas Festival, Harvard economics professor Raj Chetty, who is also the Director of Opportunity Insights, discussed his research on the geography of opportunity and upward mobility in the United States. A recap of his session published in The Atlantic, a co-host of the festival, focuses on the hyperlocal wealth disparities within neighborhoods and across city blocks.
According to Chetty, "poverty rates that are more than about half a mile away from your house are essentially completely irrelevant in predicting your own outcomes." However, when seeking policy solutions to improve outcomes Chetty said, "often, we can just look a mile down the street, or a couple miles down the street…It shows that we're not trying to achieve something unimaginable."
Chetty talked generally about the work he and other researchers are doing with public housing authorities in the Seattle area to evaluate efforts to support voucher holders who wish to move to higher opportunity neighborhoods; interventions include offering tours of unfamiliar neighborhoods and offering money for moving costs and security deposits.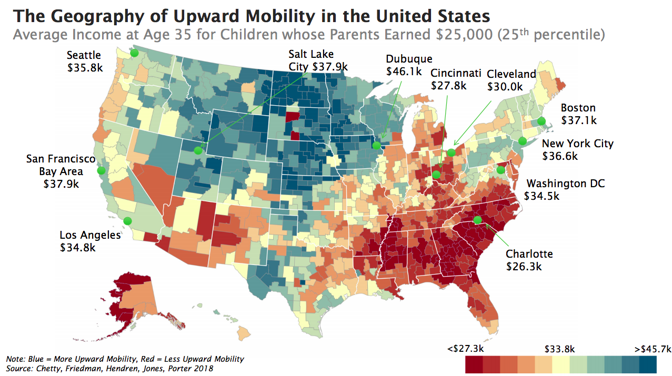 The research results are expected to be released in July.
In his presentation, Chetty also introduced Opportunity Insight's current project, the American Opportunity Study, which would analyze the impacts of place-based policies. The project seeks to build a longitudinal dataset covering all Americans from 1950 to the present by digitizing and linking tax and Census Records, and then using the data to study the impact of place-based interventions on prior residents.
Watch Chetty's presentation on the Aspen Ideas Festival website.