CLPHA's Membership Spotlight features the outstanding work and achievements of our member public housing authorities - the nation's largest and most innovative PHAs. Based on interviews with PHA executives, these brief profiles spotlight our members' initiatives to strengthen their communities and improve life outcomes for their residents. The Membership Spotlight is published in the newsletter, on clpha.org, and on our social media platforms.
Amid Hurricane Florence Recovery and an Affordable Housing Crisis, the Wilmington Housing Authority Breaks Ground on New Public Housing in Downtown Wilmington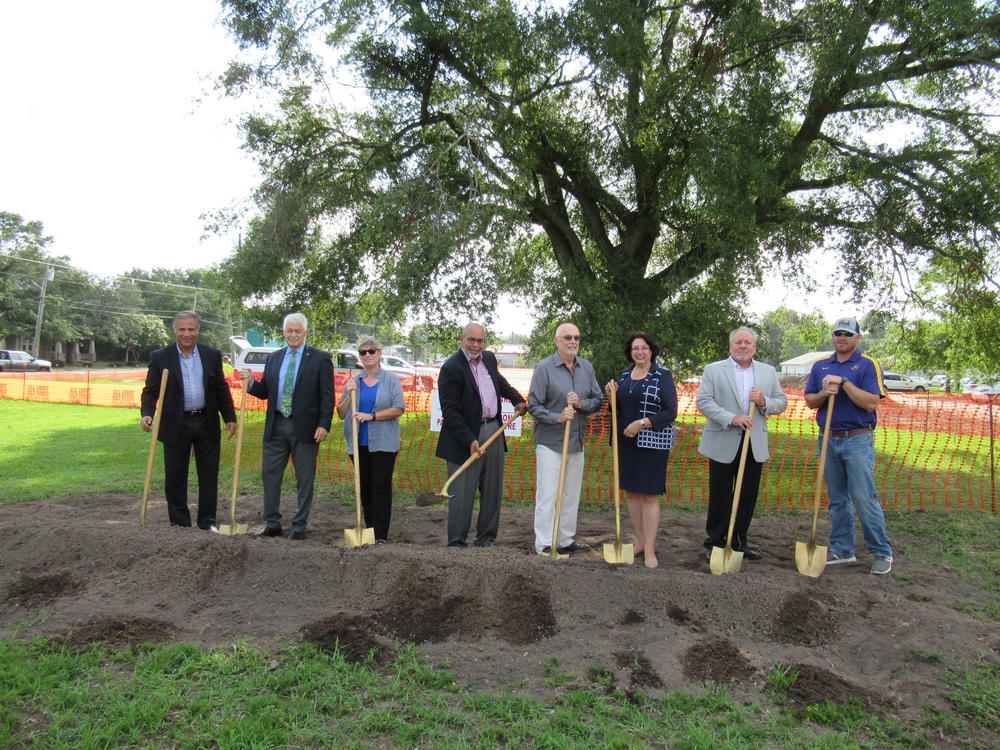 From Left: Wilmington Mayor Bill Saffo; North Carolina State Senator Harper Peterson; Betsy Kahn, WHA Vice Chair; Kenneth Chestnut, Sr., WHA Chair; Al Sharp, WHA Commissioner; Katrina Redmon, WHA CEO; Jim Conlon, Real Estate Development and Construction Project Manager; Kelly Hodges, Harold K. Jordan Construction Project Manager
For the first time since 2005, the Wilmington, NC Housing Authority (WHA) is building a new multi-family public housing development. On July 17, WHA CEO Katrina Redmon and city leaders broke ground on Dawson Lofts, a future 24-unit, three-story community in the heart of Wilmington. With the help of development partners Harold K. Jordan & Company, Axiom Architecture, and McKim & Creed, WHA is adding desperately needed affordable housing units to the Port City.
As part of the continuation of WHA's Hope VI transformation of its Jervay community, Dawson Lofts will offer twelve one-bedroom and twelve two-bedroom units of public housing to low-income families. WHA will employ a work requirement preference when considering applications for the Lofts, which will help to house working families near job opportunities in Wilmington's vibrant, growing downtown. Dawson Lofts' central location, along a major thoroughfare linking the city to the beach, offers residents convenient access to work, school, shopping, and leisure opportunities.
Through a federal ROSS (Resident Opportunities and Self Sufficiency) Grant, Dawson Lofts residents will also have access to services and resources that will help them improve their financial literacy and independence. Redmon expects that this modern, central, affordable community "will help people to move up in their careers and, hopefully, to graduate from assisted housing." Redmon adds that given Wilmington's strong job market, addressing the city's shortage of affordable housing for working families is crucial.
The housing authority and its development partners worked hard to make sure that Dawson Lofts looks just as modern and impressive as any new market-rate rate apartment complex. Redmon hopes that communities like Dawson Lofts will challenge negative stereotypes about what public housing should look like.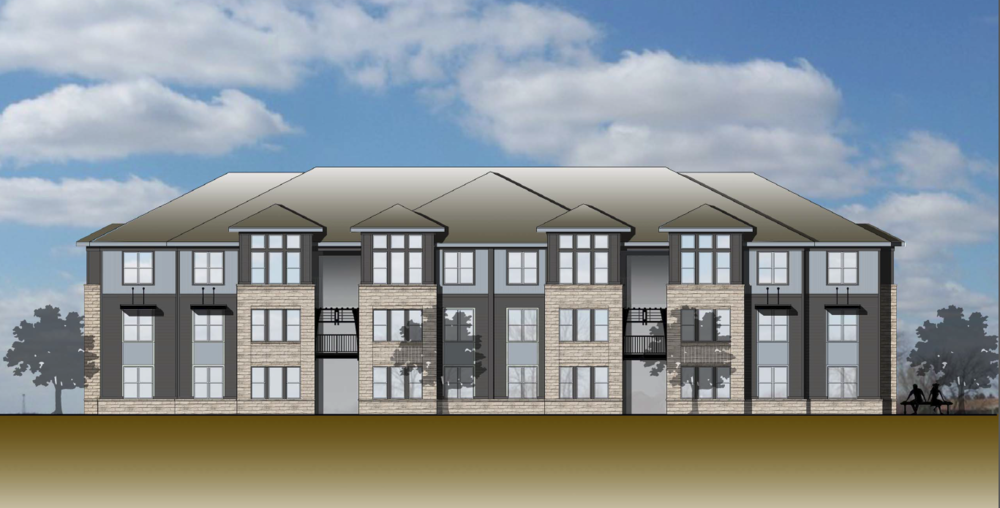 Artist's rendering of Dawson Lofts
The road to Dawson Lofts' groundbreaking was long and difficult, says Redmon. The project had been in the works since before Redmon joined WHA in 2014. WHA used no bank financing for the project – one hundred percent of the project's $3.5 million price tag is financed by federal replacement housing factor (RHF) funds and matching non-federal WHA housing dollars, meaning that WHA will incur no debt from building Dawson Lofts.
However, the destruction of Hurricane Florence in September 2018 ground plans for Dawson Lofts to a halt, and WHA was challenged to get the project underway before their RHF funds expired. Because the availability of local contractors was very limited due to the substantial amount of repair and recovery work that had to be done across the Carolina coast, WHA's biggest impediment to breaking ground was matching their money and deadlines with contractors that were available to do the job. But, WHA was able to secure construction, engineering, and architectural design partnerships in time to utilize their RHF funds.
Though WHA was able to re-house all of its residents whose homes were impacted by Hurricane Florence, the city of Wilmington suffered a loss of nearly 1,000 affordable units as a result of the hurricane's damage, and the vast majority of those units have still not been refurbished or replaced. "If anything good came out of the hurricane, it was that it underscored the need for affordable housing in Wilmington," says Redmon.
WHA is not only chipping away at this affordable housing shortage with Dawson Lofts, it is also building the complex with hurricane resilience in mind. Instead of choosing less expensive, less sturdy exterior siding, the housing authority decided to go with a stronger, brick exterior that will help the community to withstand tough winds. "We're trying to make smart decisions with our money to protect the building from future storms," says Redmon, adding that state and local officials have done a good job in making sure that the area's building codes call for strong hurricane prevention measures.
The housing authority, the community, and city officials are excited for the new apartments and relieved that the project is finally underway, says Redmon. Dawson Lofts is expected to be completed in Spring 2020, and WHA is already planning to build a second phase of the community next door, which will bring an additional 24 affordable units to the city. After a long, challenging journey to build the housing authority's first new multi-family public housing community in over a decade, WHA is making strides in addressing Wilmington's affordable housing crisis.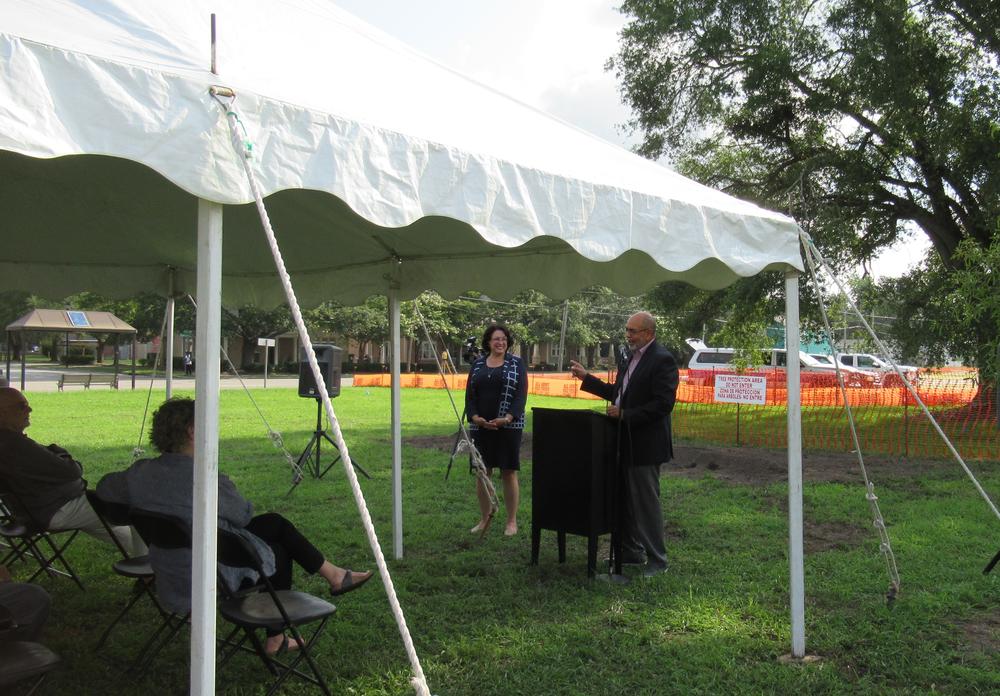 Kenneth Chestnut, Sr., Chair of the Wilmington Housing Authority's Board of Commissioners, addresses guests at Dawson Lofts' groundbreaking as WHA CEO Katrina Redmon looks on