CLPHA's Membership Spotlight features the outstanding work and achievements of our member public housing authorities - the nation's largest and most innovative PHAs. Based on interviews with PHA executives, these brief profiles spotlight our members' initiatives to strengthen their communities and improve life outcomes for their residents. The Membership Spotlight is published in the newsletter, on clpha.org, and on our social media platforms.
Sharing Affordable Housing and Healthcare Expertise, Denver Housing Authority and Healthcare Partner Collaborate on Health-Focused Housing Communities
The Denver Housing Authority (DHA) knows that improving residents' health outcomes is critical to improving other life outcomes. "DHA's mission is not just to provide quality housing but also to provide empowerment and economic opportunity for residents," said DHA Executive Director Ismael Guerrero in an interview. "Health is probably the most important thing that impacts our residents' successes with school, work, job stability, and job security. Working with the health sector is the greatest way to impact resident health outcomes."
That is why DHA and Denver Health, which operates Denver Health Medical Center in the heart of the city, are working together creatively in two new housing communities that will offer health-focused design features as well as on-site healthcare services and resources. DHA's unique, cross-sector partnership combines their expertise in housing development, management, and resident services with Denver Health's healthcare and medical knowledge.
When the master developer of a new community at the site of the former St. Anthony Hospital campus in Denver's West Colfax neighborhood, adjacent to Denver's Sloan's Lake park, approached DHA to develop a mixed-use project, the housing authority quickly accepted the opportunity to build a significant amount of affordable housing in this growing, urban, transit-accessible neighborhood. "Building this property, named Vida, not only helped the master developer to fulfill their affordability commitment with the City," said Guerrero, "but also provided the opportunity to bring back community healthcare services previously offered at the St. Anthony campus."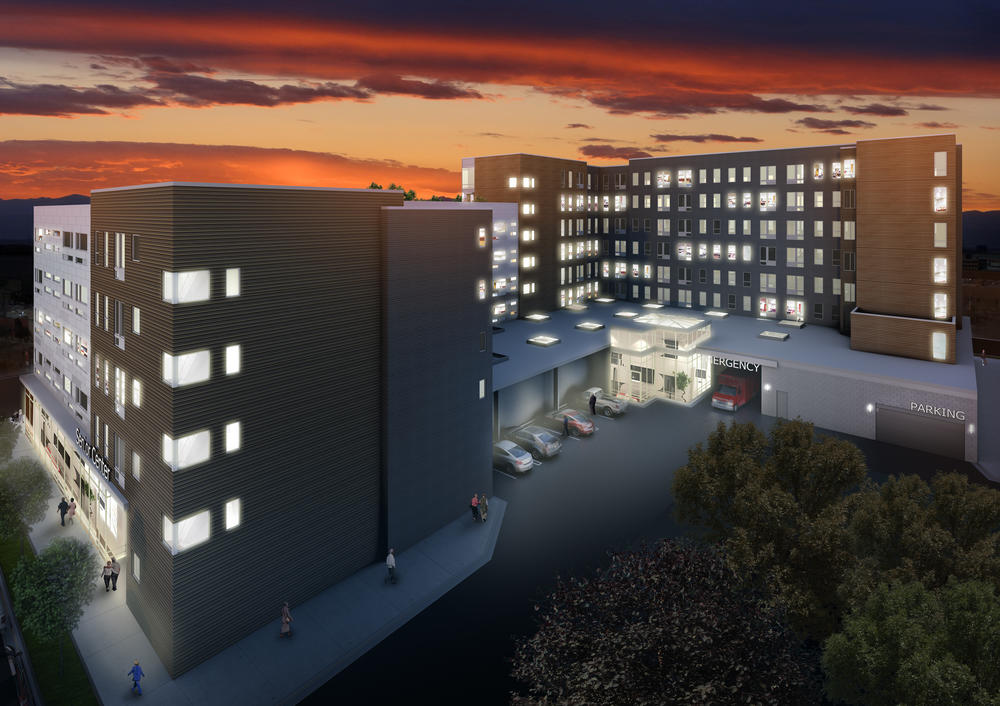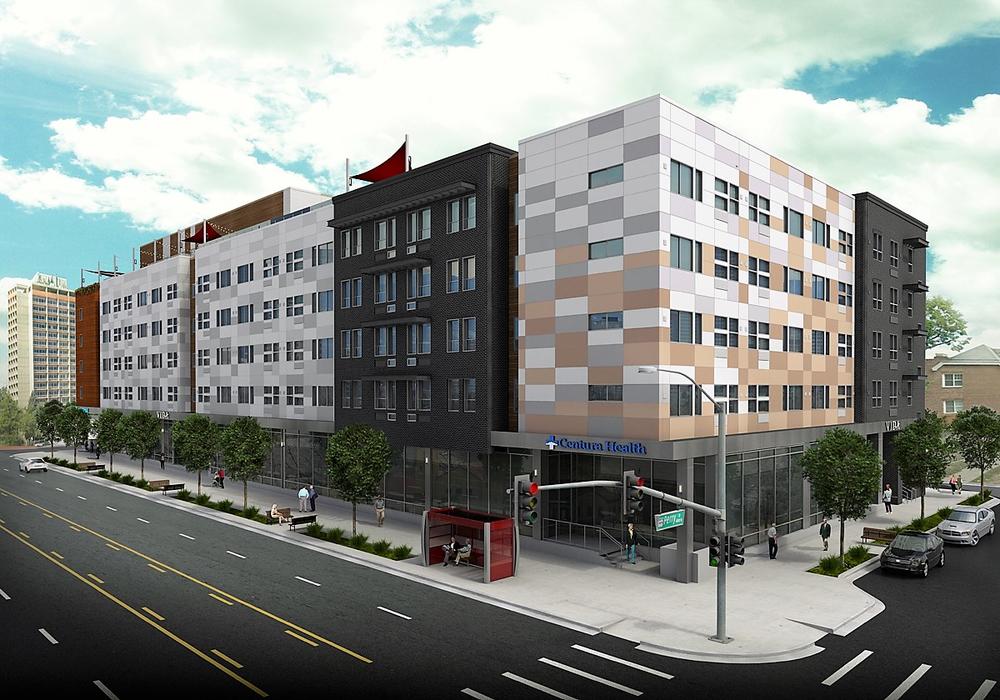 Renderings of DHA's Vida community
DHA built Vida as a planned community for housing low-income seniors and individuals with disabilities as well as a ground-floor commercial condo that provides amenities and resources not only for Vida residents but also for the surrounding neighborhood. The commercial condo combines primary healthcare services with DHA's Senior Activity Center, which made it a great candidate for attracting and leveraging New Markets Tax Credits (NMTC). DHA creatively stitched together a 9% Low-Income Housing Tax Credit (LIHTC), 4% LIHTC, and an NMTC allocation to create a complex funding structure, a process that Guerrero said was the most challenging aspect of the Project's development.
Another challenge in Vida's development process, said Guerrero, was figuring out how to build the property at a scale that would make a distinct impact on residents' health. DHA worked with multiple local partners with synergies to offer a suite of healthcare services and resources on site, including Centura Health, Fresenius Medical Care, and Denver Health. DHA and Denver Health have a strong relationship, said Guerrero, having first worked together in 1993 on La Casa-Quigg Newton Family Health Center adjacent to DHA's Quigg Newton Homes. Thus, asking Denver Health to join the Vida community was a natural fit. Denver Health will provide primary care and mental health services in an 8,000-square foot space on Vida's ground floor in partnership with Centura Health. Fresenius Medical Care will operate a 10,000-square foot dialysis treatment center at the other corner of the property.
On November 1, Vida completed construction and DHA is now in the process of leasing to qualified residents, providing 176 new apartment units for low- and very low-income seniors and individuals with disabilities. Alongside Denver Health's primary and mental healthcare services and Fresenius' dialysis treatment facility, the community boasts high-quality design, energy efficient features, a rooftop community garden, and a Senior Activity and Wellness Center. Overall, the total project cost $65 million, an investment of which Guerrero, DHA, and all financing partners are very proud. "Sloan's Lake is one of the fastest transitioning areas in Denver," said Guerrero, "and for DHA to be able to create new affordable housing for seniors in this exciting new neighborhood was a great achievement."
On DHA and Denver Health's other recent collaboration, it was again a mutual interest that brought them together. Denver Health, which treats nearly one in three Denverites annually, cannot discharge a patient from the hospital if the patient has nowhere to go. Homeless and housing-unstable patients must stay in Denver Health beds even after they no longer need treatment, therefore occupying much-needed beds and incurring major expenses on the hospital.
However, Denver Health had a solution in mind – to convert a vacant office building it owns on the hospital campus into an apartment complex with over 100 units that would include single room occupancy (SRO) units to temporarily house housing-unstable discharged patients as they recover from treatment. Denver Health partnered with DHA to employ their affordable housing, real estate, and development expertise to transform the commercial building into housing units, and DHA jumped at the chance to create more affordable housing in the heart of Denver that also offers myriad health benefits to residents.
The hospital is selling DHA the 10-story, 74,000-square foot office building, which DHA is calling 655 Broadway, and granted the housing authority a long-term ground lease on the land for a nominal fee. The community will offer 14 SRO units for discharged patients referred by Denver Health to DHA where the discharged patients will be able to stay until they are ready to move out. A Denver Health case manager will help coordinate care for patients who move into these units. The rest of 655 Broadway's units will permanently house low-income seniors and disabled individuals. "We saw this as a great opportunity to have seniors and disabled people living next to hospital services," said Guerrero. "It's so important for the residents to have the opportunity to live in these health-housing integrated communities with healthcare access right out their front door."
DHA hopes to complete renovation on 655 Broadway by the end of 2021 and expects the project to cost $18 million. The housing authority will serve as the developer and is bringing in an architect to redesign both the interior and exterior of the building. Guerrero said that given the community's medically oriented design needs, it's helpful to have a healthcare partner that can offer guidance. In turn, Denver Health is benefitting from DHA's knowledge of housing development and complex and mixed-use financing structures. The hospital and the housing authority's complementary staff capacities allows each partner to do what they do best, Guerrero said.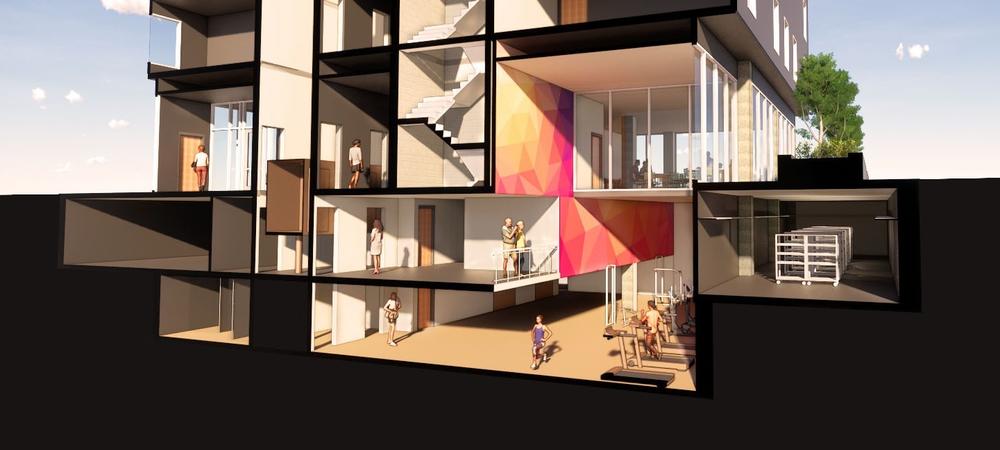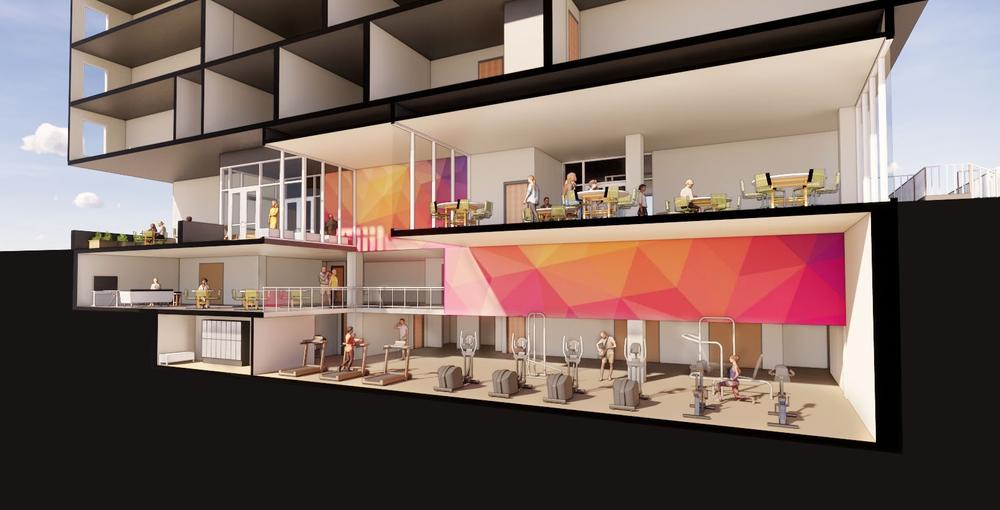 Rendering of DHA's future 655 Broadway community
DHA's goals for this project are to grow this partnership with Denver Health into a scalable, replicable model, to show that DHA can create long-term affordability in downtown Denver, and to make this collaboration with Denver Health worth the hospital's investment. While it costs Denver Health $2,700 per night to house someone in a hospital bed, the hospital told Kaiser Health News that it will cost only about $10,000 to shelter a patient for a year in a traditional housing unit.
Over the course of their collaborations with Denver Health and other healthcare partners, DHA has learned about the health business and their business needs, while their health partners have learned about the affordable housing business, said Guerrero, and DHA and Denver Health's understanding of each other has deepened over the years. This knowledge sharing results in more cost-effective and impactful health services. "[A]s the housing authority, we know housing, and as Denver Health, they know health and healthcare," Guerrero told Denver 7. "But, really our families and the people that we serve need both housing and healthcare, so by coming together in a common building, we can really provide all the services, all the attention, and the homes that these more unfortunate individuals need, when they are experiencing some kind of health crisis."
DHA's commitment to resident health and partnership with Denver Health to achieve this goal tracks with CLPHA's core thesis that housing stability contributes to improved life outcomes, and that cross-sector partnerships among the housing, health, and education sectors strengthen our collective ability to serve the needs of low-income individuals and families. CLPHA works to put these tenets into action through our Housing Is Initiative, which is helping to build a future where systems work together to improve life outcomes. CLPHA is proud to have DHA as a member and we look forward to hearing more about DHA's work with Denver Health and other healthcare partners in the future.