The Housing Authority of the City of Milwaukee (HACM) marked its 75th anniversary during its annual meeting on July 17, 2019. The meeting's 300 attendees celebrated HACM's 75 years of working to provide safe, stable, affordable, and high-quality housing and supportive services to low-income Milwaukeeans.
The meeting's theme was "ripples of hope," inspired by a famous quote from Robert F. Kennedy: "Each time a man stands up for an ideal, or acts to improve the lot of others, or strikes out against injustice, he sends forth a tiny ripple of hope, and crossing each other from a million different centers of energy and daring, those ripples build a current which can sweep down the mightiest walls of oppression and resistance." At the event HACM named several inspiring residents as "Ripples of Hope," honoring four individuals that have found stability and success as a result of participating in HACM programs and services.

Tony Péréz addresses 300 attendees at HACM's annual meeting and 75th anniversary celebration.
"The Housing Authority's annual meeting once again becomes a collective reflection of how it takes a village to band together to create positive change for the many. It provides us with a point of inflection in which we encourage others to join the band, to learn about the collective work, and look for ways to join the village in creating ripples of hope," said HACM's Secretary-Executive Director Tony Péréz.
Milwaukee Mayor Tom Barrett addressed meeting attendees, declaring July 17, 2019 as "Housing Authority of the City of Milwaukee Day." Barrett characterized HACM as "in the business of creating hope and opportunity for its residents" and praised HACM's leadership as a team that "challenges the city administration, works with the federal government, and leverages these assets."
St. Paul Public Housing Agency (SPPHA) Executive Director Jon Gutzmann attended the meeting to show support for his CLPHA colleague. Gutzmann gifted Péréz with a jar of honey collected from beehives on the roof of an SPPHA community.
To learn more about HACM's 75th anniversary celebrations and the housing authority's history, achievements, residents, current programs, and future plans, read HACM's press release.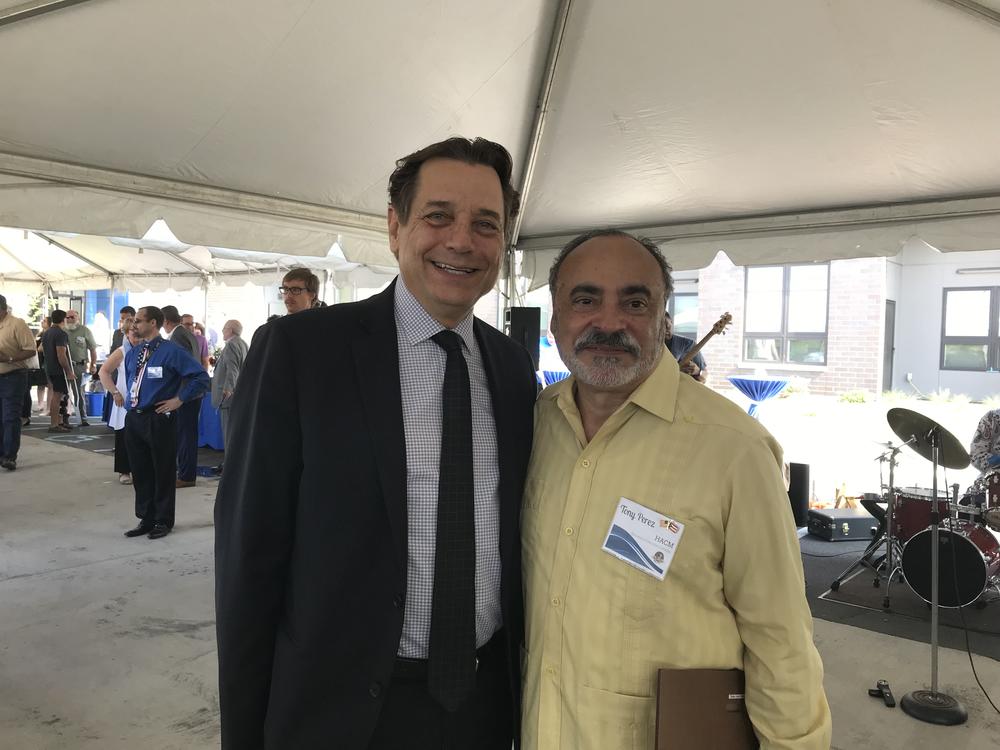 Jon Gutzmann, Executive Director of the St. Paul Public Housing Agency, and Tony Péréz, Secretary-Executive Director of the Housing Authority of the City of Milwaukee.