From a Sacramento Promise Zone press release:
A cross-section of Sacramento corporate and business leaders announced a formal partnership on April 29th to put words into action by making a $750,000 investment into a long-term effort to revitalize Sacramento's Promise Zone. SMUD, along with UC Davis Health, Blue Shield of California, Sacramento Housing and Redevelopment Agency and the Sacramento Black Chamber of Commerce have partnered with five other Sacramento organizations to uplift an area that encompasses 22 square miles of the economically hardest-hit neighborhoods in Sacramento -- from Del Paso Heights in the North Area to The Avenues in the South Area.
SMUD CEO and General Manager Arlen Orchard said without intervention, the disparities in the Promise Zone will continue to grow. "Collectively, we as business leaders can and should play a role in enhancing the lives of all residents in our region." Orchard said the funding commitment represents an investment into specific projects that will provide clean transportation, energy efficiency programs, workforce development, health and wellness education, job training and emerging technologies and access to educational opportunities within the Promise Zone.
Sacramento Promise Zone Director Tyrone Roderick Williams, who is also Director of Development for Sacramento Housing and Redevelopment Agency, said the collaboration is unique because in addition to its funding commitment, the partnership also represents a commitment to action that has been long overdue. "We've studied enough to know the challenges that are happening in our neighborhood. What's been lacking is implementation. This is a cross-sector collaboration committed to implementation and I'm so excited about that."
Read the Sacramento Promise Zone press release.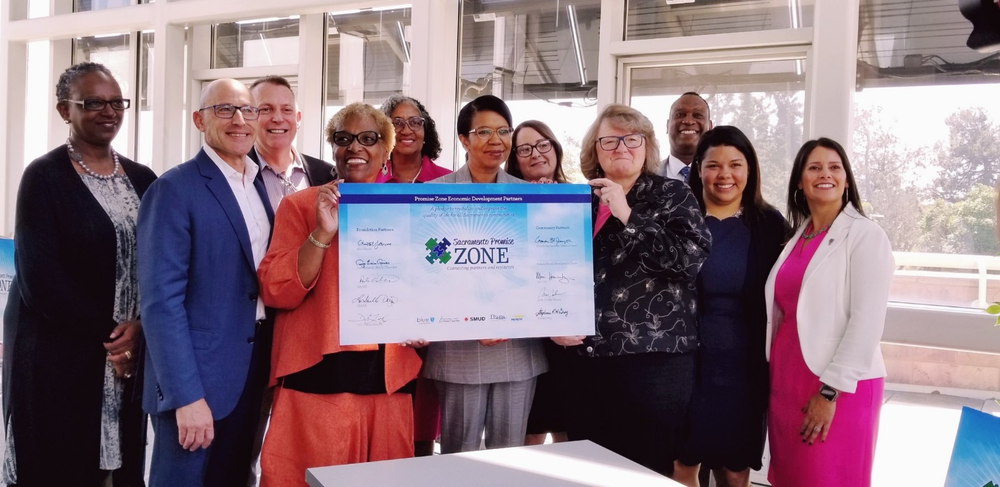 Members of Sacramento's Promise Zone Collaborative, including Sacramento Housing & Redevelopment Agency Executive Director La Shelle Dozier (sixth from left) and SHRA Director of Development and Director of the Promise Zone Tyrone Roderick Williams (ninth from left).