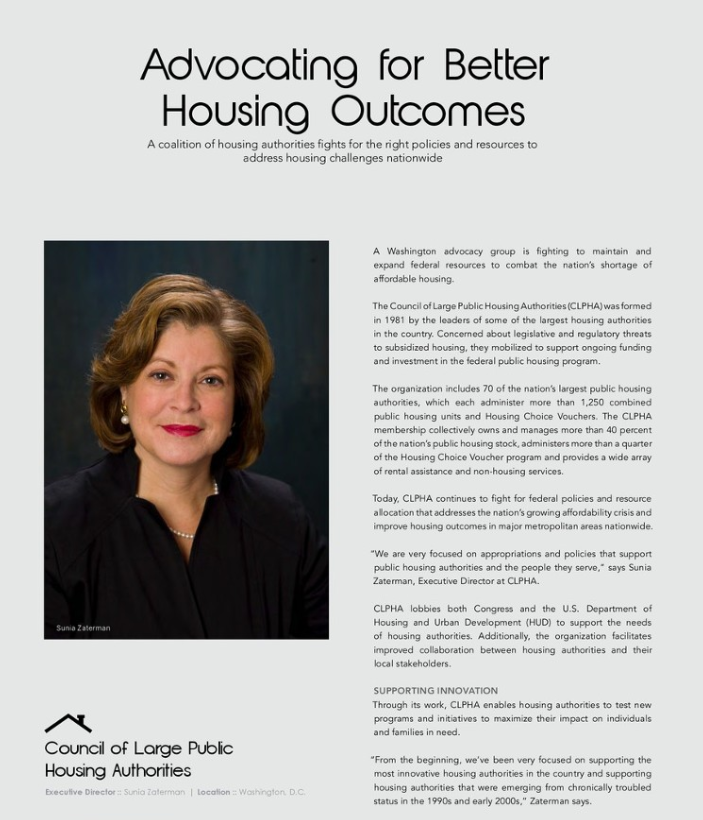 CLPHA Members Elm City Communities, Miami-Dade Public Housing & Community Development Also Featured
Affordable Housing News magazine featured Executive Director Sunia Zaterman in its Fall 2019 issue, where Zaterman discussed CLPHA's priorities, goals, and strategies for preserving and improving public and affordable housing. "We are very focused on appropriations and polices that support public housing authorities and the people they serve," said Zaterman, adding that "[f]rom the beginning, we've been very focused on supporting the most innovative housing authorities in the country." She cited programs like the Rental Assistance Demonstration (RAD) and Moving to Work (MTW) as flexible, locally-oriented policies that innovative housing authorities are using to improve their housing stock and resident outcomes. Zaterman also emphasized the public housing portfolio's capital needs backlog of more than $50 billion and the chronic underfunding of public housing programs, issues that are at the center of CLPHA's advocacy efforts.
The article also highlights CLPHA's Housing Is Initiative, which seeks to broaden and deepen efforts to align housing, education, and health organizations to produce positive long-term outcomes for low-income individuals and families. Zaterman discussed some of the Housing Is Initiative's work, including the Housing Is Summit, an annual convening dedicated to collaboration among the housing, education, and health sectors, and the creation of a data sharing agreement template for housing authorities and school systems so that they can identify shared issues and interests and develop evidence-based interventions. "We understand that housing is absolutely essential and foundational, but often, for families and special needs populations, is not sufficient in and of itself," Zaterman said. "Our goal with the Housing Is Initiative is to improve and enhance our partnerships in healthcare, education, and workforce development to improve life outcomes for families, seniors, and persons with disabilities who reside in assisted housing."
Read Affordable Housing News' article (on pages 20 and 21).
CLPHA members Miami-Dade Public Housing & Community Development (Miami-Dade PCHD) and Elm City Communities (ECC) were also featured in Affordable Housing News' Fall 2019 issue. Read about Miami-Dade PCHD's RAD-assisted Liberty Square redevelopment on pages 34-36 and about ECC's employment of MTW flexibilities to create innovative resident programming and redevelop its public housing portfolio on pages 64-65.