CLPHA is pleased to announce that Dr. Mark Calabria, Director of the Federal Housing Finance Agency (FHFA), will present the closing keynote remarks of our 2019 Fall Membership Meeting. With the recent release of the Trump Administration's Housing Finance Reform Plan affecting Fannie Mae, Freddie Mac, the Federal Home Loan Banks, Ginnie Mae, FHA and Multifamily Programs, this will be a can't-miss session with one of the nation's key decision-makers and insiders.
Nominated by President Donald Trump in January 2019 and confirmed by the Senate in April, Dr. Mark Calabria became the third FHFA Director since it was created in 2008.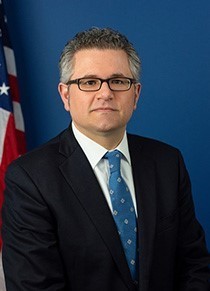 Among other topics, Dr. Calabria will discuss the Affordable Housing Program established by the Federal Home Loan Banks and the Duty to Serve Program required by Fannie Mae and Freddie Mac to help preserve affordable housing for very low-, low-, and moderate-income families.
Prior to joining FHFA, Dr. Calabria was Chief Economist for Vice President Mike Pence, handling all economic policy issues with a focus on taxes, trade, manufacturing, financial services, and labor and housing. Immediately prior to his service with Vice President Pence, he spent eight years as Director of Financial Regulation Studies at the Cato Institute.
Dr. Calabria also previously served as a senior aide on the United States Senate Committee on Banking, Housing, and Urban Affairs, where he drafted significant portions of the Housing and Economic Recovery Act of 2008, which created a new regulatory framework for the housing government sponsored enterprises, Fannie Mae and Freddie Mac, and the Federal Home Loan Banks. He has also served as Deputy Assistant Secretary for Regulatory Affairs at the U.S. Department of Housing and Urban Development; and he holds a doctorate in economics from George Mason University.