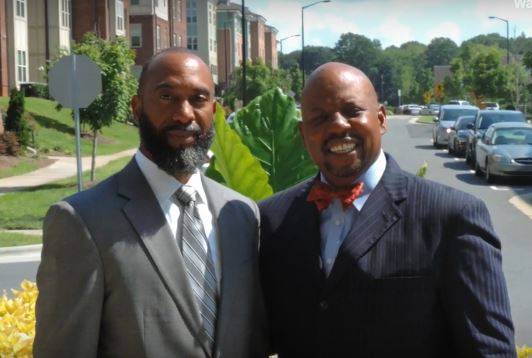 Anthony Scott, CEO of Durham Housing Authority (left) and A. Fulton Meachem, President & CEO of Charlotte Housing Authority (right) in Durham, NC.
CLPHA is pleased to see that our members are visiting each other's communities to share knowledge, ideas, and best practices for preserving and strengthening their public housing portfolios and resident services.
In August, the Charlotte Housing Authority (CHA) hosted the Durham Housing Authority (DHA) and Durham city officials on a bus tour of Charlotte public housing properties. The Durham delegation also met with CHA staff, board members, and residents to discuss how Charlotte is transforming its housing portfolio and resident services through entrepreneurial efforts in real estate development, bond programs, property management, and family self-sufficiency programs. You can watch a video slideshow of the Charlotte & Durham meeting here.
In October, residents, staff, and board members from the Minneapolis Public Housing Authority (MPHA) traveled to Cambridge, MA to meet with Cambridge Housing Authority staff and tour public housing communities. MPHA learned from Cambridge about their ongoing, comprehensive public housing transformation financed through the RAD program, Low-Income Housing Tax Credits, and other funding tools. In a post-trip recap, MPHA said their residents expressed the importance of seeing and hearing for themselves that these programs did not result in displacement. In fact, said MPHA, "CHA residents were often able to simply move units and continue living in their building even as the work proceeded around them." You can watch a video about MPHA's trip to Cambridge here.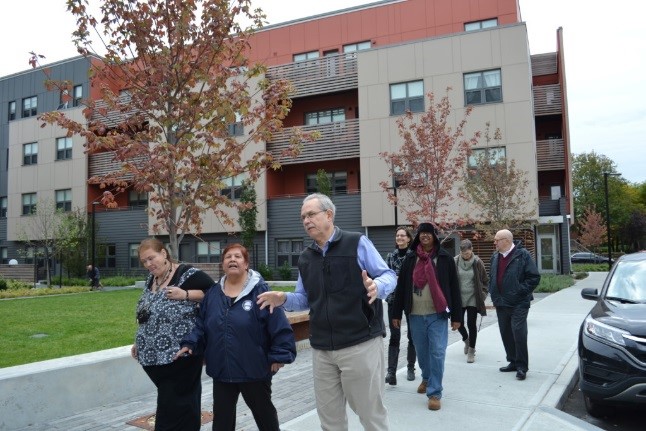 Representatives from the Minneapolis Public Housing Authority on a bus tour of Cambridge Housing Authority properties.