CLPHA's Membership Spotlight features the outstanding work and achievements of our member public housing authorities - the nation's largest and most innovative PHAs. Based on interviews with PHA executives, these brief profiles spotlight our members' initiatives to strengthen their communities and improve life outcomes for their residents. The Membership Spotlight is published in the newsletter, on clpha.org, and on our social media platforms.
In Pittsburgh, HACP and Partners Go Above and Beyond to Fill a Childcare Gap for Low-Income Families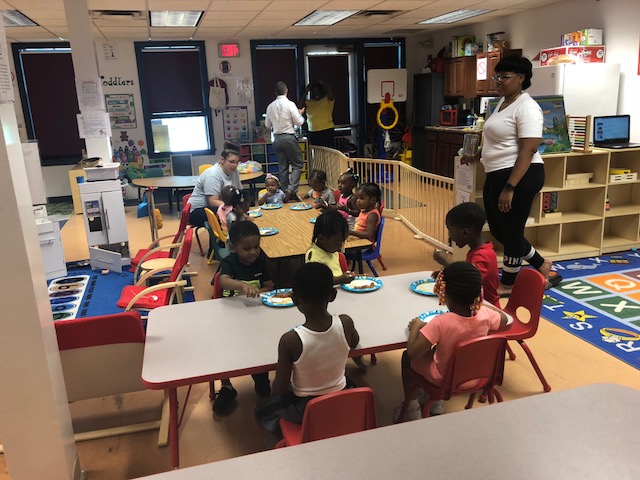 Pittsburgh's low-income families and public housing residents with nontraditional work schedules have an innovative new childcare option, thanks to the Housing Authority of the City of Pittsburgh (HACP) and its partners. HACP joined with ABK Learning & Development Center and Duquesne University to bring a childcare facility to HACP's Bedford Dwellings community that not only addresses the complex childcare needs that low-income workers face, but also integrates crucial early childhood learning strategies to prepare their young residents for school.
The Bedford Hope Center's ABK branch, located in Pittsburgh's Hill District, opened in February 2018 and cares for children between the ages of zero and five 24 hours a day, seven days a week. ABK's around-the-clock hours, rare for a childcare center, offer a crucial service to HACP residents and other low-income families who work nighttime and/or weekend jobs. Additionally, tuition at the center is based on income, ensuring that low-income parents can afford this care. HACP residents enrolled in any of the housing authority's self-sufficiency programs who are job searching or have job interviews can drop in and utilize the center for free.
HACP's ABK Learning & Development Center blossomed as the result of crucial partnerships formed by Michelle Sandidge, HACP's communications director. HACP had previously housed a daycare facility at Bedford Hope Center, but when that facility closed three years ago, Sandidge and the housing authority decided to bring a more comprehensive, valuable childcare option to the space. Knowing that the earliest years of a child's life are vital to their development and future educational success, HACP wanted to offer the community more than just child supervision – they wanted children's experiences in the center to set them up for success before they began school.
At the same time, Christopher Meidl, Ph.D. of Duquesne's School of Education's Early Childhood Education Program was looking for avenues for community outreach and opportunities for his students to gain hands-on experience in the early childhood education field. After connecting with Sandidge, Meidl and Duquesne proved the perfect partners to help craft an early learning curriculum.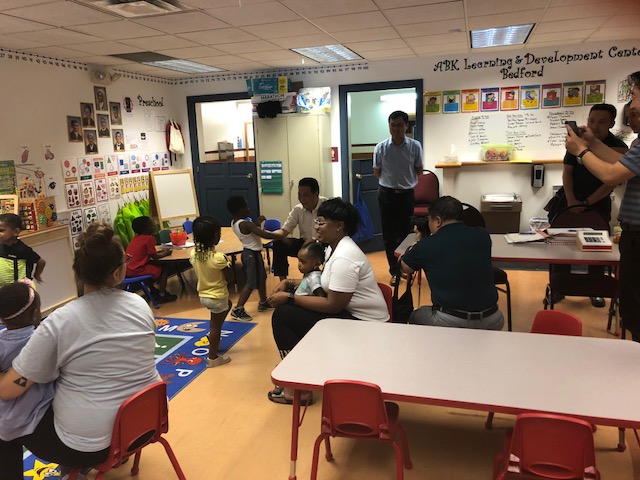 However, while Sandidge and Meidl had the location and early childhood education knowledge, they still needed an experienced, dedicated partner to staff and operate the center. When Sandidge met Lesely Crawford, ABK's owner and director, she knew that that Crawford's passion for childcare and experience as a Pittsburgh Public School teacher, a Duquesne graduate, and a former resident of the Hill District community made her the perfect partner to bring the center to life.
While Meidl and his students train ABK's staff in best practices and gain crucial outside-the-classroom experience for their own studies, Crawford and ABK provide the center with full-service childcare, necessary equipment, and early learning programs on important subjects like literacy, math, and social studies through experiential learning activities. In turn, HACP provides ABK with space and facility maintenance while also maintaining involvement in the center's activities and referring the center to HACP residents participating in self-sufficiency programs.
Just a few months after opening, HACP's ABK Learning & Development Center is now at full enrollment with 35 students, though Sandidge notes that they are hoping to expand their capacity to serve more children. HACP also plans to set up another ABK branch in one of their other public housing communities on Pittsburgh's North Side. Sandidge added that this kind of cross-sector work between the housing authority, the university, and the childcare center is integral to HACP's mission. "Everyone thinks we're responsible for building houses," she said, "But we build homes, we build lives, and that's what really makes a difference."
CLPHA member housing authorities are dedicated to improving their residents' lives, and HACP's childcare partnership with ABK and Duquesne University demonstrates this commitment by offering an innovative solution to a common problem in low-income households that also sets up their youngest residents for future educational success. This multisector collaboration exemplifies the mission of CLPHA's Housing Is Initiative – to help build a future where systems work together to improve life outcomes. We are proud to have HACP as a member and to champion their efforts to increase positive long-term outcomes for low-income children by seeking out and fostering strong, fruitful partnerships. CLPHA looks forward to hearing about the future of HACP's comprehensive childcare program and hopes that this center can serve as a model for other housing authorities looking to engage in early childhood learning services.