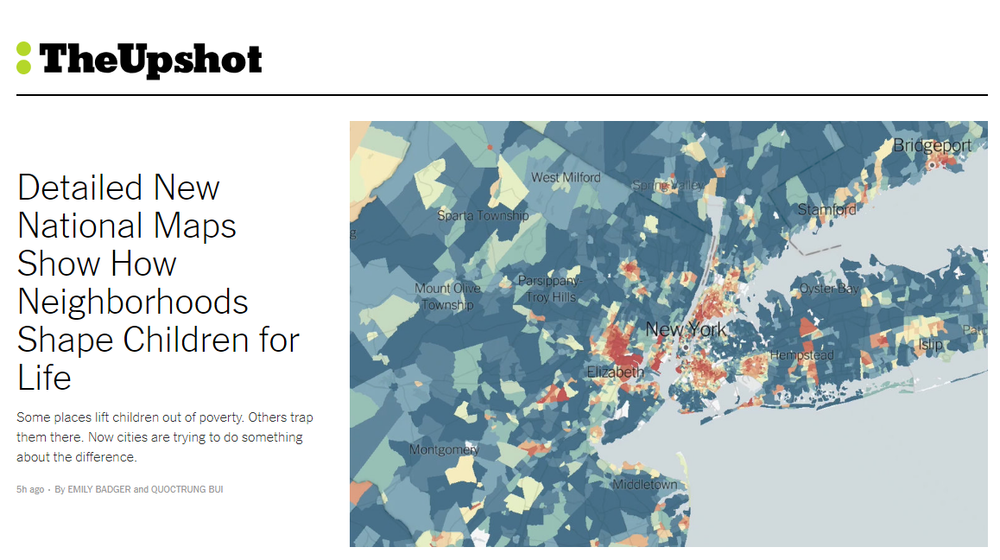 The long-awaited Opportunity Atlas, published today by the Census Bureau in collaboration with researchers at Harvard and Brown, got top billing on today's homepage of the New York Times' data-driven digital property The Upshot. "Detailed New National Maps Show How Neighborhoods Shape Children for Life," includes the new interactive mapping tool, some of the project's main findings, and examples of the mobility work that public housing authorities are currently doing, and plan to do, with the data. In addition to quoting Raj Chetty, one of the project's researchers, authors Emily Badger and Quoctrung Bui feature quotes and examples from CLPHA members Greg Russ, Executive Director of the Minneapolis Public Housing Authority, Andrew Lofton, Executive Director of the Seattle Housing Authority and Andria Lazaga also of SHA who each discussed how PHAs are using the data as part of their Creating Moves to Opportunity (CMTO) work.
Additional news coverage of the Opportunity Atlas includes an NPR segment during today's Morning Edition broadcast that features interviews with Chetty and local officials in Charlotte, NC, who intend to use the data to shape future policy decisions.
Read the article and use the interactive maps on the NYT website and listen to the Morning Edition story on NPR's site.